Toddler's tennis-ball sized tumour caused 'head tilt'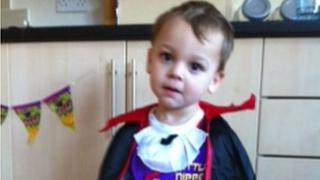 Katherine Phillips has good reason to say that toddlers are "robust and strong".
Her one-year-old son Thomas recently returned home after a 12-hour operation to remove a rare kind of tumour from his brain; a procedure which neurosurgeons at Birmingham Children's Hospital say was one of the most difficult bits of surgery they have ever had to undertake.
Thomas turns two on Christmas Eve, and there will be a big family party to celebrate.
Just a few weeks earlier, however, this little boy's prospects looked very different.
Tumour 'pulverised'
Around Halloween, Thomas's parents Katherine and Stephen, who live in Solihull, had become increasingly worried by their son's health - he was generally unwell, his balance wasn't good and they noticed he was holding his head at a strange angle.
Something was seriously wrong, but they had no idea what it was.
But then an MRI scan revealed that the reason for his 'neck tilt' was an ependymoma tumour, larger than the size of a golf ball, at the base of his skull which was densely packed around vital arteries leading into the brain and nerves that control swallowing and facial expressions.
Mr Guirish Solanki, consultant neurosurgeon at Birmingham, who performed the operation a few days later says only 30 to 40 children are affected by this type of tumour each year in the UK.
But this did not make the tumour any easier to deal with, as he found when he started removing it.
"It was impossibly difficult because of the risk of damaging the nerves around it, so we had to take our time doing it," he says.
"We used a special aspirator - much like using a Dyson vacuum, but made of ultrasound waves - to pulverise the tumour in position without destroying the nerves or blood vessels."
'Longest day'
Surgeons also used a state-of-the-art microscope and 3D imagery to track their progress on a computer screen.
In the end, Mr Solanki says he removed 98% of the tumour - which means that Thomas's chances of survival are now extremely good, but he will still need to undergo an intense course of chemotherapy over the next 12 months.
Katherine remembers the day of the operation as the longest of her life.
"We got updated during the operation and we knew that the longer he was in theatre, the more of the tumour they were getting out.
"It was very reassuring for us - but I don't think I'd want to go through it again."
She says Thomas has coped amazingly since. He was awake just two days after the operation, calling for 'Mummy' as he came round, and colouring in a few days after that.
The doctors at Birmingham Children's Hospital are delighted by his progress too.
'Be aware'
Although he is receiving supplementary feeds through his nose because of a slight problem with swallowing, which is gradually improving, and there is slight damage to his voice, Thomas is back to his smiling, sparkly best.
But his parents know that it could be a while yet before their son is in the clear.
Thomas has already had two cycles of chemotherapy, and he will have to return to hospital every two weeks or so during the next year for more.
During that time there will be more scans to check that the tumour is being controlled.
It is a long road, Mr Solanki says frankly, and the aim is ultimately to reach the five-year survival target - and beyond.
While Thomas enjoys his birthday and Christmas presents this week, his parents will reflect on a traumatic month spent at his bedside.
Katherine says: "We just had to keep strong, we had no time to dwell on anything because it all happened so fast. Thomas has just been so strong through it all."
Now they want to alert other parents to the signs of brain tumours, so that other children affected can be treated quickly.
Although most symptoms of children's brain tumours are non-specific, if one symptom persists or if two symptoms happen at once then the child should be referred for an urgent assessment, says Dr Martin English, paediatric oncologist at Birmingham Children's Hospital.
The majority of GPs, however, may not diagnose a patient with a brain tumour during their whole career so the symptoms may not be familiar to them.
Dr English adds: "The more promptly a tumour is treated, the less chance there is for cells to cause mischief. To be able to deliver treatment to Thomas in three weeks was ideal."