Marie Curie Cancer Care plea over home pain relief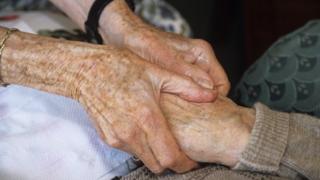 Some terminally ill patients are suffering unnecessarily because of poor access to pain control at home, a leading health charity has warned.
A report Marie Curie Cancer Care based on 26 detailed interviews found "terrifying" delays for prescriptions and carers feeling "abandoned".
And a UK-wide online survey of GPs suggests many are worried about support for terminally ill patients at home.
NHS England says it is developing a programme of action to improve care.
Marie Curie Cancer Care says the voices of terminally ill people and carers are often missing from discussions about end-of-life care.
It highlights what it says is a lack of round-the-clock help for the terminally ill and calls for more support, especially overnight and at weekends.
The charity's report, Difficult Conversations With Dying People and Their Families, was based on face-to-face and telephone interviews and explores the principles of what it calls "a good death" - calm, peaceful and pain-free, in pleasant and private surroundings.
What it describes, though, is a "sense of fog and confusion" about the services available, and a need for better access to pain relief for people at home.
'Scared'
The report says the fragmented nature of support is a source of frustration, bewilderment and distress. It criticises variations in policy from one place to another.
Some of the most disturbing testimony is about access to pain relief for people at home, and to medical advice out-of-hours, when carers were confronted with worrying changes in symptoms.
One bereaved carer described feeling "abandoned" and "scared" because of a lack of support.
The findings have been released to coincide with the final episode on Sunday of BBC One's Call the Midwife, which deals with end-of-life care.
Jennifer Worth, whose memoirs inspired the series, spent part of her career as a Marie Curie nurse in north London.
The concerns have also been highlighted in a UK-wide online GP survey by doctors.net. Fewer than half of those who responded said most of their patients' pain was relieved all the time.
NHS England has welcomed the Marie Curie report. A spokesman said it shone a light on how to improve care.
"Excellent care for everyone in the last days and hours of life should be a common understanding between professionals, dying people and their families and between professionals themselves, about what such care should look like.
"Building on the culture change outlined in Sir Robert Francis's report - namely to ensure high-quality, compassionate care, focused on the needs of patients - a system-wide programme of action is being developed to improve overall standards of care for dying people."