Big pharma takeover 'threat to science base in the UK'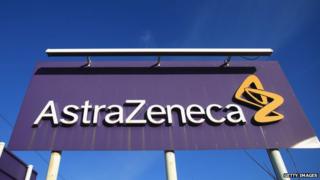 Experts have warned the possible takeover of UK pharmaceutical firm AstraZeneca by US drugs giant Pfizer could damage development of new drugs.
In a statement, four scientific bodies say recent mergers and acquisitions have led to lab closures, threatening the research base.
The statement is from the Society of Biology, Biochemical Society, British Pharmacological Society and Royal Society of Chemistry.
They have more than 100,000 members.
In addition, Dr Melanie Lee, a fellow of the Academy of Medical Sciences, said the move could be a "nail in the coffin" of the UK drug industry.
And Adrian Bailey, Labour MP and chair of the Commons Business, Innovation and Skills Select Committee, said he is considering an inquiry into the issue.
The joint statement says that the proposed acquisition "is another sign of the global trend for pharmaceuticals".
It says: "The UK has been a world-leader in medicines research and development, but recent closures and restructuring put this position under threat."
National asset
Pfizer sold its UK-based research facilities in Sandwich, Kent in 2011 with the loss of 1,500 jobs, many of which were highly skilled.
It has also closed laboratories of US companies that it has acquired.
The company's track record has raised concerns that it may do the same with AstraZeneca's research facilities - which many regard as a strategic national asset.
AstraZeneca is the UK's second biggest industrial spender on R&D, investing £2.8bn last year. In the UK it has eight sites and about 6,700 employees.
Dr Mark Downs, chief executive of the Society of Biology, told BBC News that R&D was critical to the UK.
He said: "We have been been a world leader in pharmaceutical research producing many of the world's best selling medicines.
"But if restructuring continues in a way where we lose skills and investment that will be detrimental to everybody. We can't let this drift."
In a statement earlier this week Pfizer's Chairman and CEO, Ian Read said he and his executives have "great respect for AstraZeneca."
"The UK has created attractive incentives for companies to manufacture products and maintain and protect intellectual property, and we have seen that capital and jobs have followed these types of incentives."
Professor Sir Richard Sykes, chairman of the Royal Institution, and a former head of the UK drugs giant GSK, said he didn't believe that Pfizer would close research facilities in the UK.
"I think it would be rather stupid of them to close AstraZeneca's state of the art facilities. With the opportunity to build the big science base they have in an area like Cambridge around one of the top science groups in the world, they would be crazy not to do that and they will jump at that opportunity."
However, many leading scientific bodies have expressed serious concerns to Downing Street and the Treasury.
Dr Lee said "the potential takeover of AstraZeneca by Pfizer would not present a positive move for the UK science base nor AstraZeneca's R&D. It is likely to involve reducing R&D investment across the combined group.
"The UK scientific community and government should ask very serious questions about this proposal and understand fully that this could be a further nail in the coffin of our UK based pharmaceutical industry."
Professor Sir John Savill, chief executive of the Medical research Council, said he hoped that "the collaborative culture that AstaZeneca has developed in the UK is maintained and strengthened. This would benefit both health and wealth in the UK".
Commons inquiry
Mr Bailey told BBC News that he will ask his committee to launch an inquiry into whether Astra Zeneca's research facilities will be safe should Pfizer acquire the firm.
"The committee will want to make some sort of or intervention inquiry into this issue. Here we have a British Company being taken over by an American company that closed down its operations in Britain a couple of years ago.
"Before there is any takeover we would want to have some sort of scrutiny into whether the takeover would be detrimental to AstraZeneca's position in this country."
A spokesman for Pfizer said: "We have not closed our UK based research facilities in Sandwich. The Sandwich site was sold to Discovery Park Limited in 2012. However, we continue to be a major tenant at Discovery Park and have around 700 research and development colleagues based at the site, working on Pfizer's mid to late stage development pipeline and developing medicines for clinical trials in a wide range of disease areas including cancer and diabetes."