Second hospital feed baby dies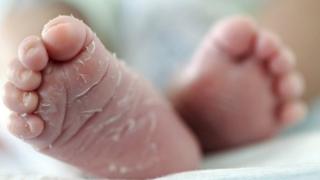 A second baby given suspected contaminated hospital feed has died, according to Public Health England.
The death, at St Thomas' Hospital in London, is not thought to be a result of blood poisoning from the feed.
Twenty-two babies are being treated for blood poisoning in connection with the outbreak.
Public Health England (PHE) and the Medicines and Healthcare products Regulatory Agency (MHRA) are investigating the outbreak.
All the infected babies were being fed a liquid mixture of nutrients directly into their bloodstream, which happens when newborns are unable to eat on their own.
PHE said the babies developed septicaemia or blood poisoning from the Bacillus cereus bacterium, which has been "strongly linked" to an intravenous fluid supplied by ITH Pharma.
Many of the babies were premature. Being born too early can lead to life-threatening complications - there are 26 deaths in every 1,000 premature births.
A spokesperson for Guy's and St Thomas' NHS Foundation Trust said: "We can confirm that a baby involved in the investigation has sadly died, but it is not believed to be related to the infection.
"The baby was clear of the infection at the time of death."
Nine-day-old Yousef Al-Kharboush was the first baby to die from the suspected contaminated hospital feed, at St Thomas' Hospital, on Sunday 1 June.
The infected babies are being treated at 10 hospitals across England:
Chelsea and Westminster NHS Trust, London (four)
Guy's and St Thomas' NHS Foundation Trust, London (three)
The Whittington Hospital (one confirmed, one possible)
Brighton & Sussex University Hospital NHS Trust (two confirmed, one possible)
Addenbrooke's, Cambridge University Hospitals (two)
Luton and Dunstable University Hospital (two)
Peterborough City Hospital (one)
Southend University Hospital (one confirmed, one possible)
Stoke Mandeville Hospital (one)
Basildon University Hospital (one confirmed, one possible)
There have been no new infections since 2 June.
Prof Mike Catchpole, from PHE, said: "Investigations to date have suggested the source of the Bacillus cereus infection that has affected outbreak cases was the contamination of intravenous liquid products during a single day of production, which are no longer in circulation.
"PHE is continuing to work with the MHRA on this investigation and to ensure all possible lessons from this serious incident are identified."
---
What is Bacillus cereus?
A type of bacterium that produces toxins that cause two types of illness
The most common form causes nausea and vomiting
The symptoms may start one to six hours after eating contaminated food
It is commonly found in dust, soil and vegetation and is likely to be on most surfaces
The poison is not passed from one person to another and symptoms do not usually last longer than a day
Less common is an illness which causes fever and diarrhoea
These symptoms, which may be serious, usually start six to 24 hours after eating and can last for one or two days
---