Jimmy Savile: Could it ever happen again?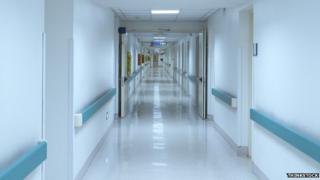 Jimmy Savile committed crimes against 214 people over more than 50 years - and the number of cases of abuse reported have reached 500.
More than 30 hospitals have been investigated over his offences, including Broadmoor, a high-security psychiatric hospital where some of the country's most vulnerable people, who may be suicidal, or prone to self-harming, go to be looked after.
A lot has changed since Savile committed his first offence in 1955.
But what measures are now in place to ensure patients in hospitals are protected against people who may wish to commit such crimes.
'Common sense' checks
Before 1997, there were no checks on the criminal records of people working with vulnerable people and children.
However the criminal records bureau (CRB) checking process was launched in 1997, and those wishing to work with children or vulnerable people had to be able to show they had been vetted by the service before they were allowed to do so.
CRB checks changed to DBS (Disclosure and Barring Service) checks in 2012.
They apply to anyone working with children or vulnerable people in the public, private and voluntary sectors - and people need to apply for a separate certificate for every institution or organisation they work with.
The DBS has said it will "await the Savile report and review any recommendations that may be given".
Changing hospitals
The government says there are a raft of measures in place now for hospitals to help train staff to recognise signs of potential child abuse, and to help staff act quickly to get police and social services on board early.
There are also rules on how to recruit staff and make sure they pass standards to work with children and patients, and how and when people should be barred.
Staff area also trained in how to look out for different physical and physiological symptoms of child abuse.
---
Laws and rules to help protect children and vulnerable people:
---
Child welfare
Since the 1950s, various acts have been introduced that aim to keep children safe, and coordinate responses from schools, social care, hospitals and the police in the case of abuse.
Different government departments have worked to introduce laws and provide rules for hospitals to follow.
Crime prevention minister Norman Baker said: "Child abuse is a repulsive stain on our society which is why the government is determined to challenge wherever and whenever it appears.
"It is clear that a significant amount of historical sexual abuse occurred within institutions where children and vulnerable people were under the care of the state."
He said he was leading a national group to "learn the lessons of past failures" and ensure children and vulnerable people are protected in the future.
Mr Baker said the government was strengthening authorities' powers to close down any "premises suspected of being used for sexual exploitation".
"We have also revised guidance for prosecutors to ensure the perpetrators of these horrific crimes are thoroughly investigated and brought to justice," he added.
So there have been many significant changes in the law, and in the ways children and other vulnerable groups are protected.
But perhaps just as importantly, there has been a sea change in social attitudes - and the culture is very different to that of the 1950s, 60s or 70s.
Campaigners agree people are more willing to speak up and accusations are taken more seriously than they once were.