Blood-filter child transplant first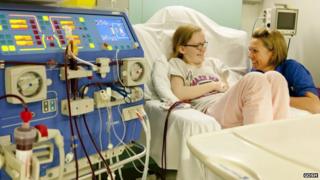 For the first time in the UK, antibodies preventing organ transplants have been filtered out of a child's blood, at Great Ormond Street Hospital.
Born with kidney problems, Megan Carter's first transplant, in Dublin in 2011, had to be removed the next day after her immune system attacked it.
She has needed dialysis ever since, but three months ago she had a successful transplant at Great Ormond Street.
Her parents said the 14-year-old had "come to life" since the transplant.
Leukocyte antigen antibodies are more common in adults as they can be produced in response to previous transplants, pregnancy or receiving donor blood.
The more of them there are in a patient's blood, the less chance there is of a successful transplant.
Over the course of a week, Megan's blood was removed, filtered and then reintroduced - a new treatment called plasmapheresis.
And this allowed her to have a transplant from her father, Edward Carter.
After the operation, Megan's mother, Carol, said it was "like she had come to life in front of our eyes".
"Her hair was glossy, eyes were bright, colour in cheeks and she was the child that we should have had before."
However, Megan will need powerful drugs to keep her immune system in check.
Dr Stephen Marks, a consultant paediatric nephrologist at Great Ormond Street, told the BBC: "Having had the antibodies reduced, what we don't want is for them to attack the kidney so we need to use stronger medicines [immuno-suppressants].
"Most transplants would use three drugs to reduce the immune system, in these treatments its four drugs and much stronger."
Consultant transplant surgeon Nizam Mamode said: "I am very pleased that we were able to offer a child this transplant, which hopefully will give them a much improved, and longer, life.
"We have developed this programme to give similar children and their family's hope, where previously none existed, and although this is only the first case, we hope to provide many more children with a new lease of life."