'Pain-patch' warning to patients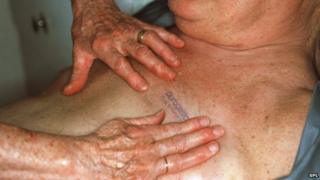 Patients using patches containing potent painkillers are being urged to ensure they are thrown away carefully, by the Medicines and Healthcare products Regulatory Agency (MHRA).
The medicines safety regulator said there had been cases of children accidentally coming into contact with the patches.
Fentanyl skin patches are used by patients with severe chronic pain.
However, accidental contact can cause "severe harm", the MHRA warned.
More than 12 million patches were prescribed in the UK last year.
The patches should be folded in half so that none of the pain-relieving layer is exposed.
Deputy director of vigilance and risk management of medicines at the MHRA, Dr Sarah Branch, said: "It is extremely important when applying a fentanyl skin patch that people check that they are stuck on securely.
"A patch may cause serious harm if it accidentally sticks to somebody else's skin or is swallowed.
"If a patch is transferred to another person, remove it and get medical help immediately. If a patch is swallowed, get medical help immediately."