Morning-after pill 'suitable for women of all weights'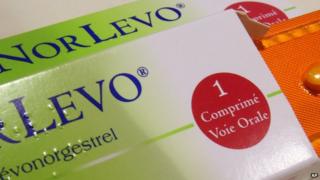 A review of morning-after contraceptive pills has concluded they are suitable for heavier women.
The European Medicines Agency said pills containing levonorgestrel or ulipristal acetate, such as Norlevo, "can continue to be used in women of all weights".
It said the benefits outweighed the risks.
Studies had suggested the pills did not work effectively in women over 11st 3lb, increasing the risk of pregnancy.
Following its review, the EMA said: "Having assessed all the available evidence on the effectiveness of emergency contraceptives, the Committee for Medicinal Products for Human Use (CHMP) considered that the data available are too limited and not robust enough to conclude with certainty that contraceptive effect is reduced with increased bodyweight, as stated in the product information for Norlevo."
The CHMP recommended that the results of its review should be included in the product information of emergency contraceptives.
A study by the University of Edinburgh in 2011 investigated Norlevo's active ingredient, levonorgestrel.
It suggested the ingredient was less effective in women over 11st 3lb (75kg) and ineffective in women over 12st 8lb (80kg).
The study indicated that obese women taking the emergency contraceptive were four times more likely to become pregnant than women taking the drug who were a normal weight.
The manufacturers, HRA Pharma, then included these findings on the product information for Norlevo.
The EMA said these statements on the impact of bodyweight in the product information for Norlevo should now be deleted.