Weight loss 'no mood boost even with health benefits'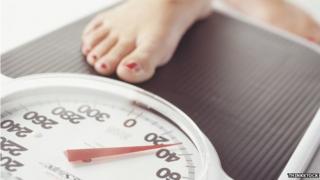 People who lose weight are more likely to feel unhappy than those who stay the same size, a study of overweight people in their 50s suggests.
The PLOS One study found those who lost more than 5% of their body mass were healthier, but at greater risk of reporting a low mood.
Overweight over-50s are told to lose weight for their health, so for them losing pounds is not just about looks.
But, even with that consideration, weight loss did not boost mood.
The team say anyone attempting weight loss should be encouraged to seek support from friends and health professionals, if they feel they need it.
The study involved about 1,900 overweight and obese people in England over the age of 50.
During a four-year period, researchers monitored their weight, blood pressure and the level of lipids (fatty substances) in their blood.
'Difficult diets'
They asked participants to fill in surveys assessing their overall mood. Questions covered how sad, lonely, motivated and sleep-deprived they had felt in previous weeks.
The 278 people who lost weight saw a fall in their blood pressure and lipid levels.
But they were 50% more likely to say they felt low, compared with those who had stayed the same weight.
Researchers say this could be due to challenges faced while dieting, such as constantly trying to resist tempting treats and to avoid social gatherings involving food.
Dr Sarah Jackson, who led the research, said: "We do not want to discourage anyone from trying to lose weight, which has tremendous physical benefits.
"But people should not expect weight loss to instantly improve all aspects of life."
She added: "Aspirational advertising by diet brands may give people unrealistic expectations about weight loss.
"They often promise instant life improvements which may not be borne out in reality for many people."
'Beach pressures'
Researchers point out dieters' moods may improve once they reach their target weight and shift their focus to maintaining it.
They say health professionals who recommend weight loss need to be mindful of both physical and mental effects.
Susan Ringwood, from the eating disorder charity Beat, told the BBC: "Some people can believe losing weight or changing their shape and size will change their lives.
"And many of the messages we are surrounded by daily reinforce this view - especially at this time of year when clothing is more revealing and the beach holiday is in view.
"This study shows that while there can be important physical benefits to being at a healthy weight, improving our psychological health can be more complex."