Ebola: The hunt for a vaccine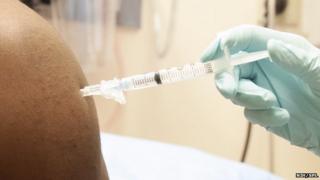 In a hospital in Oxford, a British woman is set to play a part in the global battle against the biggest outbreak of Ebola in history.
She has been injected with a scrap of genetic material from the deadly virus, packaged inside a chimp cold virus, in the first UK study of the vaccine.
With trials under way in the US - and more planned in Africa - huge hopes are resting on the vaccine, which gave monkeys long-term protection.
It was developed by scientists at the Swiss-Italian biotechnology company Okairos, which was bought by Britain's GlaxoSmithKline (GSK) earlier this year.
Speaking from Basel, chief executive Riccardo Cortese, said scientists at the company had been working on the vaccine for six years.
It was developed in collaboration with the vaccine research centre at the US National Institutes of Health (NIH).
"We made the vaccine and they did all the animal testing, which proved to be quite satisfactory," he told the BBC.
"So it was decided even before the outbreak to proceed quickly to a safety-and-immunogenicity test in humans.
"This programme has been accelerated as a consequence of the outbreak."
Fast progress
Okairos is under contract with GSK to manufacture all the vaccine doses for the UK, US and planned African arm of the trial at its site in Italy.
Alfredo Nicosia, chief scientific officer, said it was realistic that the vaccine could reach the field "in a few months".
"The pace will be much more accelerated than in any normal circumstance," he said. "That is as fast as we could go."
He said it was not known how humans would respond to the jab, but based on similar vaccines, there was reason to be optimistic.
Scaling up production should be relatively straightforward, he added.
The trial will determine if the vaccine is safe and if it triggers an adequate immune response.
Experts say there is no risk that the vaccine can cause someone to become infected with Ebola.
On the basis of tests on a few hundred people, the vaccine may be rolled out to high risk groups.
According to the World Health Organization, healthcare staff and other front-line workers would probably be the first to be offered the jab.
A handful of people have tested three other experimental Ebola vaccines over the past decade, but none have progressed further.
According to Dr Benjamin Neuman, a virologist at the University of Reading, who is not involved in the vaccine trial, the reason was financial.
"It takes a lot of money to put into people," he told me. "The will wasn't there at the time."
Dr Neuman said if all went well, a vaccine could be available as soon as January. But he warned the immune system was a very complex thing, and it was hard to know whether it would work well enough to protect against Ebola.
"The real test of this vaccine will be when it gets into Africa and when a person who has had the vaccine comes into contact with Ebola," he added.
Jonathan Ball, Professor of Molecular Virology at the University of Nottingham, said monkeys were protected from Ebola infection for a few weeks after a single jab of the vaccine.
"Even relatively short-lived vaccine could have a major impact on controlling Ebolavirus outbreaks like the one we are witnessing in Western Africa," he said.
"Vaccines could also have a role in preventing future outbreaks, especially those capable of eliciting long-term protection.
"But, we also have to be realistic. The places where Ebola outbreaks are most likely to happen lack good health infrastructures, and so rolling out vaccine programmes will not be easy.
"As for total eradication through vaccination - this is fairly inconceivable due to the large animal reservoir that's out there maintaining the virus year on year.
Follow Helen on Twitter.