Could the NHS hold centre stage at the Autumn Statement?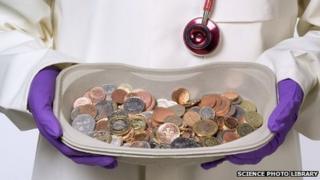 There's certainly politics involved - after all the general election is only six months away.
Even so its quite something for a health minister to admit there is a health funding gap for the next financial year and if it's not filled the NHS "could crash".
Norman Lamb, the Liberal Democrat Health Minister, was wearing his party hat when he called on the Chancellor, George Osborne, to provide up to £1.5bn extra for the NHS in England for the 2015-16 financial year.
Mr Lamb acknowledges that some of the money could be generated by yet more efficiency savings. But he believes that the bulk of the gap will have to be filled by new money courtesy of the Treasury when the Autumn Statement is made in early December.
It's in the Lib Dems interest to be trying to differentiate themselves from their Conservative coalition partners ahead of the election.
Calling for more health money is part of that, and Lib Dem Deputy Prime Minister Nick Clegg and Chief Secretary to the Treasury Danny Alexander will want to be seen to be banging the drum for the NHS when they negotiate the Autumn Statement with Mr Osborne and the prime minister.
But this is not predictable kite flying for an election manifesto.
The next financial year begins in April, a month before the general election.
Mr Lamb, in effect, is acknowledging that there is a deficit in the health budget for that year that can't be covered under the existing spending plan.
The reasons are familiar - the relentlessly rising demand for healthcare with an ageing and growing population, and existing stresses and strains resulting in deficits for many hospitals and other health trusts.
For some months now, NHS chiefs and health experts have been warning that there is a looming financial squeeze in the 2015-16 financial year.
I reported in June that there was a gap of up to £2bn health administrators were struggling to close.
At the time, there was a hope in government circles that hospital bosses and other health chiefs would find further savings and more efficient ways of operating that might deal with some of the overall deficit.
Mr Lamb's comments now, with the new financial year not far off, suggest there is still a headache and that, in his view at least, new money is the only answer.
It has to be said that in an overall annual budget of more than £100bn, the sum being talked about is on a relatively small scale. But it appears that £1.5bn still has to be found somewhere.
What remains to be seen is how the politics plays out in the next few weeks.
Conservative sources in government say they are surprised at Mr Lamb's comments, as the issue has not been raised in Autumn Statement talks. Labour say the Lib Dems are guilty of "breath-taking hypocrisy". Watch this space.