Doctors test woman for Ebola at Northampton General Hospital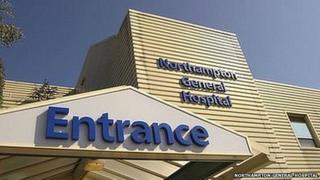 A woman suspected of having Ebola is being treated at Northampton General Hospital (NGH).
A spokesman for the hospital told the Press Association: "I can confirm that we have a suspected case of Ebola. It is a female adult.
"She will be in isolation if she is suspected of having the illness."
The hospital has not released any further details but it is understood the woman had recently travelled abroad.
The only confirmed case of Ebola currently being treated at a UK hospital is 39-year-old Pauline Cafferkey.
A nurse who was working in West Africa for the charity Save the Children, she is said to be "showing signs of improvement" at London's Royal Free Hospital after it announced on 4 January that she was in critical condition.
On its website, in a message intended to "reassure local people", NGH said it had "robust systems and processes which will ensure we are able to identify and isolate a patient who presents with symptoms of Ebola or any other infectious disease".
The virus is transmitted by direct contact with the bodily fluids of an infected person, such as blood, vomit or faeces.
It has killed more than 7,800 people, almost all in West Africa, since it broke out a year ago.