Sink or Swim? The global drowning crisis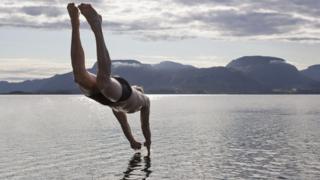 Every year, nearly 400,000 people round the globe die by drowning, making it one of the world's most common causes of accidental death.
Now several projects - from playpens to drones - are attempting to tackle the problem.
Unlike malaria and malnutrition, there is no global programme aimed at reducing the death toll from drowning.
Its sporadic nature means prevention can be difficult - patrolling every shore and riverbank would be impossible.
But some things can be done, such as preventing overcrowding on ships and ferries, improving flood defences and having national water safety plans.
And it can often be local efforts that make the real difference.
'I always worried'
In Bangladesh, up to 45% of deaths in under fives are due to drowning, with as many as 18 children drowning every day.
It is also where one of the most innovative efforts to reduce drowning has been targeted: the Solid (Saving of Lives from Drowning) programme led by researchers from Johns Hopkins University in Baltimore.
Researchers there realised that a major cause of drowning there was Bangladeshi mothers being unable to keep an eye on their children while going about their daily work.
Young children would often wander off and find themselves in difficulty after falling into a ditch or pond.
"I was always worried about my son's safety," says Laboni Khatun, a mother in northern Bangladesh who lost her son to drowning two months ago.
"There are a lot of ponds and ditches around my house and whenever he went too close I would bring him straight back home."
Laboni says: "I just don't know what happened that day."
The solution developed by the Johns Hopkins team was to create a literal barrier between the children and the dangers of Bangladesh's many waterways - in the form of locally made wooden and plastic playpens.
They keep children out of danger and give mothers, like Anita Rani Malarkar, much-needed peace of mind when it comes to her daughter's safety.
"When I didn't have this playpen, I was always scared about safety because I couldn't look after her while doing the household chores. Now I don't have to worry," she says.
To date over 30,000 have been distributed to families most at risk, but the project is still at a trial phase.
The researchers behind the programme hope to eventually supply 80,000 playpens and save countless children from drowning.
Spreading the word
The Nile is the longest river in the world, running almost 7,000 km (4,350 miles) through 11 countries in East Africa.
It has provided a livelihood for the people in these countries since ancient times, but those that depend on it are all too familiar with the risks of the river.
---
How to save yourself from drowning
If you fall into water:
- Try to remain calm
- Get on your back and attempt to float
- Try to conserve as much energy as possible
If you come across someone drowning:
- Call for help
- Never enter the water to rescue someone else
- Try to pull them in from the shore or throw them a flotation aid
Advice from the UK Royal Lifesaving Society
---
In Khartoum, Sudan, where the White and Blue Nile meet, civil defence pull a body from the 150 mile stretch of river surrounding the city every day.
Some suggest the true toll of drowning may be even higher.
UK-based Dan Graham heads up the charity Nile Swimmers, which works in Sudan training lifesaving and swimming instructors to work in communities that live on the Nile.
Dan explains the impact that one motivated student of his, Al Rashid, had on his community.
"He was brimming with energy during his training and when he finished, went home and taught every child in his village to swim. He then went on to the next village and trained all the children there."
"That's one man, without any resources, who has trained hundreds of children to be safer around water in their daily lives."
Nile Swimmers supports instructor-trainees to select techniques that are appropriate and relevant to their local situation, but Dan is conscious of the challenges of expanding the scheme.
"We've seen from our own work in Sudan and from similar programmes in other countries what can be achieved for relatively little money in relatively small schemes.
"Nobody has yet managed to expand these programmes to a country-wide, or even continent-wide scale. For that, more funding is required."
Drones for drowning?
Drones are used for everything from shooting films to monitoring livestock, but now two Iranian engineers are attempting to use drones to rescue people in danger of drowning
With nearly 400 drowning off the Caspian coast of their country the every year, roboticist Amin Rigi and engineer Amir Tahiri decided to look at how they might alleviate the problem.
"We attempted to create a submersible robot, then a surface based robot, before we realised that a flying robot was the best approach." recalls Amin.
PARS, as their new robot is called, is designed to work by flying out to potential drowning victims and dropping life rings allowing people in the water to stay afloat until they can be rescued.
The current prototype model is remote controlled, and boasts a range of four kilometres, with the ability to rescue to four people at once.
Search lights allow it to perform night rescues, and it can be launched from both the shore and from the decks of ships.
Their tests have shown that it can perform a rescue four times faster than a human lifeguard.
First generation robots will begin operations in Brazil, Italy and Mexico in April this year.
The current model costs $9,185 (€8,100) a unit but Amin hopes the next generation will be cheaper.
He also hopes future models will be able to perform rescues with less human input, eventually performing fully automated rescues.