Labour's NHS and social care plan under the spotlight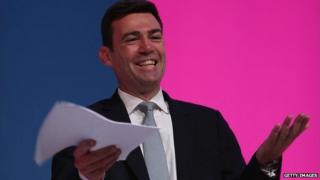 This week, Westminster has been chewing over Labour's proposals for the English NHS.
In a speech on Tuesday, shadow health secretary Andy Burnham said: "I am clear - the market is not the answer to 21st Century health and care. If we allow market forces to continue to take hold, they will eventually break the NHS apart."
Mr Burnham said he wanted public providers to get preference over private providers when NHS contracts come up for tender - the NHS should be its own "preferred provider".
This is his response to rising outsourced care in the English NHS, which stood at 6% of spend last year (although that number is expected to rise quickly in the coming years).
But speaking to presenter Kirsty Wark on Newsnight, Mr Burnham said: "I don't see a role for the private sector where it can replace core public provision... but there's a supply role where extra capacity is needed."
In those terms, it seems like a nudge on the tiller, not a yank.
That is why Wark asked him how much outsourcing of care there would be in a few years' time. The aim was not to get a target, but to get him to say what effect he thought his proposals would have. Does he expect them to reverse the rise in outsourcing, say, or just cause deceleration?
He didn't really answer that, but, as the week ends, it is worth just considering some of the issues on his plate.
'Dramatic changes'
First, there is a legal question. Mr Burnham was health secretary in 2009-10 under Gordon Brown. Back then, he introduced a "preferred provider" policy too - he wanted commissioners to favour public bodies when they were contracting.
But existing UK and EU law required governments to treat people equally when they tendered for a service - whether they were private or public. So, in the end, he could not make it stick.
The proposals he set out this week were about introducing legislation to make that work this time around.
Mr Burnham has taken advice on this, but I have spent a lot of time talking to some fairly heavyweight lawyers over the past few days. Mr Burnham's proposals, they agree, could well end up requiring some quite dramatic changes if they are to really have a strong effect.
The legal consensus among these experts is that Mr Burnham can change some of the rules around competition and mergers. But he will struggle to change the law around the big topic at the core of this - procurement - without a serious and significant reorganisation.
Mr Burnham, however, says he wants to avoid yet another big, top-down shake-up. So, all in all, the cost - measured in NHS energy, political pain and money - that it would take to make this policy bite is still unclear, and might remain so for a while.
Focus on prevention
Second, during his Newsnight interview, Mr Burnham defended the big growth in outsourcing under Labour in the 2000s - he said it was meeting a need for new supply.
Back then, he claimed, it was needed to crack down on waiting times. It is worth pondering that.
There will be need for more capacity in the NHS in the coming years - the service is struggling on its performance measures and is cash-strapped. So providers who can borrow on their own accounts to build facilities might be handy - especially in areas where he wants rapid action.
Remember, too, that Mr Burnham's key objective for patients is to introduce more social care into the NHS. His big idea is that, if you have complex care needs, the service should be given a reason to look at prevention rather than waiting for you to become ill.
That won't be easy - designing the financial nuts and bolts to make it work has, so far, defeated the officials in the NHS agencies who have been set on this problem. But a promise to put money and energy to push the project forward is a reasonable position to take.
Mr Burnham has committed to hiring 5,000 NHS care workers.
But if he gets this policy going, he will probably need to draw existing social care providers into the NHS - and they're largely private. That is implicitly acknowledged in his speech - and Mr Burnham has an elegant way to explain why people who dislike outsourcing should be comfortable with it.
He notes - correctly - that many workers in the social care sector have surprisingly poor working conditions. Mr Burnham frames bringing these contractors into the NHS fold as being about dealing with that issue. He's helping patients and embattled private sector workers.
So that's why we are where we are. Mr Burnham dislikes private provision of NHS care. He has a plan to squeeze it down as far as he can. But that might not be as low as he would like.