A&E waits worsen slightly in England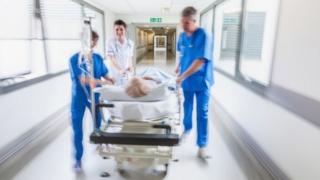 Waiting times in A&E units in England have worsened slightly, latest figures shows.
In the week ending Sunday, 92.3% of patients were seen in four hours - down from 93% the previous week. The target is 95%.
It comes after figures for Scotland, published on Tuesday, showed only 89.9% were seen within four hours in December.
Performance is even worse in Northern Ireland and Wales.
During December just 76.7% in Northern Ireland were seen in four hours, while in Wales 81% were, a drop since November for both nations.
The release of the latest figures comes after it emerged this year's seasonal flu vaccine is barely able to protect people from the main strain of flu being spread in the UK.
Doctors are being urged to use antiviral drugs quickly to protect vulnerable patients.
Flu vaccine
Evidence shows the vaccine is stopping only three out of every 100 vaccinated people from developing symptoms, Public Health England said.
Flu vaccines normally protect 50 out of every 100.
Dr Barbara Hakin, of NHS England, suggested respiratory illnesses were playing a part in the pressures this winter, along with the cold weather.
"With snow and colder weather across much of the country, A&E visits and admissions edged up compared to last week, with a slight impact on waiting, but we continue to admit, treat and discharge more than nine out of 10 patients within four hours.
"The cold can also contribute to heightened levels of respiratory illness - particularly among the elderly and those with long terms conditions.
"We would urge the elderly to stay warm, and for people to look out for elderly relatives, friends or neighbours, and make full use of pharmacists where appropriate."