Ebola healthcare workers discharged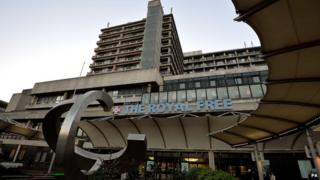 Two British military healthcare workers flown to the UK with suspected Ebola have been discharged from hospital in London.
They were kept under supervision after needle-stick injuries while on the frontline of the Ebola epidemic in West Africa.
They were flown back to London on 31 January and 2 February.
They have not developed symptoms of the virus and have now been discharged from the Royal Free Hospital.
Needle-stick injuries involve a sharp object, often a needle, piercing the skin.
They are a dangerous potential source of infection as the virus can be delivered directly into the bloodstream.
Prof Paul Cosford, from Public Health England, said the healthcare workers would be closely monitored.
He said: "The individuals will receive ongoing monitoring and support while residing in appropriate private accommodation close to the Royal Free.
"The risk to the public from Ebola remains very low."
They will have to be monitored throughout the 21-day incubation period of the virus.
Nearly 22,900 people have been infected with the virus in West Africa and more than 9,000 have died.