Call for Hijama therapy regulation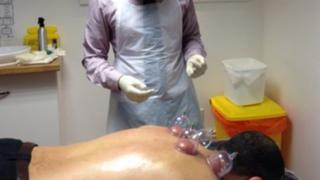 A complementary therapy called Hijama, or wet cupping, needs tighter regulation, say experienced practitioners.
Hijama is used to treat a wide range of conditions including migraines and hay fever and involves cutting the skin and drawing blood with suction cups.
Therapists warn that some offering the procedure to patients are unqualified.
And this is putting patients' health at risk.
In Britain there are no rules to govern the practice. Anyone can set themselves up as a practitioner.
Hijama
In a room that looks a lot like a doctor's surgery in Leicester, a man is being treated for pains in his shoulder.
Khalil Ahmed Patel is a patient at the Institute for Clinically Applied Hijama Therapy (ICAHT) - a three storey building neighbouring a children's nursery on one side and a residential house on the other.
The institute also runs courses for anyone interested in learning how to practice the treatment.
Mr Patel has been receiving the treatment for over a year now.
He says: "I'm a heavy sufferer of hay fever and since I've had Hijama, I haven't had any hay fever. It usually kicks in at the end of March, early April.
"My wife and daughter also have it [hayfever] and they have been suffering, but not me."
He is being treated by Dr Rizwhan Suleman who is a trained chiropractor.
He says although Hijama is most popular amongst the Muslim communities - it was recommended by the Islamic prophet, Muhammad - non-Muslims are also having it done.
But there is concern that some who are performing the procedure are inexperienced and do not have any background in health.
There have also been reports of treatment being carried out in unhygienic circumstances, such as in a garage. One Hijamist tried, unsuccessfully, to rent an room in a community centre in Lancashire.
In another incidence, a therapist reportedly used animal horns instead of sterile cups, which could increase the risk of spreading blood borne infections such as HIV or hepatitis.
Dr Sirfraz Nazir from the British Cupping Society is one of those who is worried about rogue practitioners.
The society strongly recommends that treatment should only be sought from health professionals.
He says he knows of several incidents of bad practice.
"A female patient with breast cancer came to see me. She was in the advanced stages of cancer because she had not been for her chemotherapy. She said she had been Hijama and that the practitioner had told her it would cure her.
"Also, a man with heart problems had a heart attack whilst he was having the treatment carried out and the person treating him didn't realise."
Dr Nazir believes only those with appropriate training should be allowed to do it.
He says: "We are trying to emphasise the need for standardisation, the need for ensuring practitioners are trained adequately and the environment they practice in is of an adequate standard."
One local authority in Lancashire, Blackburn with Darwen, says that any clinics in the borough must register with them - and three have been set up in the town over the last few years.
A Council spokesman said: "We have a couple of clinics registered in the borough and we have inspected them and found them to be satisfactory from a hygiene point of view. Our advice to consumers would always be to ensure that cupping establishments are registered with the local authority."
The ICAHT currently has 128 practitioners, from across the country, who have registered with it but there is no legal requirement for this.
Dr Suleman from the ICAHT says the profession needs to be monitored.
He said: "We have established a register for practitioners who have reached a certain standard and criteria and standard of education and practice.
"We verify they are safe to practice and that they have a certain amount amount of clinical experience, have passed exams and are insured."
Public Health England, is the government department responsible for protecting the nation's health. It says it is looking in to the issue.
Dr Fortune Ncube, Head of Blood Borne viruses for Public Health England said: "We have met with practitioners and environmental health colleagues to discuss cupping therapy.
"At present, in the absence of national best practice guidance, we advocate that anyone performing wet-cupping must do so in a clean and hygienic environment, following standard infection control procedures, and must be appropriately trained in order to prevent the risk of causing infection or harm to both practitioners and clients."
The Complementary and Natural Health Care Council holds a register for complimentary therapists, but not for those who carry out cupping.
A spokesperson said: "If practitioners of Hijama Cupping wanted to be considered for registration with CNHC, their profession would need to make a case to Skills for Health for the development of relevant National Occupational Standards in the first instance."