Rotavirus infections 'greatly reduced' since vaccine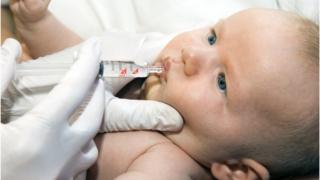 Rotavirus infections fell by 84% in England since a vaccine for babies was introduced in 2013, figures from Public Health England suggest.
Recorded cases dropped from an average of 14,510 a year in the decade before the vaccine was introduced to just 2,287 between July 2015 and June 2016.
The highly infectious stomach bug can lead to diarrhoea, vomiting, stomach ache and fever - most commonly in under-fives.
Most children recover within a week.
But one in 10 needs treatment in hospital for problems such as extreme dehydration.
The UK-wide immunisation, manufactured by GlaxoSmithKline, is given as oral drops.
It is offered to babies in two separate doses, at between two months and three months old, alongside other childhood vaccinations.
Dr Shamez Ladhani, at Public Health England, said: "Overall, annual rotavirus laboratory reports are greatly reduced since the introduction of the infant rotavirus immunisation programme in July 2013.
"Rotavirus is contagious, and it is very important to maintain good hand hygiene to help prevent it spreading.
"In most cases, there is no need to see your doctor, because the symptoms usually pass in a few days without any specific treatment - but if symptoms persist, see your GP."
The virus is normally spread in faeces through hand-to-mouth contact and can be picked up from surfaces such as toys or dirty nappies.
NHS Scotland has previously reported that the number of laboratory confirmed cases in infants has fallen by more than 80% since the vaccine was introduced in 2013.