Urban pelicans attract photographic attention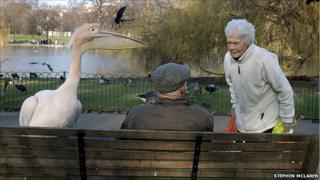 It seems there's some sort of big event taking place in London this week and no doubt that will draw the attention of thousands of snappers. Yet just a stone's throw from Buckingham Palace in St James's Park you will find another subject worthy of a picture or two.
There, photographer Stephen McLaren has been focusing his attention on the pelicans who inhabit the park, one of whom has been affectionately named William, or Willy, by his fans.
I asked Stephen about the work:
"Photographers are always on the lookout for obliging photogenic subjects, and even though I am a street photographer preferring to stay in the background and shoot unobserved, I often feel the need to directly connect with the subject of my camera's gaze.
"It was in St James's Park in London where I finally found my muse. His name, or so I'm told, is Willy, a five foot high male American White Pelican. We first met five years ago when I found him sitting regally on a bench having just swooped there from his usual home of Duck Island in the park's lake.
"One day I came around the corner of St James's park expecting a good view of the Palace and instead was confronted by a huge white bird preening itself on a park bench. Like virtually everyone else who has had that encounter I whipped out my camera and recorded my disbelief for posterity and have been taking pelican pictures ever since.
"The flock of pelicans residing in St James's park was first introduced in 1664 as a gift from the Russian Ambassador. Although they technically belong to the Queen they are likely to become Boris Johnson's responsibility if the management of the Royal Parks is transferred to the London Mayor's office.
"Although they are wild animals with wings un-clipped, the pelicans have become increasingly inured to human beings. Indeed after spending several years of watching them at close quarters I have come to the conclusion that it is they who own and run the park, and us human gawkers are the beasts under inspection.
"It has become obvious to me is that the pelicans love having their pictures taken. Sometimes there can be upwards of 20 people at a time shoving phones and various flashing devices in their face. They never object, or peck, or throw a strop. Instead they will adjust their pose as required, shifting from full frontal to coquettish side-on 'you looking at me' stance. This always requires the wide-angle lens. Willy, in particular, loves the attention of cameras and must be the most photographed animal in London.
"Although I love photographing the pelicans the longer I did it the more I realised that I was just as interested in the people that were drawn to them. Alongside the flotsam and jetsam of tourists and lunchtime snackers, there is a community of older people who adore all the animals in the park, but save particular affection for the white giants.
"There is Dave who brings his pet snake and polecats to add to the menagerie, there is a gentleman who wheels a bag full of animal feed through the park, and there is Michael who has somehow trained Willy to follow him through the park and who will talk to him while reading the newspaper.
"As for the tourists, they are the ones most beguiled by Willy and his pals. Russian ladies and well-marshalled groups of Chinese people seem particularly thrilled by their antics. Bread, biscuits and nuts are often proffered as snacks but these are usually treated with disdain as favoured foods include worms, and any careless pigeons that get too close.
"For those who want to see these magnificent animals up close, the best opportunity is at 1430 every day when the Royal Parks staff bring buckets of fish for those huge beaks and gullets to devour. It's one of London best wildlife spectacles and for those on a budget it beats going to the zoo. But be sure to bring your camera, you never know what might happen."
So once you've waved at William and Kate, perhaps you could turn your attention to the pelicans in the park.