Island life shots win Sony World Photography award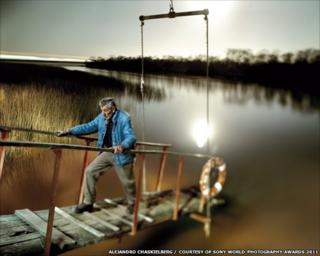 Argentinean Alejandro Chaskielberg's pictures of a small community of islanders who live on the Parana River Delta have been selected from more than 105,000 entries to win this year's L'Iris D'Or Sony World Photography Award.
Chaskielberg spent a couple of years immersing himself in island culture and the resulting work entitled High Tide has received widespread acclaim. He shoots using a 5x4 camera and each picture is sumptuously lit and rehearsed. His pictures were selected for inclusion at the Brighton Photo Biennial by Martin Parr.
The Open Photographer of the Year title went to Chan Kwok Hung for his dramatic picture titled Buffalo Race, which was mentioned in an earlier post.
Some of the other category winners include Javier Arcenillas in the current affairs section, Adam Hinton took first prize in the commercial category and Paul Gisbrecht claimed the conceptual award.
Though the awards are divided by traditional photographic genres, curator Francis Hodgson hopes that by hanging the photographs in three sections around growth, spectacle and the body, the show will challenge our pre-conceived notions and encourage us to explore the vocabulary of photography.
The pictures are on show at World Photography Festival at Somerset House in London, 26 April - 22 May where you can also see a fine collection of photographs from the legendary Bruce Davidson.
For more details see the World Photography Awards website.