Returning to the disaster zone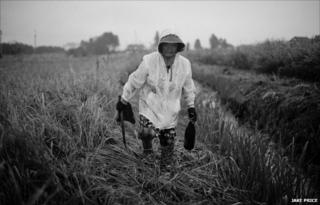 Six months on from the tsunami that devastated parts of Japan and resulted in the deaths of thousands, photographer Jake Price returned to the area he first visited in the days following the disaster.
His report is in the form of an audio slideshow and can be seen here, but I wanted to tie it together with his other work from Japan, as he is a photographer who commits totally to a story and is in for the long haul.
Previously I published a report from him a couple of weeks after the event as he photographed the region, and then to mark a month after the event we published an audio slideshow of his work. Following that he was also involved with a number of photographers who launched an App to raise funds for the tsunami appeal.
During his latest visit he spent time in the town of Yuriage, from where the BBC's Damian Grammaticas reported a few days after the disaster, as well as exploring the way the tsunami has added to the migration of the young away from the agricultural land and into the cities.
"This time I focused on elderly farmers (some in their 70's) and their efforts to reclaim their land," Jake said. "Aside from the construction crews they're the only ones to be seen.
"It was pretty touching as they toiled in Japan's notoriously hot summers and then the rain. As in the rest of the world the younger generations have left for the cities. These men and women represent perhaps the last generation who will work the land."
You can see Jake's latest audio slideshow from the region here and his other work on his website.