Chatsworth Road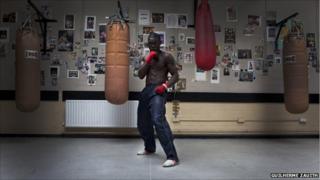 Brazilian photographer Guilherme Zauith moved to London last year having completed a book on street art in the Argentine capital Buenos Aires. His latest project focuses more on people than the street itself and explores the Chatsworth Road area of Clapton. It's a great example of how a simple idea can evolve into an exhibition and cohesive body of work.
Having visited the Sunday market in Clapton Guilherme was attracted by the traditional shop facades, the owners of the shops and the community feeling of the market. Seeking a way in he contacted a local residents association and offered to take pictures for their website.
This was just the beginning. "From this I started to go back any free time that I had and talk to people and wander around with my camera on the back streets," Guilherme said. "So one week I was photographing a local boxer, the other a Turkish family or Caribbean musicians. From pimps to lawyers I have never found any barrier there. Everybody wanted to be photographed and seemed proud to have their pictures taken. Therefore I focused on their daily activities and street portraits."
Guilherme had tried to shoot in some other districts of East London but told me that he often ran into problems, sometimes from people thinking he was an undercover policeman. He added: "Also I kind of had a strange feeling with some parts, with all the posing art students and expensive cafes. To me Chatsworth Road is an important record of east London, a small island community."
You can see more of Guilherme's work on his website and an exhibition of his pictures from east London are on show at 33 Chatsworth Road, Clapton from 20 October until 1 November 2011.