H'away the lads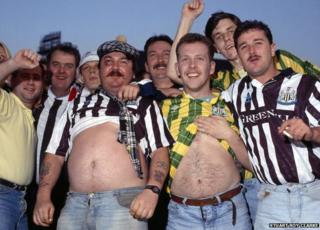 The world of football has changed in the past two decades. Players' wages and the cost of season tickets have spiralled, and many of the grounds have been upgraded, yet at its heart are the fans whose devotion to their clubs ensures the spirit of the game continues.
Photographer Stuart Roy Clarke has spent those years documenting the national game, visiting grounds around the country and recording the action on and off the pitch.
This began in part as a response to the tragedy at Hillsborough in Sheffield in 1989 which resulted in the death of 96 Liverpool fans following a crush on overcrowded terraces. Clarke knew then that the game would have to evolve, and set about documenting the changing face of the fans.
Clarke has captured both the spectacle of the game as well as the lengths people go to see their team. He's not looking for the traditional sports image, more the sideways glance that sums up the moment, and in time evokes memories of that time.
He has shot more than 100,000 frames on his Bronica cameras, on film with standard lenses.
Recently Clarke was one of the driving forces behind the new National Football Museum in Manchester, where his project is on show until December, plus you can watch a film of him in action. You can also catch a selection of the work in London at Chris Beetles Gallery. Here are a few of Clarke's pictures: