Picture power: End of the line for Putin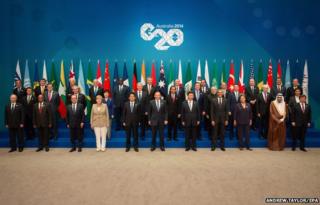 Large political gatherings can often provide pictures that do more than just reflect who was there and who shook hands with whom.
The family photograph of leaders at this weekend's G20 meeting in Australia has drawn attention to Russian President Vladimir Putin's position, way out on the end of the front row.
Both the UK Prime Minister David Cameron and US President Barack Obama amongst others have warned Mr Putin that Russia faced both sanctions and isolation over its policy in Ukraine. The Canadian PM was more direct, saying "I'll shake your hand, but I only have one thing to say to you: you need to get out of Ukraine".
Ukraine and its Western allies have accused Russia of sending military forces across the border, something the Kremlin denies.
Of course, each leader wants to be seen in a good light and at the heart of events, let's face it, it's all good for their image back home.
Coming across as confident in a picture is an art in itself, some make it look easy, others struggle, and however much they try, the camera can at times be cruel.
Though perhaps Mr Putin is not so worried as he headed home early, putting his departure down to a long flight and the need for sleep.