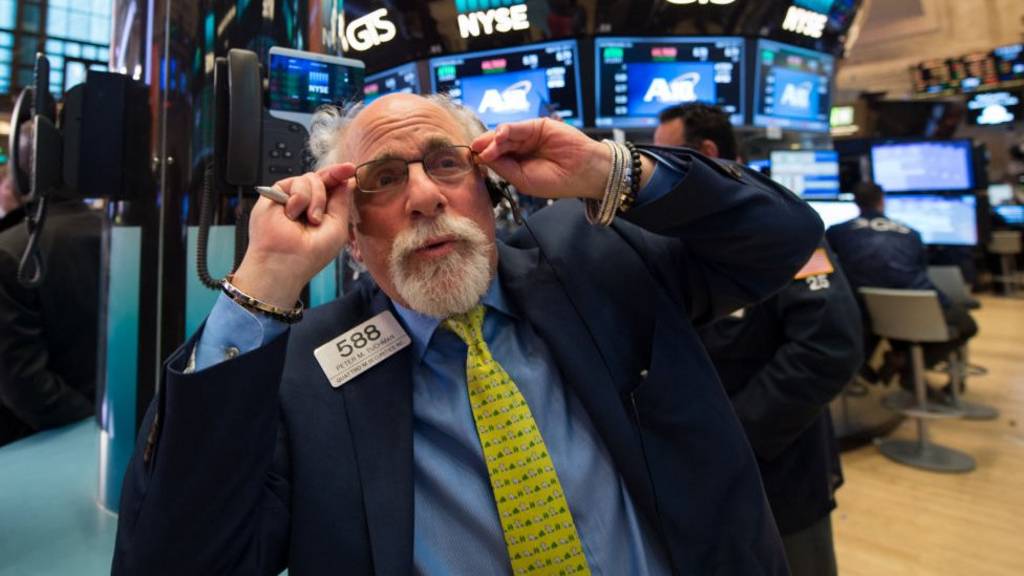 Summary
Euro jumps on Macron's first-round win
Cac-40 in Paris up 4.4%, FTSE 100 up 2%
France launches emissions probe into PSA
US stocks hold gains
Get in touch: bizlivepage@bbc.co.uk
That's us finished for another day. Please check in again from 6am on Tuesday.
US stocks jumped on Monday, tracking a relief rally that swept through Asian and European markets after centrist candidate and market favorite Emmanuel Macron won the first round of the French presidential election.
The Nasdaq surged to a record close of 5,983.82 points, up 1.2%. The Dow Jones rose 1.1% to end the session at 20,764.03, and the broad-based S&P 500 also advanced 1.1% to close at 2,374.13. 
Trump 'eyeing 15% corporate tax rate'
US President Donald Trump has apparently ordered his administration to come up with a draft plan to slash the corporate rate to 15% by Wednesday, the WSJ reports, quoting a source. 
This would be meeting a campaign promise although would likely lead to a rise in the national deficit - a price Mr Trump is allegedly willing to pay. 
The US corporate tax rate is currently 35%.
Last week, Mr Trump said he would unveil a massive tax cut this week on Wednesday.
The White House has so far not responded to request for comment on the WSJ's article.
Greece sells port to German-led consortium
Greece is to sell a controlling stake in Thessaloniki Port to a German-led consortium for 231.9m euros.
The sale is a part of the country's international bailout signed in 2015 and comes less than a year after China's Cosco Shipping bought a 51% stake in Piraeus Port, Greece's biggest, for 280.5m euros. 
The consortium is led by Deutsche Invest Equity Partners, a private equity firm, in partnership with French port operator Terminal Link SAS.
The group will also take over the operation of the port for the next 34 years under a separate lease agreement that Greece expects to bring in more than 170 million euros in additional revenue.
Martin Lewis shares his money tips
BBC Radio 5 Live tweets
Whole Foods 'could see takeover bid'
Organic grocery chain Whole Foods could see a takeover bid from Albertsons, the Financial Times has reported, citing people familiar with the matter. 
Albertsons, the second largest operator of grocery stores in the United States, has had preliminary talks with bankers about making a bid - although it has made no formal approach, the paper said. 
Albertsons, which is controlled by buyout group Cerberus Capital Management, said it did not comment on speculation, while Whole Foods declined to comment. 
Shares in Wholefoods climbed by more than 4% before easing back. 
GM loses appeal to block lawsuits
A US court has rejected an appeal by carmaker GM to block potentially billions of dollars in consumer claims over faulty ignition switches.
GM claimed its 2009 bankruptcy should protect it from lawsuits related to the switches, which could shut off unexpectedly during driving and have been linked to more than 100 deaths. 
But the plaintiffs said the company should be liable because it knew about the defect long before the bankruptcy.
GM said the Supreme Court's decision "departed substantially from well-settled bankruptcy law".
It also said plaintiffs would still have to "establish their right to assert successor liability claims. From there, they still have to prove those claims have merit."
Lawyer of United victim to take on American Airlines
The lawyer representing Dr David Dao, who was dragged from a United Airlines plane, will also represent a woman who clashed with an American Airlines flight attendant last week.  
Thomas Demetrio told CNBC that Surain Adyanthaya's tale was "compelling". 
The American Airlines attendant is accused of forcibly removing a pram from Ms Adyanthaya and hitting her in the process, narrowly missing her baby.
A passenger filmed the incident and posted it to Facebook where it went viral.
It follows the forcible removal of Dr Dao a week earlier from an overbooked plane in Chicago, resulting in him losing two teeth and sustaining other injuries.
France launches emissions probe into PSA
France has opened a judicial inquiry into allegations the car group PSA cheated on diesel pollution tests.
Quoting a judicial source, the AFP news agency said PSA might have rigged controls which could "render its merchandise dangerous for human or animal health". 
PSA, which owns Peugeot and Citroen, denied the claims and said it would "defend its interests". It said it respected regulations "in all countries where it operates".
Investigators have made similar allegations about PSA's French rival Renault, and are looking into allegations surrounding Volkswagen and Fiat-Chrysler. 
The main US share indexes have held their gains after each opened higher, although they have not matched the highs seen in Italy, France and Germany.
In early afternoon trade the Dow Jones is 1.1% higher, the S&P 500 is up 1.05%, and the Nasdaq has gained 1.2%.
First sales rise for Caterpillar since 2012
Machine manufacturer Caterpillar has posted its first quarterly increase in revenue since 2012, with sales up 1% year-on-year in the three months to February.  
The US firm has been hurt by sluggish demand in the construction and energy industries, and it cut 12,300 jobs worldwide in 2016. 
Its shares were up 2.8% in early afternoon trading in New York. 
'Macron can win trust of business'
Pierre Gattaz, the president of Medef, a group that helps companies network, says Emmanuel Macron can win the trust of French businesses.
He told World Business Report: "He wants to make France more attractive and make French business more competitive."
European markets end the day on a high
European shares surged today following Emmanuel Macron's win in the first round of the French election.
The Milan stock exchange closed 4.77% higher, the French CAC 40 gained 4.41%, and Germany's DAX was up 3.37%. 
The Euro Stoxx 50, an index of leading Eurozone businesses, gained 3.99%.
Do employers want Macron or Le Pen?
World Business Report presenter tweets...
FTSE closes higher on Macron win
The FTSE 100 ended the day higher after centrist Emmanuel Macron topped the first round of voting in the French general election on Sunday. 
The blue chip index gained 2.11% to 7,264.68 while the FTSE 250 climbed 1.26% to 19,602.83, an all time high. 
Sterling slipped as the euro surged, however, falling 1.41% to 1.17710 euros and it was also down against the dollar, dropping 0.18% to $1.27870.
Is executive pay too high?

Over the last few years executive pay packages have been widely criticised as being too high. 
However, chairman of the Remuneration Consultants Group Dr Martin Read CBE rejects these claims.
He says pay hasn't "rocketed up" and the system has worked quite well since the financial crisis. 
A decision by Indian prime minister Narendra Modi to abolish high denomination bank notes last year sparked panic among small firms, who still do most of their business in cash.
But digital workarounds are now gaining in popularity and may rule out such concerns in future. 
As Global Business reports, this small-scale Indian vendor seller takes digital payments, even for single cigarettes
'Le Pen not a spent political force'
Kathleen Brooks, an analyst at City Index, says investors could be getting carried away after Emmanuel Macron's win in the first round of the French election. 
While the centrist is odds on to win in the second round, she says Mrs Le Pen is not a spent political force yet. 
"It is worth remembering that France has National Assembly elections in June, and if Macron can't get enough of his En Marche members elected, and the Front National increases its number of seats, then Marine Le Pen is likely to remain a major force in French politics."
As such, the "sigh of relief" from markets this morning may be a little premature.
US gold and bond prices fall
US investors have given safe haven assets the cold shoulder this morning and embraced stocks, following Emmanuel Macron's leading performance in the first round of the French election. 
The yield on 10-year Treasury bonds climbed to 2.3% - the highest in two weeks - before edging back a touch. Gold is down 0.9% at $1,272.82 an ounce.  
Woolworths 'could return to the high street'
Iconic high street chain Woolworths could be returning to the high street, almost a decade after closing its doors nationwide, the Daily Star has reported. 
Former brand director Tony Page said he had approached brand owner Shop Direct to buy the name back.
"I am still emotionally attached to it," he told Daily Star, "I still think it has got a role in the future."
Mr Page said he wanted to bring Woolworths back in a "similar format" but place stores more at the "heart of the communities" rather than major shopping centres.
Woolworths collapsed into administration in 2008, leading to 27,000 job losses. 
Macron result 'bodes well for world economy'
Jake Robins, a manager at investment firm Premier Asset Management, believes Emmanuel Macron is now certain to become the next French president, and that this bodes well for the global economy. 
He points out that last week, European PMI figures (a measure of future economic output) rose yet again and Chinese growth has also beaten expectations. Even Japan is seeing a pick-up in exports. 
He also says markets that have sagged due to political risk could now shift "to a more bullish and cyclical stance" over the next few months.
Taking their lead from European markets, US stocks have opened sharply higher after centrist Emmanuel Macron came top in the first round of voting in the French general election.
In the opening minutes of trade, the Dow Jones and S&P 500 had gained around 1% each while the Nasdaq was 1.2% higher. 
Consumer confidence continues to soften - Deloitte
More evidence that higher inflation is starting to rattle the British consumer. 
According to an index from consultancy firm Deloitte, consumer confidence dipped to -7 for the first quarter of 2017 from -6 in the last three months of 2016.
"Since last summer's EU referendum consumer spending has held up well, but with inflation rising and nominal wage growth starting to slow, consumers are beginning to feel a squeeze on their disposable income," Deloitte economist Ian Stewart said.
Official data last week showed retail sales posted their biggest quarterly fall in seven years in March, as the prices of everyday goods continued to climb.
French voters divided over EU
As we have been reporting, markets have jumped after Emmanuel Macron came top in the first round of voting in the French presidential election. 
Investors, who like the centrist candidate's pro-EU policies, were worried that two anti-EU candidates would progress through to the second round.
But as Phillipe Legrain - head of the Open Political Economy Network think tank - tweeted, French voters still seem divided on the issue of Europe.  
Halliburton reports smaller-than-expected loss
Oilfield services provider Halliburton has reported better-than-expected first quarter revenue and profit, narrowing its loss to $32m for the period. Its revenue inched up 1.9% thanks to higher demand from US shale producers.
The firm warned last month that it was seeing weak demand outside the US.
US stocks set to join in rally
Analysts are predicting that US stocks will join the market rally when they open in just under an hour. 
Bank of America , Goldman Sachs and JPMorgan shares are all up over 2% in pre-market trading with the overall S&P index, Dow and Nasdaq all expected to open 1% higher. 
Grant Thornton fined £2.3m
We missed this earlier, but accounting firm Grant Thornton has been fined £2.3m by accounting watchdog The Financial Reporting Council (FRC).
The FRC said that the firm had failed to challenge "fictitious revenues" at listed fire and rescue services firm AssetCo.
It said the accounting firm and one of its now retired partners, Robert Napper, have admitted misconduct and agreed to fines and other sanctions. 
"The respondents have admitted that their failings arose as a result of the significant and widespread lack of professional competence and due care in the performance of the audits," the FRC said in a statement. 
Akzo faces fresh pressure
Dulux paintmaker Akzo Nobel's shares are currently up 4.5% following US rival PPG's  third offer. 
Akzo's shares have now gained 37% since January, in a sign that investors are expecting some kind of deal.
Akzo holds its annual meeting tomorrow and it's likely to face fresh pressure to give in to what PPG boss Michael McGarry said is a "compelling deal".
Shareholders, led by hedge fund Elliott Advisors, say Akzo should at least open exploratory talks with PPG.
Breaking
Market rally continues
The market rally on the back of Emmanuel Macron's victory in the first round of the French presidental election continues. 
The FTSE 100 has held onto its gains to be up 1.7% at 7,236 points. On the continent it's a similar story with France's CAC-40 still 4.5% higher and Germany's DAX up almost 3%.
Energy firms are the biggest FTSE losers due to government plans to cap household energy bills. Centrica is down 4.5%, with SSE off 3.2%.
'Red screen of death' for Samsung
Samsung will offer an unusually early software update for its new Galaxy S8 smartphone after some consumers complained of red-tinted screens.
Images of their phones went viral on social media but Samsung denied a hardware flaw and said users could manually adjust the colour range.
However, Samsung decided to release a software update to let owners "adjust the colour setting to their preference".
Samsung has pinned its hopes on the S8 to compete against Apple's iPhone after last year's flammable Note 7 disaster.
After backing the sale of Jimmy Choo - of which it is the biggest shareholder - JAB Luxury is also looking to flog Bally. It's also a "luxury footwear" maker (translation: shoes) that makes handbags and the like as well.
Bally was founded in Switzerland in 1851 and JAB has owned a stake in the firm since 2008. Luxury is now deemed non-core following JAB's investments in consumer goods such as coffee and cosmetics.
What does French result mean for Brexit?

Simon Jack
BBC Business Editor
Emmanuel Macron has been installed as the overwhelming favourite to be the next French president - but what does that mean for business, and Brexit?
For the bigger economic picture, a Macron win removes the chance of a political and economic shock to Europe's core.
Marine Le Pen's calls for France to leave the eurozone have been seen as an existential threat to the entire European project.
Macron's likely win has seen the French stock market and the euro surge as that threat is seen as receding.
Read more: What does French result mean for Brexit?
Scotland business editor Douglas Fraser tweets:
That revised bid has sent shares in Akzo Nobel 5.7% higher to 82.70 euros in Amsterdam.
In something of a veiled threat, PPG boss Michael McGarry said his firm was extending "this one last invitation" to AkzoNobel.
"Our revised proposal represents a second increase in price along with significant and highly-specific commitments that we are confident Akzo Nobel's stakeholders will find compelling," he said.
Made in Britain goods in demand
UK-manufactured goods are in strong demand, according to the CBI's latest industrial trends survey. 
The business body said domestic orders had improved at the fastest pace since July 2014 in the first three months of the year. Export orders grew at their strongest rate for six years.
The CBI said firms were at their most optimistic about selling in more than four decades.
However, it warned the weak pound, which has fallen sharply against the euro since the EU referendum, continued to push up manufacturing costs. 
Transformers boost Hasbro
Hasbro, the second-biggest US toymaker, reported a 2.2% rise in quarterly revenue following strong demand for toys based on franchises including Transformers and Nerf guns.
Revenue rose to $849.7m in the first quarter to 2 April, while net profit jumped almost $20m to $68.6m.
Breaking
PPG raises Akzo bid again
PPG, the US firm stalking Dulux paint maker Akzo Nobel, has made a revised proposal of 96.75 euros a share - an increase of 6.75 euros a share. The 8% increase over the second offer values the Dutch company at almost 25bn euros.
Akzo has thus far declined to engage in talks with PPG but several big shareholders have called for it to do so.
Breaking
Bid to delay air pollution report
The Government is seeking to delay publishing a report on tackling air pollution until 15 September, a spokesman for the prime minister said. 
It had until 4pm today to come up with a plan to improve air quality and meet nitrogen dioxide limits set by the European Union after the High Court ruled a calculation of future vehicle emissions was too optimistic. 
Business presenter Susannah Streeter tweets:
Brexit threatens workers' rights, according to the Communication Workers Union.
Delegates at the union's annual conference in Bournemouth called for the rights of workers and unions to be protected under the settlement negotiated by the Government. 
Cutting red tape could deregulate the economy, with low wages becoming the norm, delegates warned.
London delegate Will Murray said: "We need to campaign to make sure workers do not pay the price for Brexit because we face the greatest stripping of workers' rights in living memory."