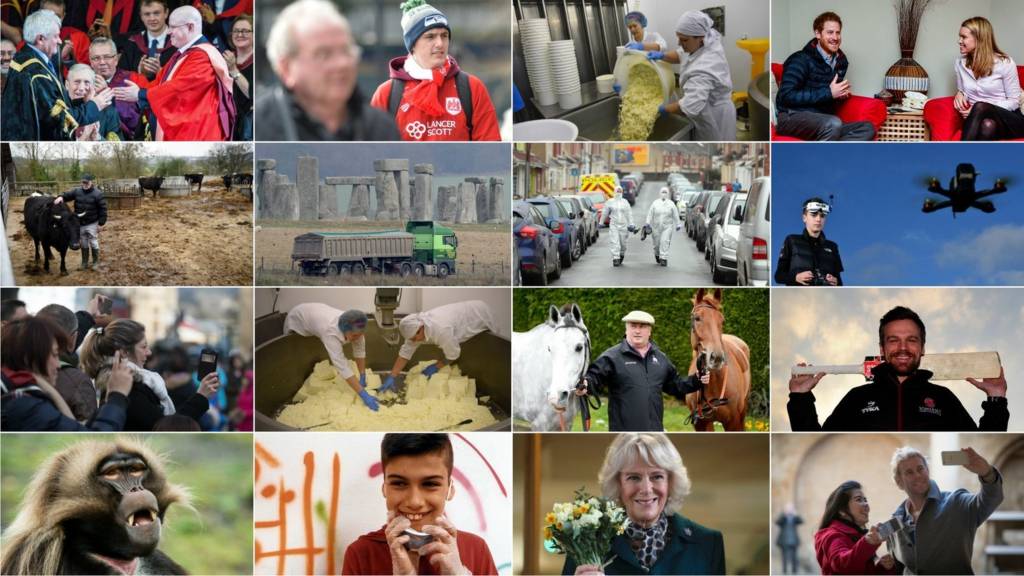 Summary
News, sport, travel and weather updates from across the West of England on Friday, 24 March 2017.
Gloucester earn a bonus-point win at Bristol to keep the Premiership's bottom club seven points adrift of Worcester.
Read more
Good night and have a great weekend
Well that's it from us tonight and this week.
Have a great weekend and please join us again from 7am on Monday for more news, travel, weather and sport updates.
Silverware for Cherry and Whites
FT: Bristol 14-32 Gloucester
Gloucester claim five Premiership points, but also the Rifles Cup.
Willi Heinz is all smiles as he collects the trophy and that'll be a happy Friday night for everyone connected with the club.
FT: Bristol 14-32 Gloucester
Gloucester hooker Richard Hibbard gets the man of the match award for that sterling display in the front row.
They climb a place up to eighth, two points behind seventh-placed Harlequins who are in action tomorrow.
Try (May, con Burns)
Bristol 14-32 Gloucester
Well, there is a bonus point securing try, but it's not for Bristol, but Gloucester.
Counter-attacking move from one end of the field to the next opens up Bristol and the ball finds Jonny May with acres of space to cross over with ease and put a perfect seal on this game for the Cherry and Whites.
Billy Burns puts the cherry on the top of their performance with a final conversion.
Discovery enables 'mass produced blood'

James Gallagher
BBC News Website, Health Editor
Scientists say they have made a significant leap towards mass-producing red blood cells suitable for donation.
Red blood cells can already be made in the lab, but the problem is scale.
A team at the University of Bristol and NHS Blood and Transplant have developed a method to produce an unlimited supply.
The artificial blood will be far more expensive than conventional donation. So it is likely to be used for people with very rare blood types.
Try (Ludlow, missed con Burns)
Bristol 9-25 Gloucester
Eventually the pressure tells for Gloucester.
No stopping that maul this time for Bristol and Lewis Ludlow is the man who's got the ball under his arm as they barge their way across the line.
Billy Burns not on target with his boot though for the first time tonight.
Gloucester go hunting for a third try to really kill this game off, but once more Bristol hold them off inches from the line.
Richard Hibbard and Willi Heinz looked destined to get on the scoresheet, but somehow they're held up.
Eventually it's forced out of touch in the corner.
Dog faces destruction after court rules it safe
Sky the dog was left abandoned at some kennels in Bristol after her original owner went off to Australia. 
Kennel volunteers fell in love with her and tried to adopt - but because she had an owner, they had to go to court to apply for ownership. 
Sky shares similar characteristics with dangerous dogs, but was ruled exempt from Breed Specific Legislation at Bristol Crown Court. 
However, Defra disagreed with the ruling so Sky could still face destruction. 
Now a judicial review could take place to decide her fate.
Try (Burns, con Burns)
Bristol 9-20 Gloucester
A long wait before that Gloucester score was confirmed, but the uncertainty was over whether or not Jonny May had slipped out of touch as he intercepted a grubber kick from Willi Heinz through to Bristol's 22.
Replays show he did just stay the right side of the whitewash and offloaded to Billy Burns to run in unapposed for Gloucester's second try.
Burns adds the conversion and now it's a long way back for Bristol.
School pupils write a song for Comic Relief
Pupils at Commonweal School in Swindon have written and performed their own song for Comic Relief.
They wrote the song 'I Got You' using a piano given to them by jazz singer Jamie Cullum. 
About 120 children were involved in the fundraising. 
They've managed to create a whole album with the proceeds going to Comic Relief.
University student dies after car crash
A "wonderful young lady" has died after being involved in a two-car crash on a main road.
Rhiannon Smith, 21, was involved in a collision between a black Range Rover and a grey Toyota Yaris on the A48 between Newport and Chepstow last week.
The trainee teacher, who was studying at the University of Gloucestershire, has since died.
Her family said she was "the life and soul of a party" and had ambitions to work as a teacher in London.
Rescued seals released after rehabilitation
Four seals cared for by the RSPCA in Somerset have been released back into the wild.
Bengali, Rafael, Garfield and Gargamel were rehabilitated at the West Hatch wildlife centre before being released back into the sea in Devon.
Penalty (Burns)
Bristol 3-13 Gloucester
And Billy Burns successfully kicks his 18th Premiership attempt in succession to extend Gloucester's lead to 10 points.
Jeremy Corbyn: 'Either my nose has got bigger or red noses have got smaller'
Labour leader Jeremy Corbyn was in Bristol today, launching his party's campaign for the West of England mayor election. 
Voters in Bristol, Bath and North East Somerset, and South Gloucestershire will go to the polls in May.
So Tusi Pisi goes off for Bristol to be replaced by Jack Tovey for what looks like a head injury assessment and now Gloucester's David Halaifonua is receiving attention as he becomes the latest to take a knock.
Not one for the faint-hearted this match so far...
Break in play after Bristol were building some phases as Gloucester centre Andy Symons goes down injured.
Looks like an achilles injury for the former Worcester man on only his third Premiership start.
Teacher banned for groping pupil on trip
A teacher who sexually touched a pupil on a school camping trip has been banned from teaching indefinitely.
Nicholas Bartlett, 28, was a science teacher at Clarendon Academy in Trowbridge, Wiltshire.
During a school summer camp in June 2015 he stroked the pupil's thigh, squeezed her bottom and subsequently contacted her on social media.
A conduct panel concluded his actions were sexually motivated and amounted to professional misconduct.
Been a cagey passage of play since that Sharples try, but Bristol are still causing some problems for Gloucester.
Gloucester's discipline is letting them down at the breakdown and Billy Searle finds touch from a penalty towards the Gloucester five-metre line.
Try (Sharples, con Burns)
Bristol 3-10 Gloucester
He might only be on the pitch temporarily, but Charlie Sharples wants to make an impression while he's out there.
Opening try of the game comes Gloucester's way after Sharples races to the line wide right from 15 metres out after a lovely offload from Tom Marshall.
Billy Burns adds the extras with a tricky attempt with his right boot.
Exhibition of art by care home residents
Residents at three Wellington care homes got to work with professional artists.
The exhibition is called Handmade Wellbeing and is part of a European project taking artists into care homes. 
The theme of the artwork was centred on things the residents have done with their hands throughout their lives.
Penalty (Burns)
Bristol 0-3 Gloucester
And absolutely no mistake from Billy Burns with his regulation attempt and Gloucester have the first score of the night.
Rugby: Bristol v Gloucester - and we're off...
Specsavers staff cycle for Red Nose Day
It's Red Nose Day and plenty of people have been out and about doing a whole variety of things to raise money for Comic Relief. 
The above staff from Specsavers in Bedminster, Bristol, have been doing a sponsored static cycle ride.
Mental health assessment suites face closure
Two of Wiltshire's mental health assessment suites could close under new plans. 
Avon and Wiltshire Mental Partnership is consulting on plans to expand the "Places of Safety" suite in Devizes, a proposal which would see the Swindon and Salisbury suites closed. 
People in distress and thought to be at risk of harming themselves or others can be brought to the suites by police to be assessed as an alternative to being taken to police cells or A&E units.
The partnership says the current suites are "inadequate in terms of environment and staffing".
However there are concerns it would mean a longer journey to receive help for some people living in north and south Wiltshire.
Bloodhound supersonic car record bid slips again

Jonathan Amos
Science correspondent, BBC News
The effort to break the World Land Speed Record is going to slip again - to 2018 .
The Bloodhound Super-Sonic Car - which is being built in Bristol - was supposed to go racing later this year, to try to raise the current mark of 763mph (1,228km/h) to over 800mph.
But what are described as "short-term cash flow problems" have put a dent in the schedule.
The upside, says the team, is that it provides additional time to eke more power from the car's rocket.
Severe disruption: M5 Somerset northbound
BBC News Travel
M5 Somerset northbound severe disruption, at J21 for A370.
M5 Somerset - M5 lane closed on exit slip road northbound at J21, A370 (Weston-Super-Mare), because of a broken down vehicle. Traffic is coping well.
To report traffic and travel incidents dial 0330 123 0184 at any time
'I cannot leave my children alone for one second'
The family of a Bristol toddler who vanished in Australia almost 50 years ago broke down in tears today as a man was formally charged with her murder.
Cheryl, aged three, disappeared in 1970 after a day out at the beach.
Her family said at court today, no matter what happens, they'll be haunted forever.
New road layout past Town Hall fully open
A new two-way road layout in Cheltenham has opened this afternoon.
Oriel Road, by the Town Hall, was resurfaced and had white lines painted before the system was fully opened to traffic.
The new layout includes:
A new right hand turn from the Promenade junction into Imperial Square
A two-way system along Imperial Square North instead of one-way
Rugby: Two hours 'til kick-off
Bristol play Gloucester in the Premiership tonight. Kick-off at 7.45pm.
Tune in to BBC Radio Bristol or BBC Radio Gloucestershire for full match commentary.
The afternoon headlines from your local newspapers
Rugby: Rivals match has 'all the ingredients of a great game"
Bristol take on local rivals Gloucester tonight at Ashton Gate in the Premiership. 
Bottom of the table Bristol are looking to avoid relegation to the Championship after just one season back in the top flight.
Coach Jonny Bell said it has "all the ingredients of a great game".
Travel: A38 reopen following serious crash

Gloucestershire Constabulary
The A38 is now open in both directions at Stone, just north of Woodford, following an earlier RTC.
Two vehicles - a Ford Focus and Nissan Almera - collided at around 10am. The road was closed to assist with recovery and investigations but is now open. The driver of one of the cars, a woman in her 60s, was taken to Gloucestershire Royal Hospital with injuries.
Jeremy Corbyn launches Labour's mayor campaign
Labour leader Jeremy Corbyn has been in Bristol today to launch his party's campaign for the West of England mayor election. 
Jeremy Corbyn joined Bristol mayor Marvin Rees in Southmead to support their candidate, Lesley Mansell. 
Voters will be going to the polls in Bristol, Bath and North East Somerset and South Gloucestershire in May.
Severe disruption: M5 Somerset southbound
BBC News Travel
M5 Somerset southbound severe disruption, between J20 for B3133 and J21 for A370.
M5 Somerset - One lane closed and slow traffic on M5 southbound between J20, B3133 (Clevedon) and J21, A370 (Weston-Super-Mare), because of a broken down vehicle.
To report traffic and travel incidents dial 0330 123 0184 at any time
Dee Dee's dance-off for Red Nose Day
In Trowbridge, Dee Dee Wilde - one of the founding members of 70s dance group Pan's People - has been getting supermarket shoppers involved in a sponsored boogie.
Former head of GCHQ urges calm after terrorist attack
Following the attack in Westminster on Wednesday, the former head of the intelligence agency GCHQ - Sir Francis Richards - has been speaking to BBC Wiltshire about fears over public safety.
Wiltshire-based Sir Francis said people are "under the same threat as we were last week" and are "more likely to get hit by a bus than be involved in a terror attack".
Wife's reaction as marine decision delayed
A decision on a new sentence for former Marine Alexander Blackman, for killing a wounded Taliban fighter in Afghanistan, has been deferred until Tuesday by the Court Martial Appeal Court. 
He has already served three years of a life sentence and his supporters - including his wire Claire - had wanted him to be freed today. 
Outside the court, she said they were "obviously disappointed" but would patiently wait for the decision.
The FA People's Cup is back!
#PeoplesCup
It's the semi-finals stage of the FA People's Cup this weekend and you'll be able to keep up with all the action on our live text pages from 10:00-18:00 on Saturday and Sunday. 
There'll be loads more cracking goals like these ones, analysed by the Football Focus team after the first round.
Brewery raises glass to awards nomination and expansion plans
Somerset brewery The Wild Beer Co seems to be doing very well right now.
It's been named as a BBC Food and Farming Awards finalist in the Best Drinks Producer category and is also planning to build a new brewery.