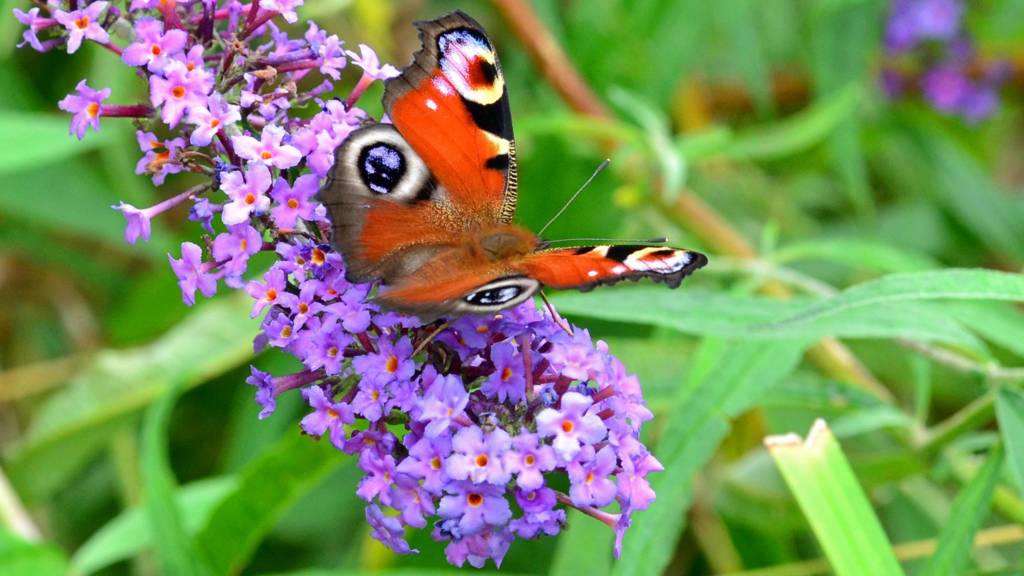 BBC Local Live: Leicestershire
Summary
Updates for Tuesday 26 July 2016
More news, sport, travel and weather from 08:00 on Wednesday
Our live coverage across the day
That's all from Leicestershire Local Live - updates will start again on Wednesday at 08:00.
Weather: Rain to come this evening

Kaye Forster
Weather Presenter
There will be some rain heading in by the evening. It will be very patchy and light at first but there will be another batch of rain heading in through the early hours of the morning.
It'll be a damp start the Wednesday with some rain very early on. The rain will be clearing away quite quickly to leave a dry but fairly cloudy morning.
Pair bailed after man's overdose

Amy Woodfield
BBC Local Live
The two men that were arrested on Beckingham Road in Leicester last night have been released on bail.
The pair, aged 33 and 46, were detained after police found a man who had taken a drugs overdose.
Water park death boy named by police

Amy Woodfield
BBC Local Live
Police have now officially named the five-year-old boy who died after being pulled from a lagoon at Bosworth Water Park on Saturday.
They say investigations into the circumstances of Charlie Robert Dunn's death are ongoing.
Power back on in Coalville

Amy Woodfield
BBC Local Live
Six hours without power- bet you guys are dying for a cuppa?
At least it's back on in time for tea.
Farmers blame fly tipping on new tip charges

Amy Woodfield
BBC Local Live
Graham thinks new council charges are to blame for the increase in fly tipping.
In May Leicestershire County Council started asking people to pay when they wanted to dispose of non-household items at the tip - things like bathroom furniture and tiles.
The idea was to help the local authority save hundreds of thousands of pounds from its budget but it looks like farmers are now paying the price.
New arrival at Twycross Zoo

Amy Woodfield
BBC Local Live
I know I'm a sucker for a baby animal but look at this little cutie...
It's a baby Diana monkey that's recently been born at Twycross Zoo. 
The species are endangered in their native West African habitat so we get the pleasure of looking after it in Leicestershire.
Asbestos dumbed in farmer's field

Amy Woodfield
BBC Local Live
A farmer in Long Whatton says you could "virtually set up home" with all the rubbish that's been fly tipped on his land.
Graham Matravers has mattresses, garden furniture and even sheets of asbestos dumped in his field near the M1.
He says fly tipping has always been a problem but in the last six weeks it's got bad again.
Latest Leicestershire headlines

Amy Woodfield
BBC Local Live
Public hearings into allegations of abuse against Lord Janner have been postponed until March
A baby Diana monkey has been born at Twycross Zoo
Leicester Tigers will play Bath away in their first Anglo-Welsh Cup match this season
Pothas leaves Leics for Sri Lanka role

Leicestershire academy director Nic Pothas is to join Sri Lanka as fielding coach at the end of the week.  
Men arrested for Beaumont Leys burglaries

Amy Woodfield
BBC Local Live
Police have arrested four men thought to be involved with distraction burglaries in Beaumont Leys.
The men were all arrested on suspicion of burglary and are in police custody.
"We want to urge people to be cautious of people who are coming to their door unannounced, and to always ask for identification – if they are visiting from a legitimate company, they won't mind showing their ID."
Macfarlane to buy packaging firm

Amy Woodfield
BBC Local Live
A Leicester packaging firm has been bought for £6.75m.
Macfarlane Group wants to expand its packaging distribution business and has agreed the deal to buy Nelsons for Cartons and Packaging Ltd.
Riders make second US signing

Leicester Riders have signed the 6ft-tall American guard Brandon Clark out of Santa Clara University.
The American starts his professional career with the Riders after averaging 15.8 points per game alongside 3.9 assists and 3.7 rebounds.
He's the Riders' second American signing of the summer.
Travel: Road being resurfaced tonight
Watch: Ben reaches Kilby Bridge

Amy Woodfield
BBC Local Live
It's been a long day for BBC Radio Leicester's Ben Jackson but he arrived at Kilby Bridge just in time to present his show...
Rugby: Anglo-Welsh Cup fixtures

Martin Ballard
BBC Radio Leicester Sport
Leicester Tigers will open their Anglo-Welsh Cup campaign with a game away to Bath Rugby on Friday 4 November.
They'll then host Newport Gwent Dragons and Northampton Saints at Welford Road followed by an away game to Saracens.

Child abuse investigators plough through thousands of documents

Daniel De Simone
BBC Home Affairs producer
Today's hearing, at the Royal Courts of Justice, was also told the Goddard Inquiry as a whole has so far received disclosure of 35,000 documents and is receiving up to 100 communications from the public each week.
Family: Lord Janner 'honourable and entirely innocent'

Gavin Bevis
BBC Local Live
Lawyers representing the family of Lord Janner have responded to the postponement.
In a statement they said: "The role of the Independent Inquiry into Child Sexual Abuse is to investigate whether public bodies and other non-state institutions have taken seriously their duty of care to protect children from sexual abuse in England and Wales - Lord Janner was an individual not an institution.
"IICSA's suggestion that there may be a "finding of fact" is wholly unfair as Lord Janner is dead and there is no right to cross examine witnesses on his behalf. 
"Lord Janner was an honourable man, entirely innocent and never convicted of any crime."  
Janner: Family lawyers involved with investigation

Daniel De Simone
BBC Home Affairs producer
Seven organisations and institutions, including the Labour Party, have previously been made core partipants.
The status has also now been granted to two individual police officers, including the current Derbyshire Chief Constable Mick Creedon, who investigated Lord Janner while working for Leicestershire Police in the early 1990s.
Lord Janner's family have not applied for core participant status but Mr Emmerson said there is "ongoing correspondence with their legal representatives" who have provided a "detailed representation on a range of issues."
Janner: Alleged victims given special status

Daniel De Simone
BBC Home Affairs producer
Mr Emmerson said postponement was "only responsible" in the circumstances.
He also revealed that 33 alleged victims of Lord Janner have now been granted core participant status in the inquiry. This means they have the right to make statements, see documents and seek permission to ask questions.
Lord Janner child abuse hearings pushed back

Daniel De Simone
BBC Home Affairs producer
The Goddard Inquiry held a preliminary hearing today for its Lord Janner investigation.
Announcing the delay, Counsel to the Inquiry Ben Emmerson QC said there are "good reasons to reconsider and timing and structure of the hearings."
He said that Leicestershire Police and the Independent Police Complaints Commission (IPPC) are investigating people and places allegedly linked to the Lord Janner case and will soon interview complainants and witnesses who are also scheduled to give evidence to the Goddard Inquiry.
Delay for Janner investigation

Daniel De Simone
BBC Home Affairs producer
Public hearings into allegations of abuse relating to the former Leicester MP Lord Janner will now begin in March 2017.
The hearings were to start this September but have been delayed because of parallel investigations by other bodies.
The Lord Janner investigation is one of 13 to be reviewed in the Goddard Inquiry, which will be the biggest public inquiry in British history.
Your views: City centre trees being cut down

Our story about plans to cut down trees in the Cultural Quarter has got you talking on Facebook.
Mo Tetlow says: "Many of these trees have been living longer than any people alive today. Old trees should be protected! It provides a green escape from the city."
Christine Scarlett says: "Taking the trees away will surely take away the heritage and the ambience. Leicestershire needs as many trees as it can get as it is one of the counties with the fewest tree counts."
More from council on churchyard tree removal

Amy Woodfield
BBC Local Live
"We want it to be a safe and attractive route into the Cultural Quarter, and for people to use it as a space to relax within this lively and thriving area. This a major part of our ambitious plans to help ensure that the Cultural Quarter continues to improve for residents, visitors and businesses over the next ten years."
Money raised for water park death boy

Amy Woodfield
BBC Local Live
An online fundraising page has been set up to raise money for the funeral of Charlie Dunn.
The five-year-old boy was pulled from Bosworth Water Park on Saturday but died in hospital.
More than £300 has been donated so far.
Council: Trees attract bad behaviour

Amy Woodfield
BBC Local Live
Leicester City Council has given us this statement about the decision to cut down trees at a city churchyard.
It said: "St George's Churchyard has the potential to be a really special place, a green oasis in the heart of the city's Cultural Quarter. As it stands, it is a rather unwelcoming and gloomy area that has attracted anti-social behaviour. 
"We know that people don't necessarily feel safe to walk through the churchyard, which is a great shame. We want to address those concerns by making the area lighter and opening it up so that it feels like a natural extension of Orton Square."  
Two arrested after drug overdose

Amy Woodfield
BBC Local Live
I've just spoken to Leicestershire Police about why Beckingham Road in Leicester was closed off last night.
It turns out the force had a call at about 19:20 to a report of "suspicious activity" and when they arrived they found a man who had taken a drugs overdose.
He was taken to hospital where he is now in a stable condition.
Two men aged 33 and 46 were arrested in connection with the incident. Police didn't say what they were arrested for.
Watch: Ben makes it out alive

Amy Woodfield
BBC Local Live
BBC Radio Leicester's Ben Jackson sounds pretty relieved about making it through Saddington Tunnel...phew!
Your views: Trees to be cut down

Amy Woodfield
BBC Local Live
BBC Radio Leicester has been asking people in the area about plans to cut down trees in the city's Cultural Quarter.
One person said: "I think they could cut down a few of the trees. It can be a bit daunting and when it comes to winter time it can be dangerous on the floor with the wet weather."
Another said: "I'd say you perhaps need to manage the trees slightly, cut them back a little bit, but overall I'm in favour of keeping greenery. It's nice to have that contrast and nature when you're walking around town."
Environmentalists confused by tree removal plan

Amy Woodfield
BBC Local Live
Hannah Wakley is from Leicester Friends of the Earth and thinks despite the "unwelcoming" appearance of the churchyard entrance the trees should stay.
She says: "The city council's own biodiversity action plan says they want to enhance green space in the city and they seem to keep cutting down trees so I'm not sure what they're thinking."
Watch: Ben braves 'haunted' tunnel

Amy Woodfield
BBC Local Live
With just a small light to guide him Ben makes his way though the creepy Saddington Tunnel.
Rumour has it the tunnel is haunted by a headless woman ghost...

Amy Woodfield
BBC Local Live
Accident 'opened new doors' for 'bionic' Claire

Amy Woodfield
BBC Local Live
"I was thrilled when the organisers invited me to take part having heard I had been turned away from other events. My accident was an eventing accident. Horses take up your life. I'd just got to the highest level in the sport about eight months before and it was such a big loss for me. But as much as I loved it, it stopped me doing other things so since then, life has opened new doors for me. I've done the London Marathon four years ago but I always wanted to do the Great North Run because it looks amazing, with a brilliant atmosphere.
Watch: Grace Road pitch check

Richard Rae
BBC Radio Leicester Sport
A look at the Grace Road pitch ahead of the Foxes' One Day Cup game...
Paralysed woman 'always fancied' Great North Run

Amy Woodfield
BBC Local Live
Claire Lomas completed this year's Vitality London 10k in her "bionic suit". She also walked the London Marathon in 17 days in 2012.
Now she's planning to walk the Great North Run in September, something the Leicestershire mother says she's "always fancied" doing.
Latest Leicestershire headlines

Amy Woodfield
BBC Local Live
The city council has angered environmentalists with its plans to fell trees around a Leicester churchyard
Melton's "bionic woman" plans to complete the Great North Run
Leicestershire will take on Lancashire in a bid for their first win in the One Day Cup
Watch: Ben's busy day on the canal

Amy Woodfield
BBC Local Live
Day two on the water for BBC Radio Leicester's Ben Jackson...
Vandals smash tot death tributes

Glass lanterns placed at the spot where two toddlers were killed by an out-of-control car have been smashed.
Council wants a more 'welcoming' entrance

Amy Woodfield
BBC Local Live
The city council says it wants to improve the area around the Grade II-listed Church of St George and create a more open, welcoming and lighter entrance to the churchyard.
Environmentalists argue felling the trees will destroy a rare and valuable wildlife habitat in the city.