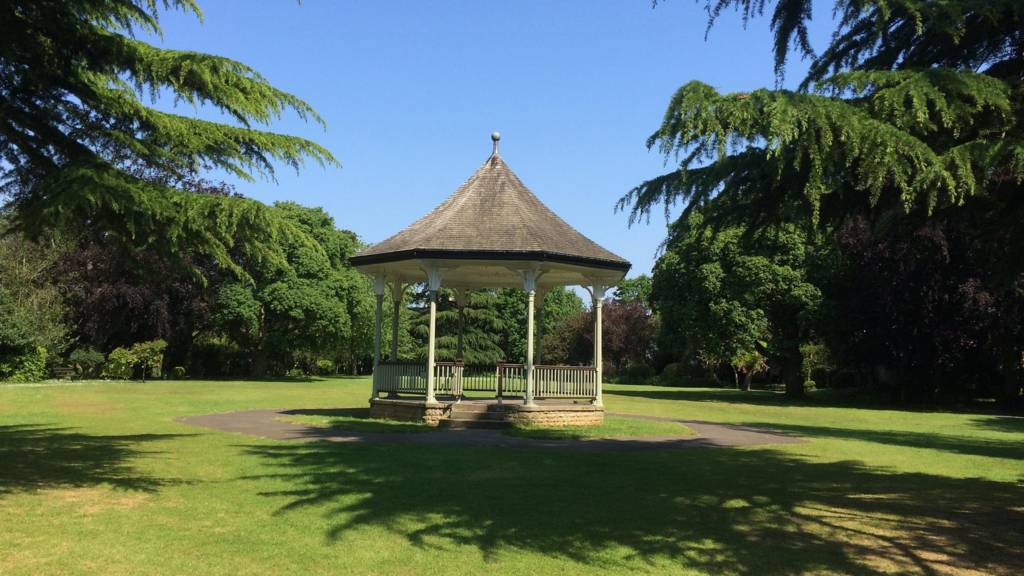 BBC Local Live: Leicestershire
Summary
Updates for Thursday 11 August 2016
News, sport, travel and weather updates resume at 08:00
Our live coverage across the day
That's all from Leicestershire Local Live - updates will start again tomorrow at 08:00.
Weather: A better day tomorrow with sunshine

Kay Crewdson
BBC weather presenter
A dry and mostly cloudy night although some clearer spells developing during the early hours. 
Feeling warm with lows of 16C (61F).
A better day on the cards tomorrow - dry with variable cloud and long sunny periods, especially late morning, early afternoon. 
Feeling warm with highs of 21C (70F).
Rugby: Genge 'world class'

The Leicester Tigers head coach has been singing the praises of their young prop Ellis Genge.
Aaron Mauger says he has the potential to become a "world class" player.
Less than 12 months ago Genge was playing Championship rugby for Bristol but is now part of the 45-man England training squad.
Concern over 'contaminated' soil

Amy Woodfield
BBC Local Live
Plans to dispose of waste soil around the site of Kelham Bridge Nature Reserve have been approved.
The County Council's development and control committee met this afternoon and said the soil can go onto the fields near Hugglescote. 
The soil has come from nearby building developments and campaigners think it could pollute the watercourse at the reserve.
Your comments: Pavement parking pilot

Amy Woodfield
BBC Local Live
I have just read about Leicester City piloting a pavement parking scheme. Have they considered wheelchair users, and the visually impaired? 

As a wheelchair user my progression is constantly endangered by parked cars on pavements.
Superdog Drake learning to fly

Amy Woodfield
BBC Local Live
Forget Superman... you could soon be getting rescued by Superdog in Leicester...
Listen: Ellis needs to 'get scrum sorted'

Amy Woodfield
BBC Local Live
Here's a clip from BBC Radio Leicester of Aaron Mauger talking about Ellis Genge...
Goddard replaced in child sex abuse investigation

Amy Woodfield
BBC Local Live
A new chairwoman has been appointed to lead the inquiry into child sex abuse in England and Wales.
The child protection expert Professor Alexis Jay has been appointed - among the allegations she will be looking into are those against the former Leicester MP Lord Janner.
You might recognise Professor Jay because she led the inquiry into child exploitation in Rotherham.
Advice after airport shutdown: Tell people how to fit screw

The Air Accident Investigation Branch gave some handy information in a bid to avoid future problems.
It recommended the aircraft's manufacturer tells operators how to ensure the set screw is properly installed...
Screw caused shutdown of East Midlands Airport

And we're back with East Midlands Airport now.
Remember when a light aircraft had a problem on the runway back in January that led to the whole airport being shut down?
Well it was caused by nothing more than a wrongly-fitted screw, a report has found.
The private plane's landing gear failed to work properly shortly after the plane touched down.
Man in mobility scooter crash named

Amy Woodfield
BBC Local Live
Earlier this week I told you an elderly man had died after crashing his mobility scooter in Newbold Verdon.
Police have now named him as 81-year-old Harry Lee who lived in the village.
He crashed outside the Nisa Local shop on Main Street on Saturday afternoon. He was airlifted to hospital but later died.

Hinckley AFC are out of the FA Cup after being beaten 5-1 in their preliminary round replay against Heanor Town.
Leicester rower misses out on Olympic medal

Leicester's Jonny Walton and John Collins have missed out on a medal in the Men's Double Sculls in Rio.
Medals went to Croatia, Lithuania and Norway - the GB pair came fifth.
Watch: Boy finds a kidney through Facebook

Amy Woodfield
BBC Local Live
This is a story we featured a lot on Local Live yesterday - a Leicestershire man who donated his kidney to a little boy who'd been waiting eight years for one.
If you missed it, here's a recap...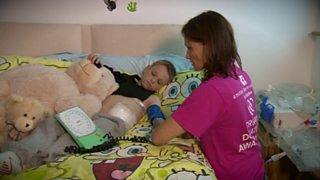 New residents' parking schemes

Amy Woodfield
BBC Local Live
Another part of the parking plan would be to spend £75,000 on a residents' parking schemes in Stoneygate and St Matthew's.
The council say there will be a consultation on this and it will only happen if their is a demand for it locally.
Listen: Classic Claudio jokes with the press

Amy Woodfield
BBC Local Live
I don't think Claudio Ranieri is optimistic Leicester City will win the Premier League again.
Here's the moment he told BBC Radio Leicester there's more chance of ET landing in Piccadilly Circus...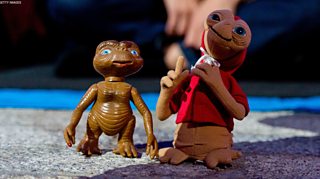 Thousands to be invested in safer school parking

Amy Woodfield
BBC Local Live
Any parents out there might be aware of dangerous of parking outside schools - well about £450,000 will be spent on trying to stop it.
Part of the new parking plan will see the council review how they use "keep clear zones" outside schools and even look at using camera enforcement vans to fine parents who park illegally.
Any aliens heading to London?

Ian Stringer
BBC Radio Leicester Foxes commentator
He's done it again... Claudio with a beauty: "There's more chance of ET landing in Piccadilly Circus than City winning the Premier League again".
The room erupted - classic Claudio
More Leicester companies dodge fair wages

Amy Woodfield
BBC Local Live
Other local employers shamed for not paying the minimum wages were...
Music Junkie Ltd who owed £396.85 to one worker, Beezy Beez Day Nursery Ltd who owed £334.26 to one worker and Wood & Co Ltd who owed £179.17 to one worker.
Nursery shamed for failing to pay minimum wadge

Amy Woodfield
BBC Local Live
Nearly 200 employers have been named and shamed for failing to pay their workers the national minimum wage - including some in Leicester.
The worst local offender was a children's nursery school called Kushi Care Ltd.
They owed £9,726.23 to 46 workers.
Women touched by man asking directions

Amy Woodfield
BBC Local Live
Police want to speak to this man about several indecent assaults in Leicester...
There have been a number of incidents where a man approached women on their own and asked for directions. 
He then touched them inappropriately.
A453 fire: Queues reaching Clifton

Trent Barton have posted this picture of the earlier van fire on the A453 on Facebook.  
They said the delays are around the power station at Ratcliffe-on-Soar but queues are trailing back towards the Clifton Park and Ride.
They're putting extra buses on, they said.

Ian Stringer
BBC Radio Leicester Foxes commentator
The calm before the storm...
Improved shopping parking

Amy Woodfield
BBC Local Live
Of the £2.2m the council also plans to invest about £450,000 revamping parking at the Haymarket and Dover Street.
They want to improve the signs directing people to the car park and make it so drivers pay before exiting the car park instead of when they park up.
Pavement parking 'experiment'

Amy Woodfield
BBC Local Live
"In some parts of the city at the moment we've got people parking on pavements, blocking them so you can't get a buggy or a mobility scooter through. What we're looking at doing is something that has been done in other parts of the country - an experiment allowing people to park in a very controlled way in marked areas on some pavements. We'll see if that enables people to get their cars and buses up and down the street at the same time as making sure the pavement is clear for those who want to use it."

The vehicle fire is out on the A453 but look at the mess it's left!
It's on the southbound side and the lane closure's causing congestion back to Kegworth Road.
Tigers back-row Fonua joins Newcastle

Newcastle Falcons have signed back-rower Opeti Fonua from Leicester Tigers on undisclosed terms.

There are currently delays on the A453 near the M1 junction at Kegworth because of a vehicle fire.
Looking at the Highways Cameras it appears to be out and the fire service are at the scene.
Ahead of Leicester City press conference

Ian Stringer
BBC Radio Leicester Foxes commentator
Waiting for Claudio's first press conference is like the hours before the first day back at school.
What is he going to say? Will he be uber cool? How will he manage expectations? Will he have any big announcements or headline grabbing lines ready? 
Can't wait.
Airport charges 'help pay for improvements'

Six years ago the airport brought in a drop-off charge of £1 but they doubled it in May.
They say it helps to pay for improvements and that free short-stay parking is available further away.
But, still £2 for 10 minutes? I'd rather get the bus...
Driver trapped in lorry upside down

Amy Woodfield
BBC Local Live
A lorry driver has been taken to hospital after a crash in on Main Road in Tywcross.
The lorry was upside down in a ditch with the driver trapped by the legs.
The fire service and air ambulance were called to the scene.
East Midlands Airport parking charges 'one of highest in country'

Now, parking charges at the airport. Worst bit about going on holiday? I think so.
East Midlands Airport has come under fire for the charges it levies on dropping people off outside the terminal.
The RAC says the flat fee of £2 for 10 minutes makes it one of the priciest in the country.
That's especially because for every minute you stay after that you're charged £1!
Pavement parking to be piloted

Amy Woodfield
BBC Local Live
Over the next three years the council wants to spend £2.2m on their Parking Improvement Action plan.
About £300,000 of that money will be spent on pilot schemes in Rushey Mead and Aylestone that will allow drivers to legally park on the pavement.
If this is successful the council will roll it out across the city centre.

Council invest in city parking

Amy Woodfield
BBC Local Live
A very interesting story now for all my fellow Leicester drivers...
There's going to be some big changes coming in for parking as the city council invest more than £2m into things like resident parking schemes, pavement parking and dangerous school parking.
Your comments: Mural approved for Newarke Houses

The approval of the mural doesn't seem to have gone down well with some of you on Facebook.
Roger Cornish said: "As a Massive City fan..... this isn't the correct place for this mural."
Pete Degnan said: "Disgusting that such a historic building should be used as a canvas for modern art. We admire buildings such as Newarke Houses, their age and importance to our city."
Weather forecast for the East Midlands

Charlie Slater
BBC Weather presenter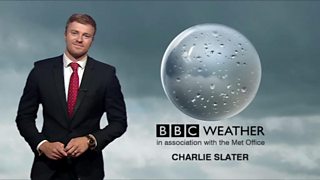 Amy Woodfield
BBC Local Live
If you are disappointed in the council's decision to approve the mural you might be pleased to know it will only be temporary.
It will be able to stay on the north wall of Newarke Houses Musuem for up to two years.
It could still be a long time till the mural is complete - work to create it will start within the next three years.
Mural hoped to attract more museum visitors

Amy Woodfield
BBC Local Live
"The series of murals celebrating Leicester City's extraordinary season has been well-received by the public, so we're pleased that we've been given the go-ahead to create this temporary installation on the side of Newarke Houses Museum. This tribute to the Thai heritage of the club's owners will be a striking addition to the series - and could also encourage people to visit this historic part of Leicester and discover all that the area has to offer."
Mural celebrates Thai football boss

Amy Woodfield
BBC Local Live
The painting will feature Buddhist images - this is to recognise Leicester City's Thai heritage and owners.
It's to celebrate that under their ownership the club managed a hugely successful season.