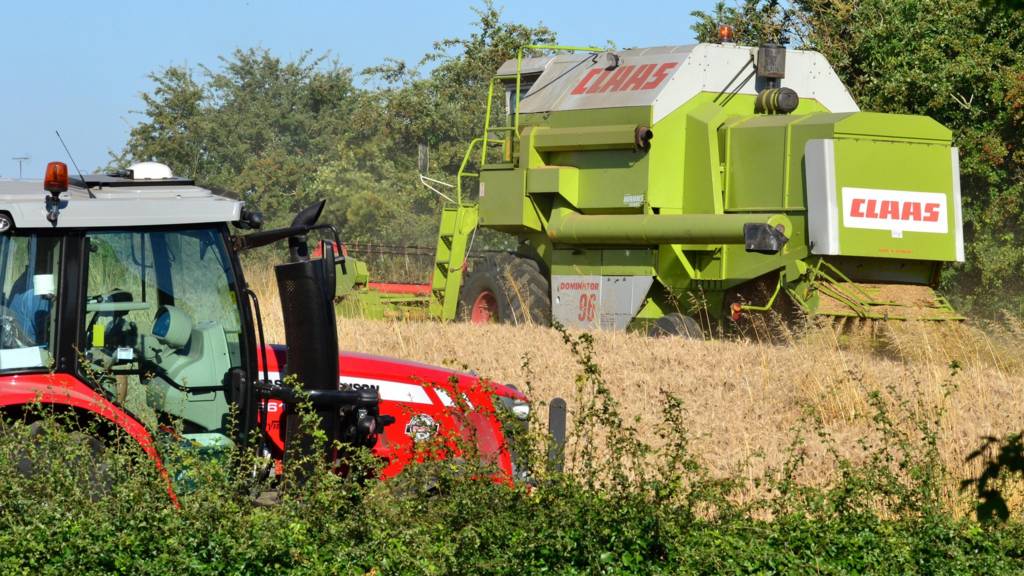 BBC Local Live: Leicestershire
Summary
Updates for Tuesday 16 August 2016
Our live coverage across the day
That's all from Leicestershire Local Live - updates will start again on Wednesday at 08:00.
Weather: Another warm and sunny day tomorrow

Kaye Forster
Weather Presenter
Remaining dry overnight and the cloud will melt away again giving clear skies. 
There will be more of a breeze overnight and temperatures will fall to a minimum of 11C (52F).
A dry and sunny start again tomorrow with clear blue skies early on. 
Temperatures will peak at 22C (72F).    
Biffa boss declines offer to experience smell

Tim Parker
BBC Radio Leicester Political Reporter
Liz Kendall invited the chief exec of Biffa to live on Mowmacre, near the plant, for a week so he could experience the smell.
He declined.
Trial postponed for accused conman

A 35-year-old man has appeared in court charged with conning a Leicester Hindu family out of thousands of pounds in an alleged spiritual healing scam.
Karamba Tunkara from Birmingham was due to go on trial at Leicester Crown Court today charged with fraud by false representation and money laundering. 
The case has been adjourned until 20 March next year.
MP leads meeting about waste smell

Amy Woodfield
BBC Local Live
The meeting's being hosted by Leicester MP Liz Kendall...
Developer gave 'carefully consideration' to Great Bowden development

Amy Woodfield
BBC Local Live
"We're pleased that the government inspector has granted outline planning permission for new homes off Berry Close in Great Bowden. The plans were drawn up after carefully considering how to make best use of the site and we believe the development will make a valuable and sustainable contribution to the local area. In the coming months we will be submitting a reserved matters application, which will include details of the layout and house types. We plan to build up to 70 new homes, including much needed affordable housing."
Meeting about Biffa 'whiff'

Tim Parker
BBC Radio Leicester Political Reporter
A meeting is underway at Tudor Centre about the bad smell coming from the Biffa recycling centre.
Government aware of housing development impact

Amy Woodfield
BBC Local Live
"The inspector accepted that this 70-house development would eat into and compromise the area of separation between Market Harborough and Great Bowden but despite having reached that conclusion he said he would overturn the planning committee."
Cricket: McKay having scan tomorrow

An update now on Clint McKay...
The Leicestershire bowler picked up a calf injury yesterday on day four of the County Championship match against Northamptonshire.
Today he's been seen at the ground on crutches. 
He's going for a scan tomorrow but so far there's no sign of how long he'll be out for.
Family 'in tatters' after Tyler's death

Amy Woodfield
BBC Local Live
"He was like a ray of sunshine, and he had a smile for everyone. He is so very sorely missed by all who knew him. It upsets us knowing that he had his whole life ahead of him, he had a bright future, and he knew where he was going. He was looking forward to going to college to do his A-levels. Tyler said he wanted to get good exam results, a decent job and not to be a layabout. Tyler's death is the first thing we think about each morning and the last thing in our minds at night. Our lives are in tatters."

Navtej Johal
East Midlands Today reporter
In sentencing Sian Judge Nirmal Shant QC said: "This case illustrates the danger of young men carrying knives".
Family 'heartbroken' by 'cruel' death

Amy Woodfield
BBC Local Live
Tyler's family have released a statement about his death following the sentencing of Sian.
They say: "Tyler's untimely death has left the entire family heartbroken. None of us could have predicted what would happen that night, and nothing could have prepared us for his sudden and cruel death.
"Tyler was 16 years old, and his death has ripped a hole in the family."
Victims family 'spared ' trial

Amy Woodfield
BBC Local Live
"The events of that November evening were tragic and could have been prevented. A split decision taken in the heat of the moment changed the lives of two families forever. Sian's admission of guilt has meant that his family and friends have at least been spared the need to relive the events leading up to his death in a trial. I can only hope that this will be of some small comfort to his family."
Tyler stabbed in street argument

Amy Woodfield
BBC Local Live
Tyler Thompson died from a stab wound to his chest.
He'd been having an argument with Sian (pictured) on Freeman Road North.
Sian to serve half his sentence behind bars

Amy Woodfield
BBC Local Live
Pravdit Sian will serve half of his nine-year sentence in custody and the rest on licence.
The 19-year-old admitted stabbing the teenager on Freeman Road North in Leicester on 24 November.
He was expected to stand trial for murder but yesterday he pleaded guilty to manslaughter on the grounds of loss of control - this was accepted by the court.
Breaking
Man jailed for teen killing

Amy Woodfield
BBC Local Live
Concerns about planned new housing development

Amy Woodfield
BBC Local Live
Developers want to build the houses here at the end of Berry Close cul-de-sac...
Villagers are worried the development could impact on the "rural nature" of the area.
They also worry the development will join the village up with town of Market Harborough.
Villagers 'helpless' in fight against property development

Amy Woodfield
BBC Local Live
The development of new houses in the Leicestershire village of Great Bowden has got local people worried.
There's a plan to build 70 new homes in village near Market Harborough and villagers say they feel helpless after the Secretary of State overturned the councils decision to reject the plans.
Tyler Thompson stabbing: Tyler was involved in a fight
Tyler Thompson stabbing: Sentencing underway
Listen: Should Mahrez stay or go?

Yesterday we heard Gerry Taggart saying Leicester City should sell Riyad Mahrez because "his heart's not in it anymore".
Well the former Leicester City captain Matt Elliott disagrees...

Kay Crewdson
BBC weather presenter
Train timetable changes for bridge repairs

Amy Woodfield
BBC Local Live
Remember that bridge collapse in Barrow Upon Soar earlier this month?
We'll there's going to be a bit more disruption this week as engineers keep trying to get it all fixed.
For tomorrow, Thursday and Friday, the 20:36 train from Nottingham to Leicester is cancelled.
The 21:26 Leicester to Nottingham train is being replaced with a bus and the 20:49 Sheffield to London St Pancras International will no longer call at Loughborough.
Mayor planning a Leicester Tigers mural

Amy Woodfield
BBC Local Live
With all these murals in the city to celebrate the football, BBC Radio Leicester asked the mayor if the council would be paying for murals to celebrate other sports like the rugby and basketball. 
He said: "I've already got an idea for a Tigers one."
... watch this space!
Mayor doesn't rule out more football murals

Amy Woodfield
BBC Local Live
So can we expect more Leicester City murals to come? 
Sir Peter Soulsby says there's still this one to come on Newarke House...
He also says there's "quite a few more walls in the city that could be used".
Cost of 'on the day' train tickets going up

Amy Woodfield
BBC Local Live
In January next year, the price of regulated rail fares like "on the day" tickets are going up by 1.9%.
East Midlands Trains currently advertises an off-peak return ticket to London at £86.50... so if my maths are correct this will go up to about £88.14.
Huge increase in patients left waiting for operations

Amy Woodfield
BBC Local Live
The figures on operation waiting times have come out in The Patients Association's sixth annual report on the problem.
In England the total number of patients waiting more than 18 weeks for operations was nearly 93,000.
In 2014 there were just over 51,000. 
Man appears in court after policeman injured

Amy Woodfield
BBC Local Live
Courtney Mark Johnson has appeared at Leicester Magistrates' Court charged with Section 18 Grievous Bodily Harm, dangerous driving causing injury, driving whilst disqualified and two counts of robbery. 
The 34-year-old is accused of driving a truck into a police officer in Loughborough.
He's been remanded in custody until his next court appearance, which will be at Leicester Crown Court on 13 September.
Patients face longer wait for planned operations

Amy Woodfield
BBC Local Live
You might have heard the national story today about hospital waiting times for planned surgery.
The Patients Association says it's got "worse, not better" in England.
Last year in the East Midlands people were waiting for around 14 weeks for a knee operation.
Comic book style story gets illustrated

Amy Woodfield
BBC Local Live
The latest mural to Leicester City on East Bond Street is one that's been commissioned by the city council.
City Mayor Peter Soulsby says: "This one particularly is good because throughout the last season people kept saying of Leicester City 'this is real Roy of the Rovers stuff'.
"I remember those comics and here we are with a Roy of the Rovers style commemoration."
Police 'not suspicious' about body found in Earl Shilton

More graffiti art to celebrate football success

Amy Woodfield
BBC Local Live
More Leicester City themed murals have sprung up in the city - these have been done in a Roy of the Rovers style on East Bond Street (behind Debenhams).
GB Hockey team get closer to an Olympic medal

Amy Woodfield
BBC Local Live
Five former Loughborough students were in Olympic action yesterday with Team GB's Women's Hockey team.
Giselle Ansley, Laura Unsworth, Maddie Hinch, Hannah MacLeod and Nicola White helped the team secure a place in the semi-finals.
They'll now play New Zealand at 21:00 on Wednesday - a win would guarantee them a medal.
Good luck girls!
Panel painted by prestigious royal artist

Amy Woodfield
BBC Local Live
The Churches Conservation Trust say the panel is "irreplaceable" and gives the chapel links to the court of King Henry VIII.
The window was painted by a Dutch artist called Galeon Hone, who also made the windows at Hampton Court and King's College Chapel in Cambridge.
Cricket: Day Four of County Championship

Richard Rae
BBC Radio Leicester Sport
I've been taking a look at the pitch in Northamptonshire ahead of the fourth and final day against the Foxes...
Thieves 'knew what they were doing'
"It's not something you might just stroll across and decide you might want to steal a stained glass panel. You would have to know where it is and come here. The fact that it is by a very well-known stained glass artist from the 16th Century adds to the suspicion that they knew what they were doing and knew what they were looking for."
Cricket: McKay out with injury

Leicestershire will be without one of their main bowlers for their fourth day against Northamptonshire in the County Championships.
Clint McKay picked up a calf injury in their match yesterday.  
Rowing club offer post-Olympic opportunities

Amy Woodfield
BBC Local Live
Yesterday we heard there's a lack of diving facilities in Leicester but one thing we're not short of is rowing facilities.
If you've been inspired by the Olympic rowing here's your chance to give it a go...
Historical Tudor window stolen

Amy Woodfield
BBC Local Live
It's thought that a stained glass window taken from a Tudor church in Withcote, could have been "stolen to order".
The panel with the image of the prophet Ezekial was taken from the 16th Century chapel sometime between July 24 and 30. 
It's thought the panel is likely to have been made in the 1530s when the chapel was built.
Latest Leicestershire headlines

Amy Woodfield
BBC Local Live
A man has been charged after a police officer was hit by a truck
A historic Tudor window panel taken from a chapel could have been "stolen to order"
Leicestershire could be without bowler for the fourth day against Northamptonshire