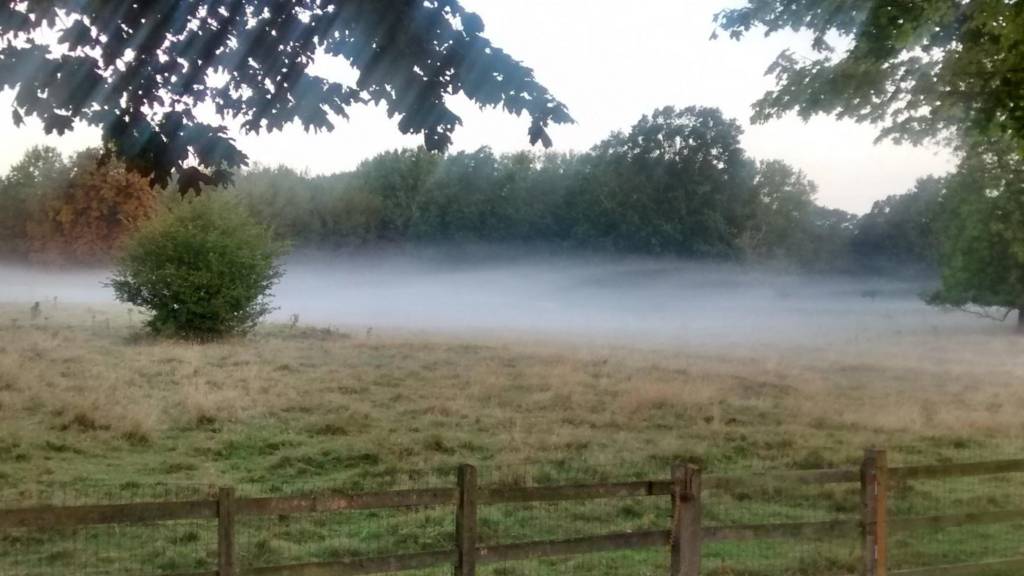 BBC Local Live: Leicestershire
Our live updates across the day
That's all from Leicestershire Local Live - updates will start again on Wednesday at 08:00.
Weather: Some sunny spells tomorrow

Quite a cloudy end to the day, with just a few breaks.
A muggy night staying mostly dry with some mist and fog patches developing - lows of 18C (64F).
A warm and murky start to tomorrow. The cloud will thin and break in the afternoon to produce a few sunny spells. 
A maximum temperature of 23C (73F).
The face behind the signature

Amy Woodfield
BBC Local Live
Here's a nice little random fact for you - this woman, Victoria Cleland, is from the Bank of England and her signature is on every one of the new £5 notes coming into use next week.
She was at the National Space Centre in Leicester earlier ahead of the launch.
Cricket: Bad start for Leicestershire

Sussex have had the better of Leicestershire on day one of their County Championship match at the Fischer County Ground.
The Foxes were all out for 135 in their first innings.
Sussex trail Leicestershire by five runs with six wickets remaining 
Cricket club host CPR lesson

Amy Woodfield
BBC Local Live
Leicestershire County Cricket Club have been hosting an awareness day about the problem of out-of-hospital cardiac arrest.
They teamed up with two charities to teach people how to recognise a cardiac arrest and how to respond.
The reason behind Caterpillar redundancies

Amy Woodfield
BBC Local Live
The job cuts at Caterpillar are down to a reduction in orders.
They say: "We understand this is difficult for our employees and their families, but we have to take these actions to maintain long-term competitiveness."
Man injured after attack on Evington Road

Amy Woodfield
BBC Local Live
I've just spoken to the police about the "incident" that's closed Evington Road - they say there's been an assault and a man has been taken to hospital with an injury to his torso.
It happened just over an hour ago. Police are still at the scene carrying out inquiries.
The road is closed between London Road and East Park Road.
Latest Leicestershire headlines

Amy Woodfield
BBC Local Live
The leader of Leicester City Council thinks Keith Vaz should resign as Leicester East MP
Construction machine firm Caterpillar are cutting 150 jobs from their factory in Desford
A bad start for Leicestershire who were all out for 135 in their first innings against Sussex
Jobs going at Caterpillar

Amy Woodfield
BBC Local Live
The construction machine firm Caterpillar is looking to shed 150 jobs from its factory in Desford. 
At the moment 1,200 people work at the site.
Travel: Crash on Blaby by-pass
Travel: 'Incident' on Evington Road

Amy Woodfield
BBC Local Live
I'm just trying to find out more about this "incident" now from the police.
Rugby: Barrow having concussion tests

There some uncertainty about whether or not fly-half Owen Williams will be fit to play on Saturday - he's rated at 50-50 to make the team. 
Also uncertain is Dom Barrow who is going through the concussion protocol after getting a head injury last week.
Tom Croft is out with a back injury.
Rugby: Williams and Fitzgerald fit to play

Leicester Tigers boss Richard Cockerill has said Mike Williams and Mike Fitzgerald are both available to play in Saturday's Premiership meeting with Wasps. 
They missed last Friday's win at Gloucester.
Council leader calls for Vaz to quit

Amy Woodfield
BBC Local Live
Keith Vaz may have resigned as chairman of the Home Affairs Select Committee but he is still the MP for Leicester East.
Leicester's Conservative leader of the city council thinks he should resign from that as well.
Ross Grant says considering the allegations against Mr Vaz and where they could go, he might be doing Parliament and his constituents a service.
Calls for police to act quicker to tackle Barwell crime

Amy Woodfield
BBC Local Live
Theft, vandalism and even drug taking are some of the problems plaguing the Leicestershire village of Barwell.
The recycling centre and skate-park have become a focal point for criminal activity according to locals.
A few weeks ago the police announced they were working with Hinckley and Bosworth District Council to try to tackle the problem, but locals are still not satisfied enough is being done.
Hinckley gets equipment to help with cardiac arrest

A lifesaving defibrillator has been installed in Hinckley town centre thanks to Leicestershire's Freemasons.
Family check out new fiver at the National Space Centre

Amy Woodfield
BBC Local Live
The new note is made of something called polymer so it'll feel more plastic-like that the one we're used to.
Here it is being modeled by the Poad family and Victoria Cleland from the Bank of England...
Leicester is the last stop of its pre-launch tour... they saved the best till last you see.
New fiver comes to Leicester

Amy Woodfield
BBC Local Live
I wasn't actually aware we were getting a new £5 note so it's come as a bit of a surprise to me that it's touring the country.
The note was at the National Space Centre in Leicester earlier ahead of it's launch next week...

Amy Woodfield
BBC Local Live
Councillor Barry Granger is head of the Barwell Parish Council and says he went to a meeting with all the authorities before Christmas and nothing's happened since. 
He says the same offenders are still walking around and claims: "It's full of drugs the park - we've got evidence."

Amy Woodfield
BBC Local Live
It just reminds me of foam parties back in the day...
I've just spoken to the city council about it - turns out it really is washing detergent!
They say: "We will be adding a solution to the water to get rid of the foam if required."

Amy Woodfield
BBC Local Live
Own up - who put washing up liquid in the fountain outside the town hall?
MoD to sell 13 sites for 17,000 homes

Amy Woodfield
BBC Local Live
The Ministry of Defence is selling off 13 sites to provide land for up to 17,000 homes and raise £225m,
One of the sites affected is Old Dalby in Melton Mowbray.
Select committee to get interim chairman

Amy Woodfield
BBC Local Live
Keith Vaz has recommended Tim Loughton takes over as chair of the committee.
He's a Conservative MP for East Worthing and Shoreham.

Amy Woodfield
BBC Local Live
The missing 72-year-old woman I told you about earlier has been found safe and well in Kettering.
Christeen Earl was reported missing yesterday.
Vaz considers affect of escort claims on family

Amy Woodfield
BBC Local Live
Keith Vaz's full resignation statement is pretty long so I'll just show you some key points.
He says: "I told the Committee today of my decision to stand aside immediately from Committee business, and my intention to resign. This is my decision, and mine alone, and my first consideration has been the effect of recent events on my family."
Your comments: Swan shot with crossbow

It looks like the swan being shot with a crossbow has upset some of you as well - there have been lots of comments on our Facebook page.
Lynda Withers says: "That's dreadful. What on earth is wrong with some people? Hope the poor swan gets on ok."
Anne Morgan says: "A sick,sad world we live in - get well soon baby Swan."
Breaking
Vaz steps down from committee role

Amy Woodfield
BBC Local Live
Leicester MP Keith Vaz has quit as chairman of the House of Commons Home Affairs Select Committee following claims he paid for the services of two male sex workers.
He said: "Those who hold others to account must themselves be accountable."   
Council threaten Desford with mobile library service
"The local community have a plan which we've accepted, but they're asking us to carry out a variety of non-urgent building repairs before we can progress with any handover. If we agree to that, then we'll be supporting them in a way that we haven't with other groups who have come forward. If we can't agree a deal in Desford by the end of September, we are going to have to consult on its possible replacement by a mobile service."
King pleased with international performance

Amy Woodfield
BBC Local Live
The Leicester City midfielder has tweeted to say he's pleased the the way he and his Welsh teammates played in last night's World Cup qualifier...
The next swan 'may not be so lucky'

Amy Woodfield
BBC Local Live
The RSPCA want to speak to anyone who saw this poor swan shot.
It's thought to have happened overnight on Saturday or in the early hours of Sunday.
Inspector Bate said: "It is very worrying that someone has deliberately done this. The swan would have suffered during those hours that the crossbow was in his head. 
"If this happens again then the next swan may not be so lucky."
UKIP councillor backs library group

Amy Woodfield
BBC Local Live
Desford Community Hub have the support of ward councillor David Sprason.
He agrees County Hall is behaving unfairly: "It needs repairing and we're not being unreasonable in asking the county council to pick up the cost of the repair but they're not willing to discuss it."

Charlie Slater
BBC Weather presenter
Swan is 'recovering well' at local wildlife centre

Amy Woodfield
BBC Local Live
"When I arrived, the swan was lying on the bank and he was obviously in pain. I took him immediately to a vets where an x ray showed the crossbow had missed his brain by a tiny fraction - just millimetres. He is a very lucky swan indeed as this could very easily have been fatal. The crossbow was carefully removed and the swan is recovering well."
Watch: 'We really need this library'

Amy Woodfield
BBC Local Live
Margaret Regan is chair of Desford Community Hub - the group hoping to take over the running of Desford Library from Leicestershire County Council.
She accuses the council of favouring some libraries over others...
Swan found injured by the River Soar

Amy Woodfield
BBC Local Live
The cygnet was rescued from a part of the River Soar in Soar Lane on Sunday morning.
It's thought to only be around eight-weeks-old.
Rugby boss talking to media

Richard Cockerill is due to speak to the media this lunchtime ahead of their match against Wasps on Saturday.
We'll have all the key headlines from midday.

Amy Woodfield
BBC Local Live
A very upsetting story here for all animal lovers.
This poor baby swan was shot in the head with a crossbow in Leicester...
The arrow missed its brain by just millimeters.
Two Syrian families housed in Charnwood

Watch: A green looking Grace Road

Richard Rae
BBC Radio Leicester Sport
I've been taking a look at the pitch at the Fischer County Ground ahead of Leicestershire V Sussex...
Library needs thousands of pounds worth of repair work

Amy Woodfield
BBC Local Live
The management of Desford Library was going to be handed over to a team of 80 volunteers from the community but the council has found that the building is in need of almost £50,000 worth of "non urgent" repairs.
Leicestershire County Council says it won't pay for them because it would be unfair on the other community-run libraries.