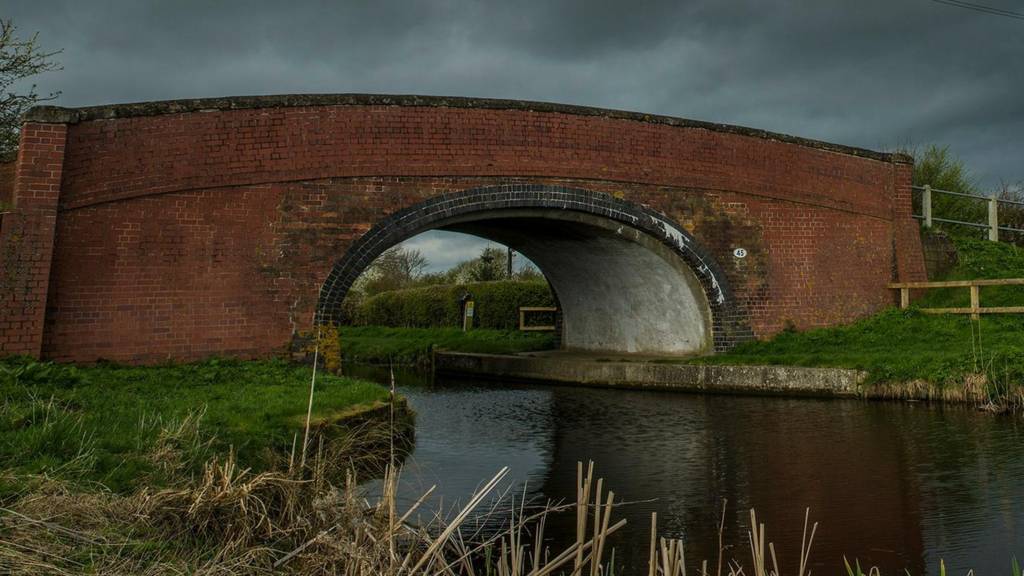 Latest updates: Leicestershire Live
Summary
Updates for Friday 31 March 2017
Fenwick closes in Leicester
City's oldest house turned into restaurant
Rutland set to celebrate independence anniversary
Cooper's boxing gloves sell at auction
Morgan an injury doubt for Foxes
News, sport, travel and weather updates resume at 08:00 Monday
Our live coverage across the day
Our live updates have now ended and will return on Monday from 08:00. 
Weather: Cooler night with some rain and drizzle

Some clear spells to start the night but cloud will move in from the west later on. 
With increased cloud there is the chance of a few outbreaks of light rain and drizzle. Cooler than last night.
Minimum temperatures of 9C (48F).
Matt Hampson Foundation passes donations landmark

The Matt Hampson Foundation has now given out over £1m in grants to people who have suffered catastrophic injuries through sport.
Former Tigers player Hampson was injured 12 years ago playing rugby for England.
A scrum collapsed leaving him paralysed from the neck down and only able to breathe on a ventilator.
He set up the foundation five years ago and has dedicated his life to helping others.
Alan Birchenall back at City for the first time since cardiac arrest

Calum McKenzie
BBC Local Live
Leicester City club ambassador Alan Birchenall is set to return to the King Power Stadium for the first time since collapsing at an awards ceremony in January.
Mr Birchenall will be in the director's box for the Foxes match against Stoke City tomorrow. 
His guest at the match will be nurse Lisa Fereday (pictured below)  who helped save his life at the awards ceremony.
"The Birch" visited the training ground earlier this afternoon and was greeted with hugs from all of the players. 
"He has been missed and it was really good to see him back," City boss Craig Shakespeare said. 
Man sprayed bodily fluids on nearly 200 girls

A man has been jailed for six years and eight months for secretly spraying a solution containing his bodily fluids on young girls in Nottingham.
David Long, 75, admitted 13 charges of sexually touching three identified children and 10 unidentified children both under and over 13 years old.
He asked for a further 186 offences of sexually touching girls under and over 13 years old to be taken into consideration.
He also admitted making 420 indecent images of children.
All the offences were committed between 2003 and 2016.
Nottingham Crown Court heard how Long had taken pictures of children in the city centre before spraying them with the solution and then photographing them again, police said.
When he was arrested a search of his home in Forest Road, Loughborough, uncovered notebooks containing hundreds of pictures of unidentified children as well as notes containing his sexual fantasies about what he had done.
Forensic tests confirmed Long's DNA was found on victims' clothing.
Det Ch Insp Peter Quinn, of Nottinghamshire Police, said Long showed "extraordinary levels of perversion" and called his acts "sickening".
"There will be people out there who do not know that they have been a victim of his criminality," he said.
"I wish to reassure the public however that every reasonable step has been taken to ensure that Long's actions have placed no-one's health at risk and I am satisfied that this is the case."
Rutland MP celebrates birthday

Calum McKenzie
BBC Local Live
Sir Alan Duncan tweets... 
Selby through to China Open last four

Calum McKenzie
BBC Local Live
Leicester cueman and world number one Mark Selby is through to the semi-finals of the China Open after beating Stephen Maguire 5-1. 
Selby will face Kyren Wilson in the last four tomorrow. 
The 33-year-old won the 2015 China Open and should he win this year's edition he'll pocket a cool £85,000. 
In pictures: Fenwick through the ages

Calum McKenzie
BBC Local Live
In a few hours Fenwick department store in Leicester will close its doors for the final time after more than five decades of trading. Here's a little look back at the store's history in pictures... 
Wes Morgan an injury concern for Leicester

Leicester City boss Craig Shakespeare has confirmed that captain Wes Morgan will miss tomorrow's match against Stoke City. 
Shakespeare has also confirmed that the Jamaican international is "touch and go" for Tuesday's match with Sunderland because of a nerve problem in his back. 
Meanwhile midfielder Nampalys Mendy is also a doubt for City's next two fixtures. 
The 24-year-old has been dogged by injury problems since his summer transfer from Nice and has played just nine times this season. 
'Leicester just a couple of wins from Premier League safety'

Steve Wilson
Match of the Day commentator
With Craig Shakespeare bidding to become the first British manager to win his first four Premier League games, Leicester suddenly look to be only a couple of victories away from safety.
How they would love to have those points chalked up before tackling Atletico Madrid in the Champions League - starting with Stoke at the King Power Stadium tomorrow.
Stoke are having another very creditable season; ninth place again at the moment - the position in which they have finished each of the last three seasons.
Mark Hughes would have particularly enjoyed their point  at Manchester City  in their last away game, but would probably concede that they have, at times, been too accommodating on their travels - registering wins at only Hull, Watford and Sunderland.
Weather: Another warm and pleasant afternoon

Charlie Slater
BBC Weather presenter
Plenty of dry weather around this afternoon with some sunny spells mixed in with cloud. 
Risk of only an isolated shower or two with highs of 16C (61F).
Duncan: Independence brought 'sense of community' to Rutland

Calum McKenzie
BBC Local Live
Rutland MP Sir Alan Duncan has been speaking about the county's 20th anniversary of independence from Leicestershire.
"There's the sense of community that comes with it," Mr Duncan told BBC Radio Leicester. 
"When Ted Heath [Prime Minister] tried to get rid of it in 1972 the battle raged for 24 years until we got it [independence] back again." 
The county will mark 20 years of independence tomorrow with a series of events at Oakham Castle.
Twenty years of Rutland independence

Tim Parker
BBC Radio Leicester political reporter
I have been in Rutland ahead of the county marking the 20th anniversary of its independence tomorrow. 
With its beautiful rural villages, two county towns and rolling countryside, Rutland is irresistible for many. 
In fact, the council's looking at specific grants to support more tourism based precisely on its English rural idyll offering.
But for those with young families on low incomes, the pretty scenes can disguise a harsher life. 
Council tax is on average £370 more than in neighbouring Leicestershire. 
"People do think we are rich because we live here but benefit people live here just as much as wealthy people," one woman told me in Uppingham. 
Rutland County Council has said the service it offers makes the increase worth it. 
Arrested charity boss faces cash questions
Concerns have been raised that a charity boss may not have accounted for thousands of pounds intended for children with cancer.  
Kids 'n' Cancer's assets were frozen last month after Mike Hyman was arrested on suspicion of theft.
The BBC has learned of claims he made a withdrawal of £5,000 to help two Leicestershire families but they deny receiving the money.
Mr Hyman denied wrongdoing and said he could not comment while on police bail.  
'Stoke won't stop Leicester's winning run'

Mark Lawrenson
BBC football expert
Leicester cannot stop winning under Craig Shakespeare - they have now won three on the bounce in the Premier League, as well as making Champions League progress.  
What's behind it? Well, Shakespeare has not changed much since his side beat Liverpool in his first game in charge at the end of February.  
It is working, because his players look lively again - Jamie Vardy was just like his old self when he was on international duty with England.
I fancy the Foxes to win this one too. Stoke have had some mixed results of late, and although they won't roll over I don't see them stopping Leicester's momentum.
Two arrested on suspicion of affray at Loughborough car wash

Police are investigating an incident at a car wash in Loughborough in which two people were taken to hospital.
Leicestershire Police said they found the two injured men at the scene and then arrested them both on suspicion of affray. 
Their injuries are not thought to be life threatening, the force added.  
Roadworks begin near East Midlands Airport

Calum McKenzie
BBC Local Live
You're being advised to leave extra time if you're heading to the airport...
Your photos: March across Leicestershire

Calum McKenzie
BBC Local Live
Don't worry it's nearly the weekend...
...thanks to BBC Weather Watcher Cup Cake Steve in Leicester for sending in this pic. 
Medieval building in Leicester transformed into restaurant

Leicester's oldest house will get a new lease of life when it opens later today as a restaurant. 
Wygston's House on Jubilee Square was built in the 15th Century and has previously been a costume museum.  
One of the new owners, Alistair Smith, said: "One of the reasons why we took the building on in the first place was because of the character of the building. 
"We love the place. We've obviously preserved the fabric of the building as much as we can." 
Severe disruption: M1 Leicestershire southbound
BBC News Travel
M1 Leicestershire southbound severe disruption, between J24 for A6 and J23A for A42.
M1 Leicestershire - One lane closed and slow traffic on M1 southbound between J24, A6 (Kegworth) and J23a A42, because of emergency repairs.
To report traffic and travel incidents dial 0330 123 0184 at any time
Sir Henry Cooper's boxing gloves sell at auction in Leicester for £1,800

Calum McKenzie
BBC Local Live
A pair of boxing gloves used by Sir Henry Cooper have sold at auction in Leicester for £1,800. 
The gloves were used in a European Heavyweight title fight in Rome in 1969 where Henry Cooper beat Piero Tomasoni in 5 rounds.
The auction, at Welford Road, was organised by the Freemasons. 
Cooper, who is famed for flooring Muhammad Ali (then Cassius Clay) at Wembley in 1963, died in 2011.
Speedway: Leicester Lions gearing up for season opener

Calum McKenzie
BBC Local Live
Leicester Lions will be without captain Danny King (pictured) and Josh Auty for tomorrow's Premiership speedway opener against Swindon Robins.
They are replaced by Lasse Bjerre and last season's captain Nicolai Klindt. 
Team manager Jim Lynch, said: "The Swindon riders have a good record at Leicester and for us there is no home track advantage at the moment following the alterations to bends one and two so to start with a win will be just the tonic we need." 
Leicester Lions finished bottom of the league last season.
Children's TV star Timmy Mallett unveils new art collection in Leicester

Star of 1980s and 90s children's TV Timmy Mallett has swapped his mallet for a palette and unveiled his latest collection of art in Leicester. 
The Wacaday star's collection is inspired by the seasons and includes local landmarks like Rutland Water and Sherwood Forest.   
"This is the moment," he said. 
"With the finding of the King in the car park and then of course Premier League champions... this is the moment, I couldn't put this exhibition anywhere else."  
Timmy Mallett's collection is on show at the Oberon Gallery for the next two weeks. 
Fenwick 'had aspirations of good living'

Calum McKenzie
BBC Local Live
Local historian Richard Gill has said Fenwick's decision to close after over five decades of trading in Leicester is significant. 
"It [Fenwick] wasn't the first store in the city but it was the largest," Mr Gill told BBC East Midlands Today. 
"It had aspirations for the people of Leicester to give them a taste of good living."
Leicester department store Fenwick to close its doors for final time

Calum McKenzie
BBC Local Live
It is the end of an era as Fenwick department store in Leicester closes its doors for the final time after 55 years of trading.  
The closure will see the loss of nearly 100 full-time jobs. 
Bosses at the store have said the decision to close was because they were losing customers to bigger shopping centres like Highcross and Fosse Park. 
Fenwick has 11 stores across the country in places like York, Newcastle and Tunbridge Wells. 
Good morning: Welcome to today's live updates

Calum McKenzie
BBC Local Live