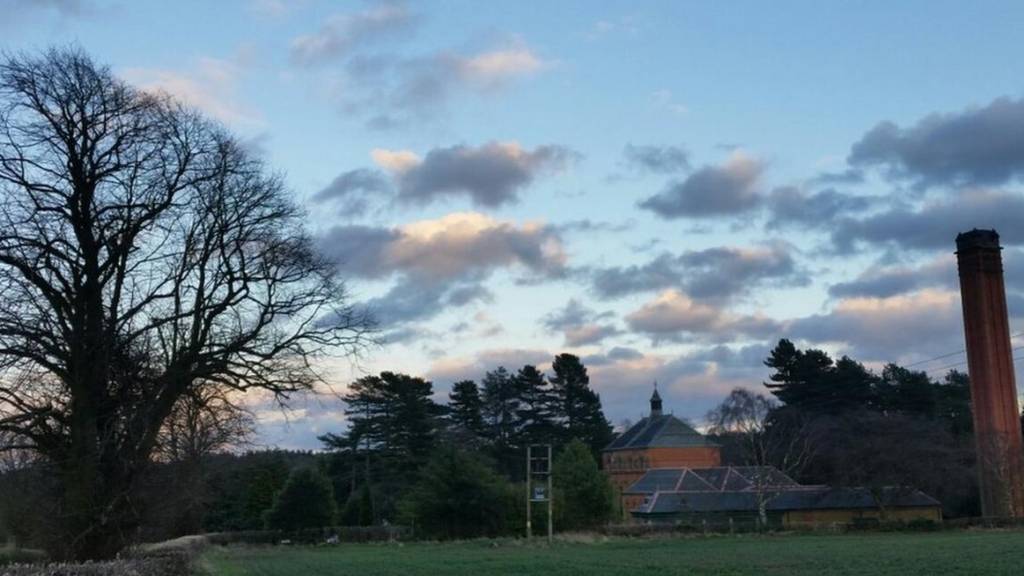 BBC Local Live: Nottinghamshire
Summary
Updates for Tuesday 7 June 2016
More news, sport, travel and weather from 08:00 on Wednesday
Our live coverage across the day
That's it for today's Local Live updates. We'll be back at 08:00 on Wednesday.
Weather: Isolated thunder tonight

Kaye Forster
Weather Presenter
The cloud will build up and there will be a few isolated thunderstorms kicking off by the evening. 
Not everyone will see them but if you catch one there will be heavy downpours, hail and the risk of some flash flooding. 
The showers will rumble on for a time overnight but most will become dry with some clear spells. 
It will be a muggy and humid night with lows of 14C (57F).
Friendlies against Blackburn Rovers announced

Notts County and Mansfield Town both announce home friendlies against Blackburn Rovers - 31 and 26 July.
Robertson on 'fantastic' hall of fame honour

Former Forest player John Robertson has said it was a "great honour" to be inducted in the National Football Museum's hall of fame.
"It's fantastic. I couldn't believe it," he said.
Asked whether it's comparable to Leicester City's success this year he had this to say.
"When Leicester have won two European Cups they can compare but not until then - but Leicester's achievement is great."
Could the tram be coming to Radcliffe?

NET are looking at extending the tram to Gedling and Radcliffe-on-Trent.
If they do, they'll have to build a new bridge over the River Trent to a park and ride off the A52 west of Radcliffe.
A feasibility study, which has been carried out by the tram operator for East Midlands Councils, said the cost of both extensions could be over £400m.
The study didn't consider the economic or commercial viability of the options, but had a more technical focus and aimed at prompting discussion between councils.
Police to use stop and search tonight after murder arrests

Police will be out in force in Forest Fields tonight after receiving "information and intelligence" about "serious violence" in the area.
It follows the fatal stabbing of Aqib Mazhar, 21, on Wednesday, for which three more people were arrested last night.
Officers will be using Section 60 powers - better known as stop and search - in the area, including in the Forest Rec until 07:00 tomorrow.  
Travel: Fire in Newark still causing train delays
It's causing problems on the East Coast Mainline.
Police presence in Worksop over death

Police said the man appeared fine when he was dropped off.
"We think he then walked down the slip road towards Kilton Hill. Did you see him?", asked Det Insp Andy Bateman.
"It was quite busy in the area at that time, especially near the One Stop shop. Did you see the man or notice anything out of place?"  
Officers will be in Worksop this evening to try to jog people's memory about the incident, they said.
Fresh appeal over Worksop 'unexplained' death

A week after a man was found dead near Bassetlaw hospital police have made a fresh appeal.
The 23-year-old Polish man had been dropped off outside the maternity ward at about 20:40 on Tuesday.
But between then and 21:25 he suffered a catastrophic brain injury and died.
Police said, despite viewing CCTV footage and speaking to a number of people in the area, they still don't know how it happened.
Open: Wozniacki wins in straight sets

Caroline Wozniacki is safely through to round two in Nottingham.
Nottingham pupils being 'failed'

Lewis Scrimshaw
News editor, BBC Radio Nottingham
Last year Nottingham city fell short of what should be achieved nationally for GCSE exams with only 42.4% of pupils achieving the benchmark five or more A* to C grades in maths and English. 
And Sir Michael Wilshaw says primary school children are being failed too - Nottingham is England's poorest performer in the phonics screening at Key Stage One, with just 69% of six and seven-year-olds meeting the required standard in 2015. 
He blames a lack of clear accountability and is calling on local politicians to take action.  
East Midlands has 'worst performing schools'

Lewis Scrimshaw
News editor, BBC Radio Nottingham
Ofsted's chief inspector has described education provision in the East Midlands as "second division", compared to the rest of the country. 
Nottingham city is in the bottom 10 local authority areas for GCSE examinations.
According to Sir Michael Wilshaw the East Midlands is currently the worst performing region in the country with almost one in three secondary schools judged less than "good".
Notts County is 154 years old

Not forgetting the Magpies' honour too:
Formed in 1862, Notts County is considered to be the oldest professional football team in the world.
It was one of 12 founding members of the Football League in 1888.
Forest's meteoric rise honoured

Back to the news about Forest, Notts County and John Roberston being inducted in the National Football Museum's hall of fame.
I'm sure you don't need reminding what Forest achieved but here you go...
When Clough took over in January 1975, the Reds were in the bottom half of the old second division
Within two years they were promoted to Division One and in their first season beat Liverpool, Everton, Manchester City and Arsenal to the title.
The following year, captained by John McGovern, they beat some of Europe's best to claim the European Cup at the Olympic Stadium, in Munich.
Hearing date set for Arnold dentist

Alex Smith
BBC News Online
A fitness to practice hearing for Nottinghamshire dentist Desmond D'Mello is due to start on 8 August.
The charges against Mr D'Mello allege that in June 2014, he failed to maintain adequate infection control by not wearing gloves, failing to change gloves between patients and other related hygiene issues.
It is also alleged he managed patients in an inadequate manner, including the way in which he issued prescriptions.
In additiond dental nurse Caroline Surgey is facing charges relating to infection control. 
The General Dental Council said the hearing, which will take place in London, is expected to last a month.

Driver flouted driving ban nine times

A motorist hid in an attic after getting police on his tail when he defied a driving ban for the ninth time, magistrates heard.
Magpies discussing Dickinson signing

Notts County are in negotiations to sign Port Vale left-back Carl Dickinson. 
He was released at the end of last season. 
Notts are expecting the deal to be completed next week.  
Panthers' Neilson to coach GB team

Panthers coach Corey Neilson has been named as an assistant GB coach.
Weather: Chance of heavy rain and flooding

Feeling warm and humid with some hazy sunny spells through the afternoon. 
Whilst most places will miss the worst of heavy rain forecast later, please be aware of the risk of localised flooding and tricky driving conditions. 
At the moment it looks like the East Midlands will see those showers in the evening.
Ashley 'wanted to buy BHS'

Euan Duncan
BBC Local Live
The Commons select committee has finished its questioning of Sports Direct owner Mike Ashley.
In the final stages he's asked to comment on the collapse of BHS but is advised by his assistant not to say anything. He does, though, admit he tried to buy the firm.
Travel: Train line fire in Newark
Ashley: Sports Direct 'a victim of its own success'

Euan Duncan
BBC Local Live
Mike Ashley expands on why Sports Direct uses so many agency staff.
He said: "Agencies are experts in people. That's what they're supposed to be.
"We are victims of our own success. Ten years ago the web was taking £10,000 a year. It was nothing. The firm was built to supply stores, not to supply the individual customer.
"It's a physical warehouse, packed out for stores. They order 36 pairs of socks. All of a sudden [because of internet shopping] you've got a customer coming to you asking for one pair."
Ashley: Agency staff not the cause of Shirebrook problems
Mike Ashley is asked whether some of the problems at the firm's Shirebrook headquarters could have been solved if Sports Direct employed more staff directly instead of relying on agency staff.
He replies: "With my hand on my heart, no."
MP suggests Ashley needs more help

Euan Duncan
BBC Local Live
Asked has the company outgrown your ability to manage it, Mike Ashley replied "Probably."
One of the committee MPs suggested: "If you're going from a dinghy to an oil tanker shouldn't you get someone can steer this?"
Ashley: Zero hours contracts still to be addressed
Derby North MP Amanda Solloway asks Mike Ashley if he agrees more of the firm's staff should be on full-time contracts rather than so-called zero-hour contracts.
He says it would seem a reasonable suggestion but he hasn't got round to look at the issue yet.
Tennis: Today at the Open

At the Nottingham Open Tennis today, former world number one, Caroline Wozniacki, is first up on centre court.
She'll be followed later this afternoon by British number two Heather Watson, number three Naomi Broady and Laura Robson. 
Hucknall's Freya Christie is also back - she'll partner Robson in the doubles having been knocked out of the singles yesterday.  
Ambulance call-outs to Shirebrook 'excessive', says Ashley

Euan Duncan
BBC Local Live
Mike Ashley says the high number of ambulance call-outs to Sports Direct's Shirebrook headquarters is excessive.
However, he said some of the problems could have been resolved without the need for an ambulance.
'We deserve cane if we get it wrong'

Euan Duncan
BBC Local Live
Asked about allegations of criticism of staff over the public address system at Shirebrook, Mike Ashley said: "If it did happen, I'd like to think it doesn't happen any more."
"You can't talk to 2,000 people at a warehouse, You have to have a Tannoy.
"Is the Tannoy system abusive? No, it should not be. If we are abusing it, then Sports Direct deserves the cane.
"There will be occasions when we deserve the cane no matter what I say or promise here."
Two due in court over murder

Rebecca Dickson
Reporter, BBC Radio Nottingham
A total of six people have now been arrested on suspicion of Mr Mazhar's murder.
Mohamud Alasow, 18, from Hamilton Road in Nottingham, and Junaid Farrukh, 21, from Derby, have been charged with murder are due to appear at Nottingham Crown Court today.
Three more arrests over Forest Fields stabbing

Rebecca Dickson
Reporter, BBC Radio Nottingham
Three men have been arrested overnight on suspicion of murder after a man was stabbed in Nottingham last week.
Aqib Mazhar was found in Forest Fields last Wednesday. He later died in hospital.
A 24-year-old, a 21-year-old and a 24-year-old are all currently in police custody.
Ashley: Sports Direct has 'hard-working' culture

Euan Duncan
BBC Local Live
On the culture at Sports Direct, Mike Ashley says: "It's a very hard-working culture and therefore it should come with some rewards.
"The value of Sports Direct is the people. Finish."
Ashley confirms some staff were paid below minimum wage

Euan Duncan
BBC Local Live
Sports Direct was paying workers below the minimum wage at one stage, but that's no longer the case, Mike Ashley tells MPs.
Ashley took on Shirebrook review himself

Euan Duncan
BBC Local Live
Mike Ashley tells the hearing he felt he was the best person in the short term to undertake the review of working practices at Sports Direct.
He says he spoke to the trade unions at the firm's annual general meeting, but not since the review began two months later.
Agency: 'No knowledge' of workers being mistreated

Euan Duncan
BBC Local Live
Transline's representatives tell the hearing "to the best of their knowledge" they have not heard of any agency staff being abused or injured while working at Sports Direct.
Magpies boss confirms transfer embargo lifted

Notts Countty chief exec, Jason Turner, confirms the club are no longer under temporary transfer embargo.
"Outstanding payments to football creditors were made by the club last week," he said. 
"This means we are no longer restricted by the temporary transfer embargo imposed upon us and we are once again able to be active in the transfer market."
Sports Direct hearing: Staff agency now being grilled

Euan Duncan
BBC Local Live
MPs are now questioning Chris Birkby and Jennifer Hardy from Transline, a recruitment firm which supplies staff to Sports Direct.
Union claims Sports Direct worker gave birth in toilet

Euan Duncan
BBC Local Live
Steve Turner told MPs: "Pregnant women come to work and end up being taken to hospital by ambulance or end up giving birth in a toilet as on one occasion in November 2015."  
'Media circus' captures Ashley's arrival

Euan Duncan
BBC Local Live
No surprise there were plenty of cameras ready to capture Mike Ashley's arrival ahead of his select committee appearance.
Sports Direct staff 'denied dignity and respect'

There are workers at the Shirebrook warehouse who have been on temporary contracts for between four to six years, says Steve Turner of Unite. 
"Dignity and respect and justice is a huge issue here, and it's being denied to thousands of workers inside this warehouse and across the store's operation," he says.
If workers on a zero hours contract raise a grievance, they are simply denied work, Mr Turner says.