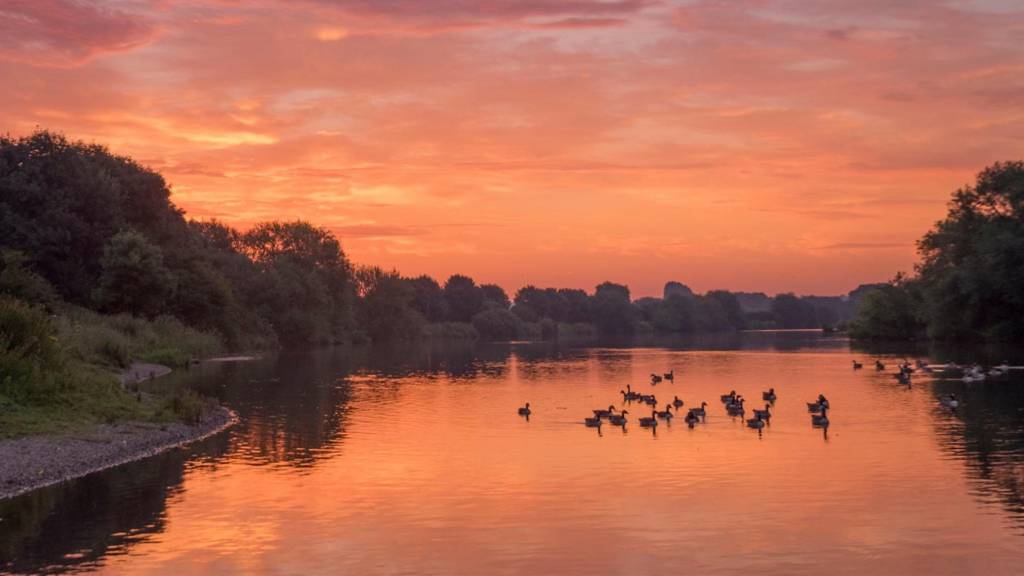 BBC Local Live: Nottinghamshire
Summary
Updates for Friday 12 August 2016
Our live coverage across the day
That's all from Local Live - updates will start again on Monday at 08:00 BST.  
Weekend weather for the East Midlands

Alexandra Hamilton
BBC Weather
It'll be mostly dry for the first half of tonight with the chance of isolated showers in the early hours.
It will be cloudy tomorrow with occasional brighter spells and the chance of shattered showers, with highs of 20C (68F). 
Latest headlines for Nottinghamshire

Alex Smith
BBC News Online
Murder investigation launched after two care home deaths
Teenager jailed after pedestrian crash
Girl, 9, scarred by theme park mirror smash
Nottingham Forest take on Brighton later 
Expert: Ripper move 'will save hundreds of thousands'

Alex Smith
BBC News Online
Ruth Tully, a consultant forensic psychologist from the University of Nottingham, says the decision to move the Yorkshire Ripper Peter Sutcliffe out of a psychiatric hospital and into jail will save the taxpayer hundreds of thousands of pounds a year.
Sutcliffe, who's now 70, has been incarcerated for 32 years for murdering 13 women and attempting to kill seven more between 1976 and 1981.  
Nottingham Panthers star retires

Alex Smith
BBC News Online
Facebook: Mixed reaction to Forest keeper's 'move'

Nottingham Forest fans have been having their say on Facebook about reports that last season's player of the year - Dorus De Vries - is having a medical ahead of a move to Celtic.
George Foot wrote: "Let's be realistic: he's out of contract at the end of the season, at which point he will be 36 years old. As good a keeper as he is, we might as well get SOME money for him and bring in a keeper which could fill his shoes."
But Lisa Fox said: "Adore him. As bad a deal as selling Britt [Assombalonga] would be. Gutted. He's a really nice bloke too."
City roadworks due to begin

Alex Smith
BBC News Online
Bad news if you're: a BBC employee, a Notts County fan, a Stevenage fan, a Nottingham Forest fan or a Wigan fan.
Teenager jailed for pedestrian crash

Alex Smith
BBC News Online
A teenager has been handed a six-year term of detention after a pedestrian was seriously injured in a crash.
James Smith, 19, of Lincolnshire, admitted causing grievous bodily harm and dangerous driving but had denied attempted murder. A judge directed he be found not guilty of that charge.
The charges related to a crash involving a 4x4 vehicle on the A631 near Beckingham, Nottinghamshire, on 26 April.
Smith was also disqualified from driving for two years - that will take effect when he is released.
Appeal after Post Office robbery

Alex Smith
BBC News Online
Police are appealing for information after two men raided a Post Office in the Meadows yesterday afternoon.
The men - both of whom had their faces covered - entered the building in Bridgeway Centre before one jumped over the counter and grabbed cash.
Detectives believe they may have used push bikes to flee the scene.
Organisers hail food assembly

Alex Smith
BBC News Online
Organiser Lisa Gertson (right) told BBC Radio Nottingham she was delighted with how the food assembly went.
"Maybe some of those people will go away, apply to be a producer for a food assembly or maybe even want to set one up," she said.
Nevine Malek
Reporter, BBC Radio Nottingham
Nottingham held their first food assembly in Mapperley last night, which involved local producers handing over cakes, vegetables and dairy products to customers who placed online orders.
Anyone else suddenly very hungry?  
Deadline for Bassetlaw consultation ends today

Alex Smith
BBC News Online
Today is the last chance for residents to have their say on plans for the Bassetlaw District to become a member of the Sheffield City Region Combined Authority.
Nottinghamshire County Council has set out a series of objections to the proposals.
Council leader, councillor Alan Rhodes, said: "I have always been a big advocate of moving decision-making and resources away from the Westminster bubble. But for devolution to work, it has to be done in the right way and I believe that Bassetlaw joining the Sheffield City Region deal will be bad for local democracy." 
Girl scarred by theme park mirror smash

Alex Smith
BBC News Online
Wheelgate Park mirror girl 'bitten by shark'
Caroline Lowbridge
BBC News Online
The angry mother of a nine-year-old girl who was left scarred after walking into a mirror at a tourist attraction has called for the Mirror Maze to be closed.
Zoe Ward said there was so much blood pouring from her daughter Olivia that it "looked like she had been bitten by a shark".
Care home 'will support police' in murder investigation

Alex Smith
BBC News Online
A spokesman for HC-One, who runs the care home, said: "We are working very closely with the police, and we will do everything we can to support their investigation.
"Staff, residents and relatives will be kept as updated as possible and full management support is in place while police inquiries are ongoing.  
"We have brought in additional staff to ensure we can deliver continuity of care to our residents."
Breaking
Murder investigation launched after two care home deaths

Alex Smith
BBC News Online
Nottinghamshire Police has launched a murder investigation after the deaths of two people at a care home.
The deaths took place at Springwater Care Home in Calverton, Nottinghamshire, on 2 and 3 August.
Two women were arrested on 7 August on suspicion of murder. They are employees of the care home, police added.
A force spokeswoman said the investigation is ongoing.
Cyclist falls on tram track

Alex Smith
BBC News Online
Services between Clifton South and Clifton Centre have been stopped after a cyclist fell on the tram track.
Nottingham Express Transit - the tram provider - has urged commuters to seek alternative transport.
In-form Forest face Brighton

Alex Smith
BBC News Online
The sport-heavy updates continue, as Nottingham Forest - fresh from successive victories over Burton and Doncaster Rovers - take on Brighton this evening at 19:45 BST.
Midfielder Chris Cohen told the club website competition for starting places is "extremely high".
Defender leaves Notts County

Alex Smith
BBC News Online

Alex Smith
BBC News Online
Ten people have been jailed for drugs and firearms offences in Nottinghamshire and the West Midlands.
A gun, bullets, drugs, cash and drugs paraphernalia were seized after it was revealed a network of organised crime was operating out of Bulwell and Bestwood.
A handgun, 32 cannabis plants and three-and-a-half ounces of cocaine were among the items seized.
Travel: M1 lanes reopened after fire

Fortunately, all lanes on the M1 have been reopened after the vehicle fire earlier.
Unfortunately, there is still a lot of traffic on the southbound side near junction 26 and congestion around junction 27.

Alex Smith
BBC News Online
Striker heading back to former club

Calum McKenzie
BBC Local Live
The mercurial Liam Hearn is on the move again - he's heading back to Alfreton Town. 
The former Lincoln City, Mansfield and Grimsby forward has left Ilkeston. 
It may have something to do with this.

Alex Smith
BBC News Online
The planned Virgin Trains East Coast strike comes as the first of four separate Eurostar strikes by staff from two unions - including the RMT - began on Friday. It also follows strikes earlier in the week on Southern Railway.  
Virgin East Coast strike dates revealed

Alex Smith
BBC News Online
Workers on Virgin Trains East Coast - which runs through Retford and Newark - are to stage three 24-hour strikes this month, including one on Bank Holiday Monday, the RMT union has said.
Members will walk out from 03:00 on 19, 26 and 29 August and ban overtime for 48 hours from August 27, in a row over job cuts, work conditions and safety.
Latest headlines for Nottinghamshire

Alex Smith
BBC News Online
Girl, 9, scarred by theme park mirror smash
Virgin Trains East Coast to stage three strikes
Forest keeper 'close to joining Celtic'
How does tackling misogyny as a hate crime work?

Alex Smith
BBC News Online
Well, BBC News has been filming in Nottinghamshire to find out...
HSE probe into girl's mirror smash
Caroline Lowbridge
BBC News Online
I've just spoken to the Health and Safety Executive (HSE) which said it has started investigating today to see whether any laws have been breached and if Wheelgate Park could be prosecuted.
The park is required to report incidents like this to the HSE within 10 days. However, it has not done so yet. The HSE only became aware of the incident when a member of the public reported it to them.
Swimmer places sixth in breaststroke final

Charlie Slater
BBC Radio Nottingham sports reporter
Meanwhile, Selston swimmer Molly Renshaw finished 6th in the 200m breaststroke final.

Charlie Slater
BBC Radio Nottingham sports reporter
David Florence (right) and Richard Hounslow narrowly missed out on Britain's second canoe slalom gold in two days. The pair who spent many years training at Holme Pierrepont won silver in the C2 double.
Rio Olympics: Married couple in action

Charlie Slater
BBC Radio Nottingham sports reporter
Later today, Ravenshead badminton star Chris Adcock and his wife Gabby will look to bounce back from their opening day defeat when they take on a Danish couple in their mixed doubles group this afternoon.
Sam Walker, from Worksop, is involved for Team GB in the preliminary rounds of the table tennis.
Prison absconder recaptured

Alex Smith
BBC News Online
Earlier we told you about a dangerous driver who absconded from HMP Sudbury.
Derbyshire Police has confirmed Christopher Henshaw, who left the open prison on Thursday, has been recaptured.
Travel: Vehicle fire shuts two lanes on M1

A vehicle fire has closed two lanes of the M1 southbound carriageway around junction 26 in Nottinghamshire.
Traffic is starting to build up so motorists are advised to avoid the area.
Have fun with betting, expert says

Alex Smith
BBC News Online
If you're unsure of who to back ahead of the 2016-17 Premier League season, don't worry, says Prof Vaughan Williams. The key is - have fun!
"If you think it's fun, then bet accordingly, but there's no fun in losing £50 you can't afford," he said.
"There's a famous saying in the industry: when the fun stops, stop."
The fun stopped for me after losing my 4,500th accumulator...
How the Foxes changed the betting world

Alex Smith
BBC News Online
Nottingham Business School professor Leighton Vaughan Williams - of the school's betting research unit - has been giving his thoughts on how Leicester City's Premier League title win altered the way bookmakers set their odds.
According to Prof Vaughan Williams, the issue wasn't the long odds of 5,000-1 - it was the fact that the bookies did not drop their odds when Leicester looked on course to win the league.  
A&E warning - because of new computer system

Alex Smith
BBC News Online
Hospital bosses have urged people to only go to the Queen's Medical Centre's emergency department tonight if it's really necessary.
This is because a new computer system is being installed, meaning staff are temporarily having to work with a paper-based system.
It's the first time since 2004 that a new IT system has been introduced in the hospital's emergency department.
The old IT system will switch off at 22:00 BST tonight, and the new one will go live at 11:15 BST tomorrow morning.
Forest keeper close to joining Celtic

So say our sport colleagues at BBC Radio Nottingham...
Dangerous driver absconds from prison

Alex Smith
BBC News Online
A dangerous driver with links to Kirkby-in-Ashfield has absconded from prison.
Christopher Henshaw left HMP Sudbury - an open prison - yesterday. 
He was sentenced to two years and eight months for dangerous driving in September.
He is described as white, 6ft tall, of medium build with brown hair and blue eyes.
He also has a tattoo of "Mum" on the left side of his neck.
Mother of mirror injury girl hits out at attraction

Alex Smith
BBC News Online
Olivia's mother, Zoe, said: "I think it's disgusting, we've not had an apology, no-one's rung us - they've got my number - just nothing.
"For Olivia's knee to go through the glass.. .it should be 'special proof' glass and it shouldn't have happened."
The BBC has approached the owners of Wheelgate Park several times but not received a response.  
Girl, 9, injured after attraction's mirror shatters

Alex Smith
BBC News Online
The mother of a nine-year-old girl has questioned the safety of a Nottinghamshire tourist attraction after her daughter suffered deep cuts when a mirror shattered.
Olivia Ward, from Wollaton, had to be taken away by ambulance from the Mirror Maze at Wheelgate near Farnsfield.