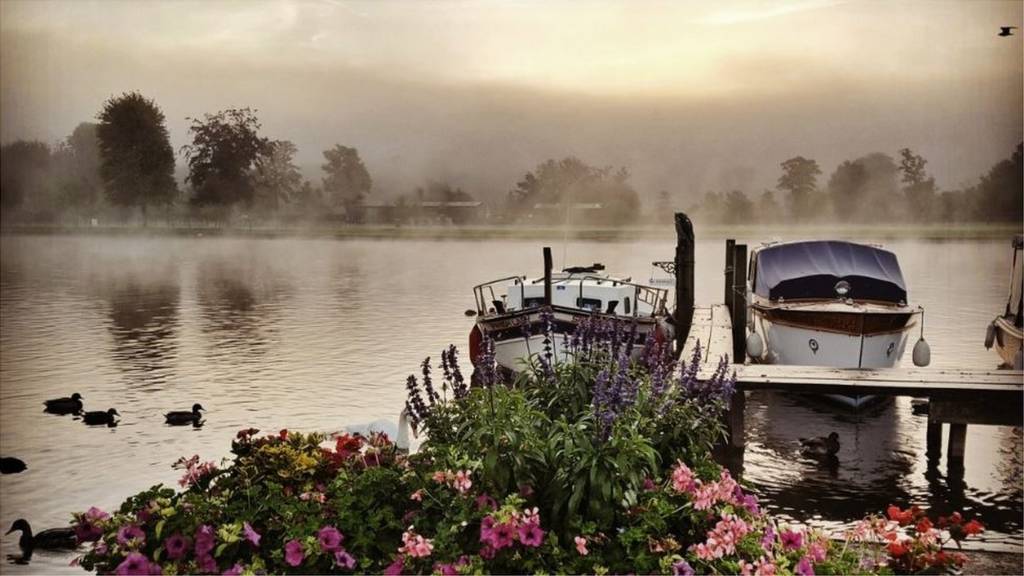 Thanks for joining BBC Local Live for Oxfordshire today. 
The service resumes tomorrow at 08:00.
Weather: 'Outbreaks of rain'

It will remain cloudy with outbreaks of rain or drizzle spreading across all parts. 
Generally mild with strong gusty southwest winds developing, and occasional gales along the south coast.
Minimum temperature: 8C (46F).
RAF pilot 'devastated' after nosedive
An RAF pilot accused of causing his plane to nosedive while using a digital camera said he was "devastated" to be blamed for the incident.
Flight Lieutenant Andrew Townshend is charged with lying when he claimed the dive was caused by a technical fault.
A court martial at Bulford heard the Voyager aircraft plummeted 4,400ft over the Black Sea during a flight from RAF Brize Norton to Afghanistan.
The 49-year-old denies two counts of perjury and making a false record.
Renault unveils new F1 car
Formula One is back next month and Oxfordshire's teams are showing off the fruits of their hard work over the winter.
Enstone-based Renault has unveiled its new RS17 car at a packed launch event in central London.
Met Office issues severe warning for Storm Doris

Spanish Civil War Memorial to be erected in Oxford
A memorial stone commemorating those who died in the Spanish Civil War is to be erected in Oxford. 
The 1.8m (5.9ft) artwork will depict a clenched fist crushing a scorpion alongside the names of six men who travelled from Oxford to Spain to fight in the conflict. 
It will stand at the junction Of Headington Road and Morrell Avenue. 
It was approved by the Oxford City Council's West Area Planning Committee on Tuesday evening.
Shotguns stolen by machete-wielding burglars
Police are appealing for witnesses after an aggravated burglary at a house in Bampton on Sunday.
At about 20:20 a man in his 30s was alone in a house in Station Road when his front door was kicked in and a man threatened him with what is believed to be a machete. 
He was joined by a second man and the two left the house with three stolen shotguns and associated gun cartridges, before driving off in a small dark-coloured hatchback car, which had been parked nearby. 
The first suspect is white and was wearing a dark woolly hat with a scarf around his face, a dark coat with the hood pulled up, khaki or blue trousers and bright yellow running shoes. 
The second suspect black, about 6ft, with dreadlocks.
Oxford-born woman appointed Met chief
Oxford-born Cressida Dick has been named the first woman to be appointed Commissioner of the Metropolitan Police in its 188-year history.
The daugher of Oxford University academics, Ms Dick is currently a director-general at the UK Foreign and Commonwealth Office and was previously the country's most senior female police officer - and the national lead for police counter-terrorism.
She was the commander in charge of the operation in which the innocent Brazilian electrician Jean Charles de Menezes was shot dead two weeks after the 2005 London Bombings. 
A jury later found the Met had broken health and safety laws, but found there was "no personal culpability for Commander Cressida Dick".  
Police say speeding driver had invalid licence
Metropolitan Police Chief Constable to be announced
Today we should find out who will take on the job of the UK's most senior police officer.
Former Thames Valley Police chief constable Sara Thornton is among four figures widely seen as in the running. 
If she were to get the job, she would be the first woman to lead the Metropolitan Police.
County council does not support health plan for region
Oxfordshire County Council cannot support plans to deal with a £134m funding gap in the region's NHS. 
The county's cabinet said yesterday Oxfordshire Clinical Commissioning Group, which commissions health services across the county, needed to be more transparent and coherent in the plan to save money in the region's healthcare system. 
The sustainability and transformation plan (STP) said that some services - including a consultant-led maternity ward at the Horton General Hospital in Banbury - could be axed to save money. 
Oxfordshire CCG said: "The CCG is currently seeking people's views and opinions on the plans for transformation of health services in Oxfordshire. Our consultation will listen to feedback from everyone who gets involved, including Cabinet members at Oxfordshire County Council."
Oxford Conservatives complain about homeless 'disgrace' comment
The Oxford East Conservative Association has formally complained to the city council after a Labour councillor branded homeless people "a disgrace". 
John Tanner made the comments when talking about rough sleeping in Oxford city centre. 
In an interview with BBC Radio Oxford he said: "I would like to go up to some of these rough sleepers and say 'you are a disgrace'."
He has since apologised unreservedly for the comments and will attend the Oxford Soup Kitchen today to meet with activists and volunteers.  
Oxfordshire head gets pampered at Good Morning Britain
The U's on hunt for play-offs after 1-0 victory over Millwall

Jerome Sale
BBC South Today
Oxford continued their pursuit of a League One play-off place with a victory at Charlton that left their hosts even further behind the top six.
A hopeful first-half strike from on-loan Everton man Conor McAleny, once of Charlton, took Oxford to within six points of sixth place with two games in hand. 
The Addicks, whose disappointment was increased by Chris Solly's red card, remain 13th, three places behind their visitors and 10 points behind the top six. 
The hosts almost took the lead with their first attack. Gifted space in the third minute on the edge of the area, Nathan Byrne sent a right-footed shot against the crossbar, but the ball bounced back and away from danger.
Sir Winston Churchill's funeral plans up for auction

Meticulous plans detailing Sir Winston Churchill's funeral are to be sold.
They map out the procession, St Paul's Cathedral ceremony, military flypast, and the coffin's transportation on the Thames and by train for burial in Oxfordshire.
Seller Janet Bunnett was given the plans of "Operation Hope Not" by her policeman father, who worked the day of the funeral, on 30 January 1965.
They are expected to fetch between £400 and £600 when they are auctioned later.
Ms Bunnett, of Westerham, Kent, said her father Philip Bainbridge told her people were "running around like scolded chickens" behind the scenes on the day.
The former prime minister had died of a stroke on 24 January.
Travel latest: Busy across the county

Good morning, here's the latest updates from BBC Oxford Travel:
There is queuing on the A40 from Witney East to Cassington. 
At the Headington roundabout there's heavy traffic for those trying to get into Oxford from the Thornhill park and ride.
Traffic on the A34 southbound is queuing around the M40 junction 9 Weston-on-the-Green. 
Today's weather: Grey and murky
Tuesday's grey and Wednesday too

Going back to that old perennial classic Friday I'm in Love, "Tuesday's grey and Wednesday too."
And mascara-wearing rockstar Robert Smith was incredibly prescient, as Storm Doris batters the UK it's an incredibly gloomy day across Oxfordshire.
Don't forget to send us your snaps for this week's Oxfordshire's Big Picture. 
Here's another example from Anthony Morris at Wallingford Bridge. 
You can send us your photos by email.