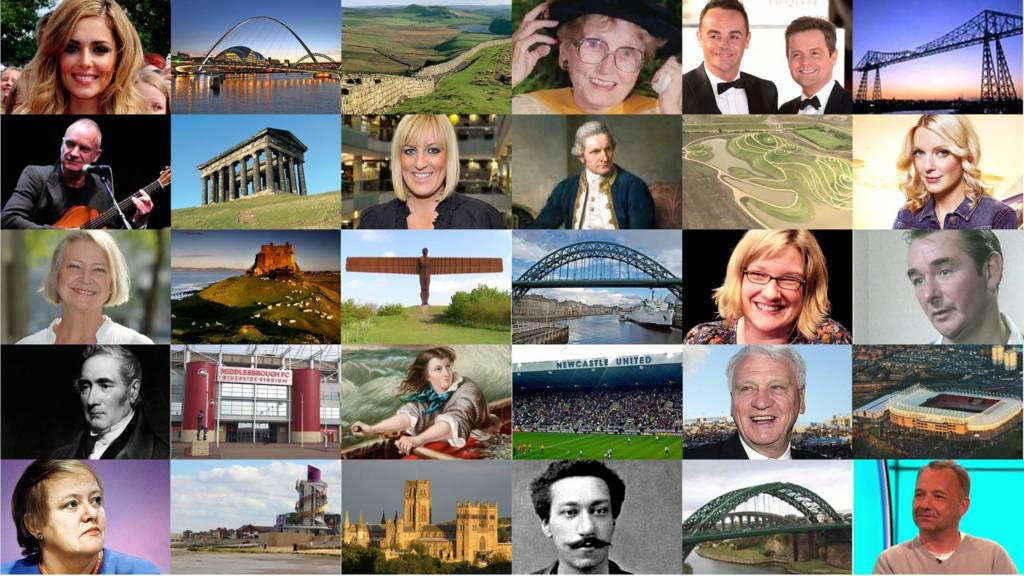 BBC Local Live: North East England
Summary
Wednesday 19 April 2017
Murder accused had restraining order
More victims come forward in sex abuse probe
Body found after tower block blaze
Concern for missing woman
Girl's death 'accidental', coroner says
Trimaan Dhillon denies the murder of his former girlfriend, who was found with her throat cut.
Read more
Our live coverage across the day
Thank you for joining us today. Our live updates are finished, but you can still find the latest news on BBC Tees, BBC Newcastle, Look North and online.
We'll be back with more news, sport, weather and travel at 08:00 tomorrow.
Mayor for the Tees Valley: BBC One to broadcast debate
Voters in the Tees Valley have more than just the general election to think about - the polls will also open on 4 May as they choose the area's first elected mayor.
The mayor will be the head of the Tees Valley Combined Authority, which is made up of Darlington, Hartlepool, Redcar and Cleveland, Middlesbrough and Stockton councils.
As part of its Northern Powerhouse scheme, the government will devolve certain powers to the mayor and give them £15m a year to spend.
A debate will be broadcast on BBC One tomorrow at 10:45. If you miss it, we'll have an online recap on Friday.
County Durham man focus of BBC One's Reported Missing
This week's episode of Reported Missing will feature the case of Darren Stephenson-Bennett, from Newton Aycliffe. 
The 28-year-old went missing after attending a party in August and was found dead by police seven days later.
His body was found in his car in bushes on a roundabout. It is thought the father-of-three failed to negotiate the roundabout and went through a chevron board before hitting trees. 
Reported Missing is on BBC One at 21.00.
Early crowds gather ahead of Ed Sheeran arena show
Eager Ed Sheeran fans have been arriving early ahead of the star's gig at the Metro Radio Arena. 
Huddled under the roof, they'll be hoping to make a dash to the front of the stage when the venue's doors open later.
Tonight's is the first of two Newcastle performances by the chart-topper with tickets selling out in record time.
Let's hope it stays dry!
Blyth Valley MP voted against general election
Blyth Valley Labour MP Ronnie Campbell voted against a snap general election.
South Shields win Northern League title

South Shields FC clinched the Northern League Division One title thanks to a 4-1 win at Ashington AFC last night. 
More than 1,000 people turned out to watch the game. It is the first time the Mariners have won the title in their history.
Weather: Cloudy with sunny intervals
Late afternoon will reveal some sunny intervals. However, it will feel chilly under the cloud.  
It's set be a cloudy night with the odd spot of rain over hills. Some clearer spells are likely by dawn.  
Arrests are made during early-morning operations in Lancashire, Tyne and Wear and Worcestershire.
Read more
Byker assault victim 'critical'
A man assaulted in Newcastle over the bank holiday weekend remains in a critical condition in hospital.
The 29-year-old was attacked on Sunday at around 19:20 on Wilfred Street, near Byker Bridge. He was found injured at 20:50 in the underpass beneath the Swan House roundabout.
A 38-year-old man has been charged with a section 18 assault and criminal damage and appeared at South East Magistrates' Court in Bedlington on Tuesday.
He will next appear at Newcastle Crown Court on 16 May.
Your photos: Tommy's halo
Carolyn Farthing sent us this photo of a sun halo at Seaham above the popular statue known locally as Tommy - a steel structure inspired by World War One.
Have you got any photos you'd like to share with us? In that case you can tweet them to @BBCNewsNE, email them, or contact us via our Facebook page.
Petition launched to re-name Sunderland bridge in honour of Bradley Lowery

A petition has been launched urging city leaders to honour five-year-old Bradley Lowery, who has united people across the country as they back his fight against a rare form of cancer.
Blyth MP Ronnie Campbell will stand again

Richard Moss
Political Editor, BBC Look North
Blyth Valley's Labour MP, Ronnie Campbell, says he will stand again in June's general election
Mr Campbell had intended to stand down in 2020, but has revealed the snap election means he'll look to stay on.
He's 73 and has been treated for stomach cancer. However, he is on the road to recovery after an operation and chemotherapy.
Fenham assault: Police appeal for information
Police are appealing for information after a man was assaulted in the Fenham area of Newcastle earlier this month.
The 45-year-old suffered a serious head injury when he was attacked in Wingrove Gardens at about 16:30 on Monday 10 April.
Emergency services were called after he managed to get himself to a nearby shop on Nuns Moor Road.
Police say his suspected attacker was Asian, short in height, aged in his 20s and with black hair.
Today's front page: North East seats in Tories' sights
Opinion polls suggest Theresa May's Conservative party could make gains at the planned June 8 general election.
Sunderland Paralympic gold medallist to collect MBE
Sunderland swimmer Matt Wylie is at Buckingham Palace to collect his MBE.
Matt, 20, went to Biddick Academy in Washington and is a member of the City of Sunderland Amateur Swimming Club.
He won gold at the Rio Paralympics in the S9 50m freestyle event - helping Team GB bring back its biggest haul of medals for almost 30 years.
Easter sparks rise in hillside arsons

BBC Tees
www.bbc.co.uk/BBCTees
There was a spike in incidents of arson on Eston Hills near Middlesbrough this Easter, according to Cleveland Fire Brigade.
Firefighters dealt with 13 fires compared with just one during the Easter period last year. 
Three occurred during the bank holiday weekend - a car was burnt out and two grass fires were deliberately started on the hills.
More acts announced for Mouth of the Tyne festival

Sharuna Sagar
BBC Look North
The supporting line up for this summer's Mouth of the Tyne Festival in North Tyneside has been announced. 
Elbow (pictured) will be joined by The Cornshed Sisters for their sell-out show on 6 July. 
Mercury Prize nominated singer-songwriter King Creosote will be special guest to Laura Marling at her festival show on the following night, while Tom Odell's special guests on the Saturday are Cattle & Cane.
Sunday's family concert at Tynemouth Priory, headlined by Billy Ocean, now welcomes Roachford to the bill. 
Fans ready for Sheeran concert

Ed Sheeran will play the first of two concerts at the Metro Radio Arena in Newcastle later, with fans coming not just from all over Britain but abroad too.
The tickets sold out out in record time, with many appearing on secondary sale sites for thousands of pounds more - despite efforts to crack down on online touts by both the venue and the event organisers.
Earlier this year Sheeran hit out at the practice of secondary selling after discovering many tickets for his charity concert in aid of the Teenage Cancer Trust had been sold at inflated prices online.
Thornaby fire death: Damage clear at blaze-hit block

As we reported earlier, a body has been found following a fire at a block of flats in Thornaby. 
Here are pictures of the scene at Anson House.
No other injuries have been reported and police and fire investigators are trying to determine the cause of the blaze.
Missing woman 'could be in Edinburgh'
Missing woman Catherine Garsed could now be in the Edinburgh area, Durham Police say.
As we told you earlier, the 29-year-old from London was visiting friends in the Gilesgate area and was last seen on Montgomery Road on Tuesday.
Officers now say they have information suggesting Catherine may have travelled north and they are liaising with Police Scotland in their search.
Hartlepool MP will not stand for re-election
Hartlepool's Labour MP, Iain Wright, has announced he will not stand in the general election on 8 June.
Describing his time in Parliament as "an enormous privilege", he said he wanted to explore other interests having represented the area since 2004.
He's not the only MP from the region who will not be standing.
As we reported yesterday, Labour MP for Middlesbrough South and East Cleveland, Tom Blenkinsop, has also decided to step aside.
Death of four-year-old girl 'accidental'
An inquest has heard a four-year-old girl died after being knocked down by her mother's pick-up truck.
Ava Henderson was playing in a compound off Amos Ayre Place in South Shields last May, but was hit trying to stop the family's bulldog from running into the path of the vehicle.
The inquest was told her mother was using her mobile phone at the time.
The coroner recorded a verdict of accidental death.
Police 'concerned' for missing Durham visitor
Police are becoming "increasingly concerned" for a woman who has gone missing while visiting Durham.
Catherine Garsed, 29, who is originally from London, was visiting friends in the Gilesgate area of the city.
She was last seen on Montgomery Road at 16:00 on Tuesday. 
Catherine is described as 5ft 4in tall, of large build, with brown hair and was wearing a dark blue Oxford University-branded hoodie and grey trainers. 
More sports club sex abuse victims come forward

Helen Richardson
BBC Newcastle
Northumbria Police say 37 victims have now come forward as part of an investigation into historical child sex abuse at North East sports clubs.
Operation Tide was launched in December after several former footballers said they had been abused by former coach George Ormond.
Ormond was jailed in 2001 for 12 cases of indecent assault, but police say 10 possible suspects have now been identified involving 11 clubs in a range of sports. 
Several ex-Newcastle United players, including David Eatock (pictured) and Derek Bell are among those who claimed they were victims.
More than 250 potential suspects and 560 victims have now been identified throughout the UK.
Some 311 football clubs, spanning all tiers of the game, are involved in the inquiry, called Operation Hydrant.
Cloudy to start, but brightening up through the afternoon

Lisa Gallagher
Weather presenter, BBC Look North
It will be cloudier than yesterday, with a little light rain possible for a time falling mainly over higher ground.
This rain will die away during the afternoon to perhaps reveal some late sunny intervals. However, it will feel chilly under any cloud. 
Maximum temperatures probably won't rise above 11C (52F).
We should see a fairly cloudy evening, with perhaps the odd spot of rain over high ground.
Some clearer spells are likely to form by dawn, however, with minimum overnight temperatures of about 8C (46F). 
Body found at scene of tower block blaze
A body has been found at the scene of an overnight tower block blaze in Thornaby.
The top three floors of the 12-storey Anson House, on Weardale Crescent, had to be evacuated by firefighters.
Ten fire engines were needed to control the blaze. No other injuries have been reported.
No details of the dead person have so far been released. Police and fire investigators are looking into the cause.
Welcome to Wednesday's live coverage
Good morning and welcome to BBC Local Live. We'll be with you throughout the day to bring you the latest news, weather, sport and travel updates.
Have you got any photos you'd like to share with us? In that case you can tweet them to @BBCNewsNE, email them, or contact us via our Facebook page.