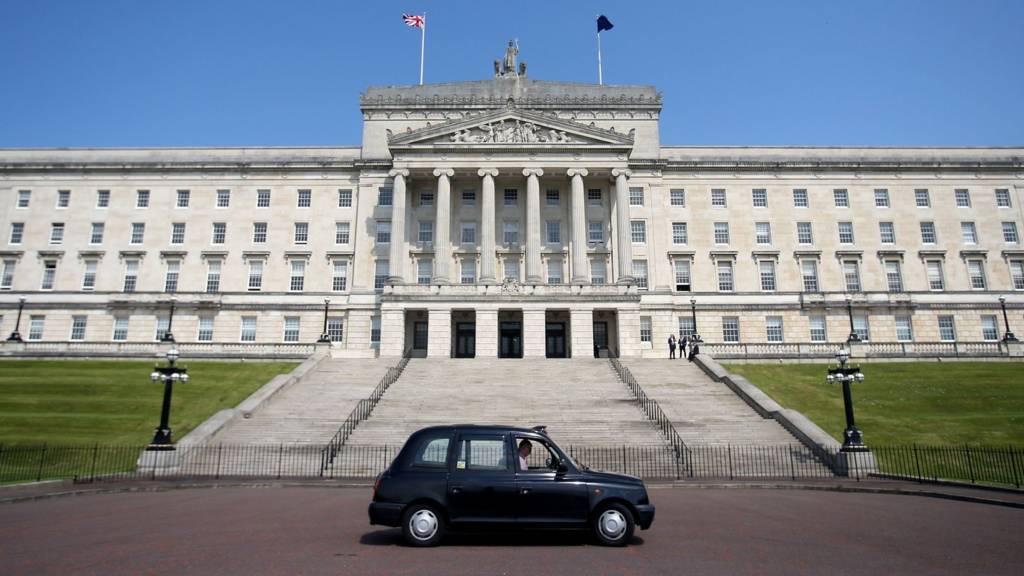 Minister outlines plans for education
Summary
The new Education Minister, Peter Weir, briefed the Education Committee and outlined his priorities.
The Finance Committee met for the first time since the assembly election and agreed to write to the Finance Department regarding documentation linked to the sale of NAMA assets in Northern Ireland.
Emma Pengelly adjourns the committee.
Join us tomorrow morning at 10:00 BST for live coverage of Agriculture Committee.
Jim Allister wants the committee to write to the department asking for a re-examination of "documentation that has been withheld" during the committee's earlier investigation into the NAMA sale.
Mrs Pengelly says this will be put in the forward work programme.
Mr Allister asks the chairperson to put his suggestion to the committee.
A number of members express support for Mr Allister's request and Mrs Pengelly says they will write to the department.
She says there will be discussions with the National Crime Agency regarding the position of the committee in the light of the NCA's ongoing investigations into the NAMA Northern Ireland assets sale.
John O'Dowd of Sinn Féin says his party does not believe that the truth has fully been revealed regarding the NAMA sale.
"This could go on for a period of years," he says.
'Public credibility of the committee'
The TUV's Jim Allister again raises the question of the NAMA inquiry.
He says "the public credibility of the committee" rests on the continuance of the inquiry.
Mr Allister says it is a matter that "no-one should wish to brush under the carpet".
Ross Hussey of the UUP says: "We can't allow this to go away."
Mrs Pengelly says it will be included in the forward work programme for further consideration.
Turning to the forward work programme, Mrs Pengelly suggests they write to the department for indicative timings regarding the forthcoming three-year budget.
Sinn Féin's Caitríona Ruane says she would like to have a briefing on same-sex couples, and in particular couples who have married elsewhere and their "inheritance rights, pension rights and so on".
Members discuss the legacy report left by the committee before the elections.
Committee deputy chairperson Claire Hanna of the SDLP asks that the committee's work investigating the sale of NAMA Northern Ireland assets be continued.
"That is very live for a number of reasons," she says, adding that it should be "a key part of our programme"
Mrs Pengelly suggests that they can look at the matter as part of the discussion of the forward work programme.
Mrs Pengelly asks members to declare any interests relevant to membership of the committee.
She informs members that her husband is the permanent secretary of the Department of Health and that she is a barrister.
Welcome to our coverage of the Finance Committee
The DUP's Emma Pengelly is chairing this afternoon's meeting of the Finance Committee.
This the first meeting of the committee since the assembly election.
The minister and departmental officials leave the committee. 
Members discuss various issues of committee business before the Barry McElduff adjourns the committee. 
We will return at 14:30 GMT with coverage of the Finance Committee. 
DUP rejecting Alliance executive proposals
Mr Lyttle then asks about the DUP rejecting Alliance executive proposals based on the provision of integrated education. He asks the Minister what targets he is personally going to set in terms of advancing integrated education in Northern Ireland. 
"There is an extensive review which has been put in place with regards to integrated education" says Mr Weir. 
He says, "we want to try and see if there is a wider engagement across the whole population". 
Back to academic selection
Returning to academic selection, Chris Lyttle asks why the Minister believes that "a test is needed to transfer 10 and 11 year olds from common curriculum in year 7 to a common curriculum in years 8, 9 and 10". 
Mr Weir says we are now in a situation where there are "more children picking these transfer tests than ever before". 
"It seems the common transfer moment happens in a lot of places around the age of 11", he says. 
McGuinness lays wreath at Messines
BBC NI political correspondent Gareth Gordon tweets
Teacher replacement scheme
Ms Lockhart also asks about post-19 special educational needs provisions.   
Mr Weir says he will work with other departments on this and a lot of this work will fall into the remit of the Department of the Economy. 
Finally, she asks about the teacher replacement scheme. 
Mr Weir says he wants to give a considerable amount of thought to this. He describes it as "an attractive proposition" however, he says those who will be affected by this, "will need certainty straight away". 
"Even if I was in a position today to announce any particular scheme, from a practical point of view, it would be highly unlikely that any of those would take place during the financial year of 2016/17", he says. 
The DUP's Carla Lockhart asks about early-years funding.
She says there is a shortfall and a number of early-years providers in her constituency would have concerns around closure. 
Mr Weir says "78 early-years groups who applied for funding were successful". In that make up, he says 45 groups previously received funding and 33 were new groups. 
Coroner orders Birmingham inquests
BBC Ireland correspondent Chris Page tweets
'Very proud of getting rid of the Eleven Plus'
Sinn Féin's Catríona Ruane says she is "very proud of getting rid of the Eleven Plus" and wishes to place on record that she does not support selection. 
"I think is outdated, unnecessary and discriminatory", she says. 
She also asks that the Minister that he will fulfill his statutory duties in relation to Irish medium and integrated education. 
Mr Weir says the review of integrated education is an ongoing process. He also says "there are opportunities through the Fresh Start Agreement on the capital side of it". 
The DUP's Lord Morrow says he welcomes the minister's early statement in relation to the transfer test. 
"That's not because I think the transfer system is perfect, we don't live in a perfect world but I think it was a very irresponsible thing to do, to remove the eleven plus at that time with no replacement", Lord Morrow says. 
Continuing, he says "It did, bring into our education system, a degree of chaos which I think you will be charged with trying to sort out the mess that you have inherited, however, I think you are up for it". 
Birmingham pub bombings: Coroner to rule on resuming inquests
A coroner is due to rule on whether the inquests into the deaths of 21 people in the Birmingham pub bombings will resume.
Hearings, opened days after the 1974 attacks, were not continued after the jailing of six men, whose convictions were later quashed.
After the men's release in 1991 the families of those who died began a campaign to get the inquests heard.
Coroner Louise Hunt is expected to deliver her decision later.
'Looking at a greater level of flexibility'
Sinn Féin's Catherine Seeley says in the previous 2011 - 2016 PFG (Programme for Government), "there were no targets relating to special educational needs". 
"It's really to seek an assurance that you would be aiming to include some targets and work closely with the department of health in doing so" she says. 
Mr Weir says the framework is out for consultation and he cannot say what "the final outcome will be". He says he intends that the targets and departmental commitments will arise out of the finished PFG.  
Ms Seeley then asks about the commitment in the previous PFG for one year of free pre-school provision.
Mr Weir says there is "still a level of mismatch in where there is provision and where there is demand. We are looking at a greater level of flexibility".  
Special educational needs nursery provision
The Alliance Party's Chris Lyttle raises the matter of the review of special educational needs nursery provision and asks the minister if it is possible to provide the committee with an update in relation to that review. 
Mr Weir says the review will not be complete until "stakeholder engagement" has taken place. 
Mr Lyttle describes the sense of urgency around this issue, as the review was started in March and "it is now June" and people are starting to receive notification of their places for September. 
"The first focus is to ensure that there is a place for everyone", Mr Weir says.   
Mr McElduff then asks the minister about his position on academic selection.  
Peter Weir says "I support the right for schools to use and have academic selection". 
"My concern is if you didn't have any form of selection, Northern Ireland would move towards a much cruder form of academic selection like in England. In terms of social impact, this could be worse", he says. 
'Looking actively' for support
Mr McElduff discusses the changes to national insurance and it's impact on schools, and asks if the minister is "likely to seek additional support from the June monitoring round". 
Mr Weir says "I am looking actively to see what level of support can be given to schools". 
Giving our children 'the best start in life'
Mr Weir says the starting point for his framework will be the executive's programme for government as one of the core principles is giving our children "the best start in life". 
He notes four main elements within the framework - improving child development, the quality of education, improving education attainment at GCSE level and closing the gap. 
He says he is open to hearing people's ideas on how to meet those issues. 
In his opening remarks, Mr Weir says he wants to work with the committee in "open spirits".
He invites committee members to meet his department officials at any time. 
"I appreciate the role of any committee is to hold the minister to account and, in that respect, be a critical friend", he says.
"It is a privilege to be minister of education and that privilege extends to members of the committee, as education is a critical issue for all of us". 
Committee members are now receiving a first day briefing from the new Education Minister, Peter Weir, and department officials - Mr Paul Sweeney, Mrs Katrina Godfrey and Ms Fiona Hepper. 
Nama deal: Two men released in NCA fraud inquiry
Two men arrested by the National Crime Agency (NCA) as part of a fraud investigation linked to Northern Ireland's biggest property deal have been released on bail.  
Ireland's National Asset Management Agency (Nama) sold its Northern Ireland portfolio to investment fund Cerberus for £1.2 billion in 2014.  
The men were arrested on Tuesday.
The NCA is the lead agency in the investigation into allegations of fraud connected to the sale.
Any interests to declare?
Mr McElduff asks the committee to declare any conflicting interests. 
Various members of the committee declare their positions on schools' boards of governors. 
Members' educational interests
The new committee chairperson, Mr McElduff invites every member of the committee to state their interests on education. 
The Alliance party's Chris Lyttle, the committee's deputy chairperson, says he is looking forward to "making a positive contribution" and he hopes to ensure that "education in Northern Ireland is inclusive". 
Ulster Unionist Sandra Overend, the only remaining member on the Education Committee from the previous mandate, says she "looks forward to hearing the minister's vision today". 
The SDLP's Colin McGrath says as he is from a youth work background and he wants to be able to "champion youth services". 
Sinn Féin's Caitrona Ruane says she is interested in languages and children learning languages from an early age. She is also interested in sport, "given the obesity level here". 
Welcome to the first day's coverage of Stormont committees since the assembly election.
The action starts at 10am with the Education Committee, which is being briefed by its new minister, the DUP's Peter Weir.