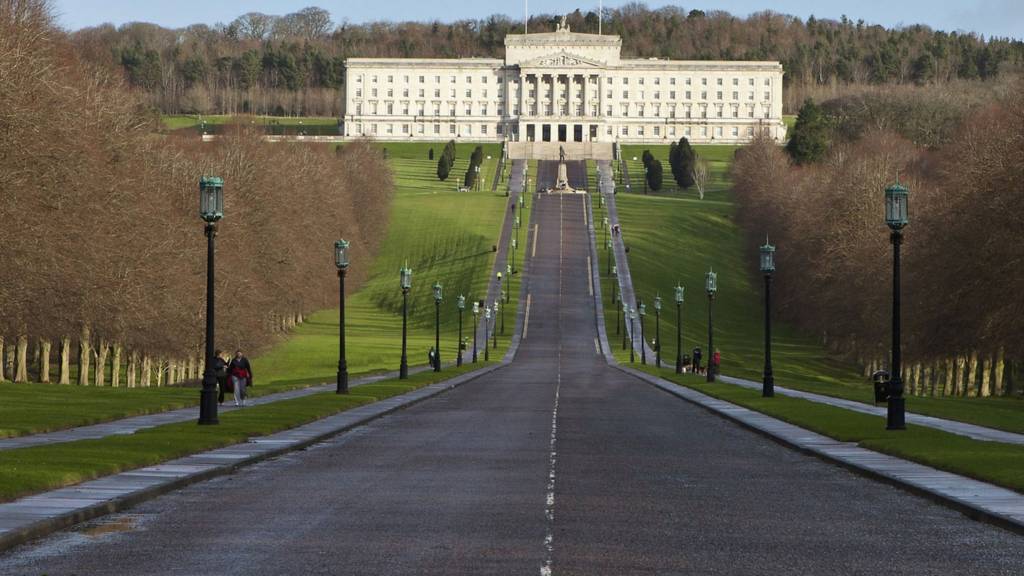 Summary
There are two ministerial statements about public sector pensions, for teachers and firefighters.
MLAs will debate the a proposal on rights for the attorney general to participate in Assembly business.
The Alliance Party has a motion calling for "the speedy consideration of a single Equality Bill"
In an extended Question Time, questions will be taken by the health and agriculture ministers, and by members of the Assembly Commission.
MLAs approve DUP amendment
The motion as amended by the DUP passes on a simple majority vote.
The Assembly is now adjourned. To keep up to date with Northern Ireland News and politics, go to
BBC News NI
or our
politics page
.
The DUP's Peter Weir says there is a feeling among Christian communities of UK society being "a cold house, giving them the cold shoulder".
Anna Lo of Alliance says the the "main gaps" in equality law in Northern Ireland are around disability and age discrimination legislation.
She warns against a "hierarchy of equality" that she says could be the result of the application of the DUP's proposed 'conscience clause'.
Calls for 'mature debate'
Independent MLA John McCallister criticises the use of a petition of concern against a proposed 'conscience clause' -"it's not the way we should do business".
"I would like to see this Assembly have the maturity to have that debate," he says.
Alliance accused of 'pre-judging' conscience clause
The TUV leader Jim Allister says the "freedom of conscience" bill has not been published and does not yet exist.
He accuses the Alliance of "pre-judging" the contents of the proposed bill and "condemning it out of hand without reading it".
'Society ahead of Assembly on LGBT issues'
Resuming the debate from earlier, the SDLP's Colum Eastwood says agreement on age discrimination legislation would be "a very positive step forward".
On LGBT (lesbian, gay, bi-sexual and transsexual) issues, he says "we have to be very careful in this house about the messages we send out to members of our community".
"I think we've moved, as a society very far forward, in that regard. Unfortunately this Assembly hasn't moved quite as fast," he says.
Equality legislation part two
We return to the debate on Alliance's equality legislation motion.
£95,000 for coloured lighting
The DUP's Peter Weir tells members the commission is spending £95,000 to install equipment to allow for the coloured floodlighting of Parliament Buildings.
The commission recently agreed that the building should be floodlit purple for International Women's Day, green for St Patrick's Day, orange for the 12th of July, and red for Remembrance day.
He says the equipment is part of the £4m project to repair the roof of Parliament Buildings.
Loud yawn interrupts Ruane
Caitriona Ruane objects to Principal Deputy Speaker Robin Newton when she is interrupted by loud yawning from the DUP's Gregory Campbell as she speaks Irish.
'Assembly Commission must change'
Judith Cochrane of Alliance says the range and quality of services offered by the commission "will have to change".
She says the equivalent of 32 posts will be lost in the Assembly secretariat.
This will partly be met by the public service exit scheme, but there could also be changes to the use of temporary staff.
Assembly Commission Questions
Sinn Fein's Caitriona Ruane tells members the Assembly commission faces a £2m reduction in funding in 2015/16.
"A significant reconfiguration of the way in which the commission delivers its services is needed," she says.
Agri-food body faces 'challenges'
Edwin Poots of the DUP said the minister had cut the budget of the Agri-Food and Biosciences Institute,(AFBI), resulting in the loss of 400 jobs, and the institute's facility at Crossnacreevy.
Mrs O'Neill said the department was "working our way through AFBI", and was operating in a time of economic difficulty brought about by the Westminster government.
She said there were challenges for AFBI just as there were challenges for other departmental bodies.
Agriculture Minister Michelle O'Neill is now taking questions on her brief.
Abortion guidelines 'in the next few weeks'
Rosie McCorley of Sinn Fein asks the minister when he will publish guidelines for the termination of pregnancies.
Mr Wells he hopes to have something before the Executive "in the next few weeks".
He says the question of abortion is "perhaps one of the most difficult issues facing me and the department".
The minister says the question is "almost insoluble", and he expects the guidelines to be judicially reviewed
'Generic drugs could save £54m'
John Dallat of the SDLP is concerned about the cost of drugs.
He says £54m could be saved over the next three years if doctors prescribed generic drugs.
Jim Wells replies that he has "imposed a £20m saving in pharmacy for next year".
"I think we need to give prescriptions a value," he says, suggesting that a very small prescription charge would help save money.
'£860,000 to train a doctor'
UKIP's David McNarry asks whether it would be possible to prevent nurses newly-trained in Northern Ireland leaving to work elsewhere.
Jim Wells replies that it costs £860,000 to train a doctor, only to see them "getting on a plane and going to Bondai Beach".
He says it is impossible to prevent doctors and nurses moving to other EU countries.
However, the minister says it may be possible to require medical staff to repay part of their training costs if they go to work overseas.
'Extra £28m for Southern Health Trust'
In reply to a question from the SDLP's Dolores Kelly, the minister says there will be "an extra £28m" for the Southern Trust in 2015/16.
Mr Wells says this comes in the context of a year that will be "exceptionally challenging for my department".
'No standardised sexual health services'
The SDLP's Colum Eastwood is concerned that Northern Ireland has the highest rate of increase in new cases of HIV infection in the UK and Ireland.
Jim Wells says one of the problems is that Northern Ireland does not have an agreed standard of services for sexual health.
'Inexorable rise in HIV infections'
Health Minister Jim Wells' question session begins with a question on sexual health.
"HIV has been with us for over 30 years", he says, but there remains an "inexorable rise" in HIV infections.
Health Minister Jim Wells, Agriculture Minister Michelle O'Neill and members of the Assembly Commission are answering questions in the Assembly.
Assembly suspended until Question Time
With Question Time approaching, the Assembly is briefly suspended, until 2pm.
"Of course, churches of all denominations need religious belief", said Ms Ruane, "but many, many people in the Christian communities don't want to see religion used as an attempt to justify discrimination against a community".
Sinn Fein to block 'freedom of conscience bill'
Sinn Fein's Caitriona Ruane says her party would submit a petition of concern "at the earliest opportunity" on the "so-called freedom of conscience bill".
A petition of concern triggers a 'cross-community' vote in the Assembly, which almost inevitably results in the defeat of the motion.
'We all want an open, tolerant society'
"We should all wish to live in a society that is open and tolerant, and which respects the rights of others and promotes equality for all ", says Ulster Unionist Danny Kinahan.
On the proposed conscience clause, he says, "I hope we can all agree it should never have come to this".
"Freedom of conscience needs to be allowed and respected, as do the rights of citizens and of all other groups, he says.
'Strong equality law and enforcement'
The SDLP's Alex Attwood asks the DUP to clarify their position on the extension of age discrimination laws to under 16.
On the need for equality legislation, he says, "strong legislation and strong enforcement, brings about better society in a society that resists change".
The Equality Commission is "not living up to all their responsibilities", says Mr Attwood, citing the example of a the lack of change in long-term Catholic unemployment levels and increasing working class male Protestant rate.
'Proposals grossly misrepresented'
The DUP's Paul Givan said the proposals of the "conscience" clause had been "grossly misrepresented".
He said his bill was "about treating people with respect" and "shouldn't create a duty to force people in business to do things against their religious beliefs."
Mr Givan says we need to find a balance in the tension between sexual orientation and religious belief.
'DUP Conscience Clause polarising'
On the DUP's proposed '
conscience clause bill
', Mr Lyttle says it is "wholly disproportionate" and "had heightened tension and division in our community and unnecessarily polarised people".
Equality law 'fallen behind'
Alliance's Chris Lyttle introduces the motion.
"We have fallen behind the equality legislation in other parts of Europe" he says.
Mr Lyttle says a single equality bill would bring together existing provisions in law and update them.
MLAs are debating an Alliance motion calling on the Office of the First Minister and Deputy First Minister to issue a fresh consultation paper to 'facilitate the speedy consideration of a Single Equality Bill' by the Assembly'.
Northern Ireland's current
attorney general
is John Larkin QC.
He is the Executive's chief legal adviser, and its most senior representative in the courts.
Attorney general 'non-political'
Sinn Fein's Gerry Kelly opens the debate on rights for the attorney general to participate in Assembly business.
He explains that, unlike in other jurisdictions, the role of Northern Ireland's attorney general is non-political.
Motion passes despite UUP opposition
Alastair Ross, chairman of the Justice Committee, said MLAs in the committee had scrutinised the rule and consulted with the attorney general before deciding to support it.
One MLA, Ulster Unionist Tom Elliott, opposed the PSNI's inclusion as he said he was "not persuaded by the attorney general's arguments" and believed they were already subject to the Human Rights Act, 1998 and the code of ethics in the Police of Northern Ireland Act, 2000.
The motion passed on an oral vote.
The police and human rights
Alliance MLA Stewart Dickson is speaking on behalf of an ad-hoc committee convened to consider a statutory rule from the attorney general.
The rule brings the PSNI (Police Service of Northern Ireland) into the group of criminal justice organisations to be advised by the attorney general on human rights matters.
More pensions regulations - Health Minister Jim Wells introduces regulations for firefighters' pensions, to ensure they "get the pension that they expect".
Motion passes on an oral vote.
Average teachers' retirement age to increase
Chairperson of the Education Committee, Michelle McIlveen of the DUP said teachers' retirement age on average would increase from 60 to 65 in the next decade.
While teachers' employee pension contributions have risen to 9.6%, employer contributions have increased to 17.7% which would cost around £37m per annum for the department.
Pension system 'simplified'
"The process has been simplified," said Mr O'Dowd.
The amendments will ensure workers who were enrolled in the existing and new pensions schemes and retired due to ill health would not face "unintended tax consequences", said the Education Minister.
Draft Teachers' Pension Scheme Regulations, 2015
Education Minister John O'Dowd brings a motion on teachers' pensions "to ensure teachers get the pensions they deserve" and "don't lose out" as a result of changes to the scheme.
Hello and welcome to BBC NI Democracy Live's coverage of the Northern Ireland Assembly on Monday 16 March 2015.