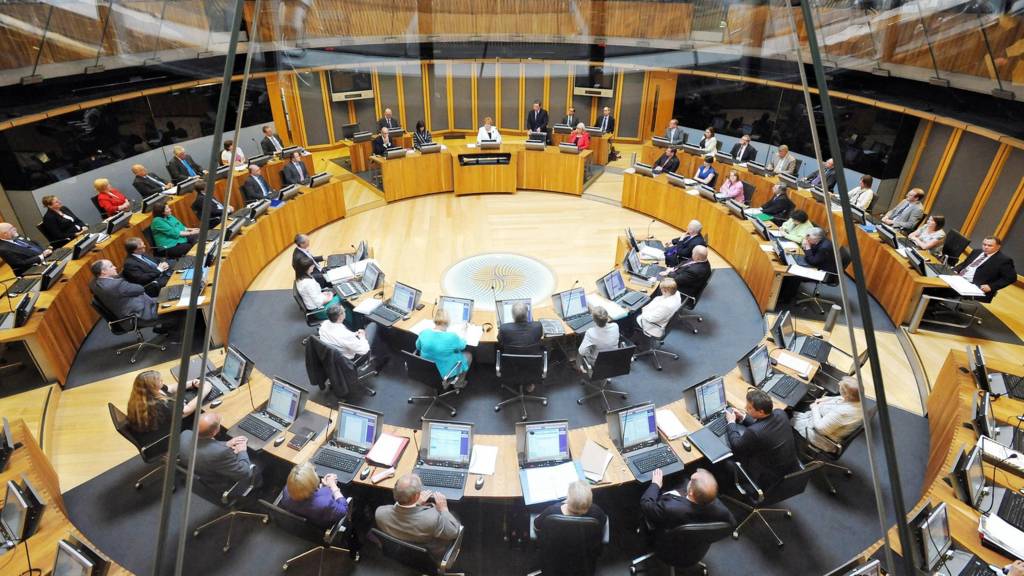 Senedd Live: as it happened on 29 April 2015
Summary
The Welsh Assembly meets at 13.30 GMT. The session began with questions to the minister for finance and government business.
Questions to the Minister for Public Services.
Debate on the Finance Committee's report on Best Practice Budget Process Part 2.
Conservatives debate on the importance of rural Wales to the Welsh economy.
Liberal Democrats debate on the Welsh government scheme Jobs Growth Wales.
And that brings today's proceedings to a close.
Join us again on Tuesday 5th May, hwyl fawr.
Peter Black is summing up his party's debate, and we will shortly be moving on to voting time.
Julie James, the Deputy Minister for Skills and Technology, says in her reply "everywhere I go in Wales....I meet with employers who are falling over themselves to tell me what a great scheme this is."
She added "it's business as usual" as those who joined the scheme in March will continue with their placements until September.
Former minister Jeff Cuthbert refers to the Future Jobs Fund which was a UK government initiative introduced in 2009, which aimed to help long term unemployed people back into employment.
It was cut by the Coalition government in 2010 "with nothing in it's place", says Mr Cuthbert.
Jobs Growth Wales has been a hot topic and was covered by the Conservatives in their
debate last week
.
Liberal Democrat Aled Roberts expresses concern about unemployed older people not only those aged 16-24.
Mr Roberts says
Prime Cymru
looks at helping those over the age of 50.
Last year, the scheme's budget was cut in order for cash to go to the NHS.
But the Labour-run Welsh government said this had not affected the scheme which had hit all its targets. Criticism has followed the closure. Read more
here
.
Department for Education and Skills
The Department for Education and Skills (DfES) are currently in the "transition phase" between the current Jobs Growth Wales programme and its successor. DfES are aiming to launch the new programme by mid-May.
Jobs Growth Wales was part funded by the European Social Fund and the current round of programmes came to an end on 31st March 2015 for new entrants only.
Liberal Democrat Eluned Parrott says whilst opening the debate that it's "astonishing" that Welsh government allowed Jobs Growth Wales to come to an end without a replacement in place.
The Jobs Growth Wales scheme started in April 2012 and aimed to create 16,000 job opportunities over 4 years for unemployed 16-24 year olds throughout Wales. The programme catered for young people that were job ready but had difficulty securing employment.
Nick Ramsay is replying to his party's debate. We will shortly move on to the last debate of the day, the Liberal Democrats' debate on Jobs Growth Wales.
Rebecca Evans, Deputy Minister for Farming and Food says the "Food Tourism Action Plan will be announced tomorrow."
Conservative Mohammed Asghar refers to The Campaign for Real Ale (CAMRA)'s claim that two pubs close in Wales every week.
Common Agricultural Policy
Mr Powell says reinstating YFC funding long-term is a "major priority for us".
Liberal Democrat member William Powell speaks about the 2015 UK Government Budget to extend the period that self-employed farmers can average their profits for income tax purposes from 2 years to 5 years saying it "will help over 3,000 individual farmers in Wales."
The Welsh government 'aims to make fibre (optic broadband) available to 96 per cent of premises in Wales by Spring 2016'.
Mr George refers to
Super Fast Cymru
and asks whether it will receive extra funding to reach it's targets.
Back in January it was
announced
Young Farmers' Clubs in Wales were to lose £360,000 from a Welsh government-backed grant.
Russell George opens the debate for the Conservatives.
He welcomes the reinstatement of YFC funding but says it needs to be "long-term."
Jocelyn Davies is replying to the debate, up next is the Conservatives debate looking at the importance of rural Wales to the Welsh economy.
Committee Chair: Jocelyn Davies
"£9bn of the Welsh money goes to the NHS," says Peter Black.
Nick Ramsay says "things have moved on a lot since devolution" 15 years ago and the Assembly should move along with this.
The committee held a consultation to gather evidence on Best Practice Budget Process - you can click
here
for the submitted evidence.
Part 1 looked at Budgetary best practice and its applicability to Wales and was completed in July 2014.
Part 2 involves planning and implementing new budget procedures.
The Finance Committee agreed to undertake an inquiry into best practice budget processes to ensure that effective budget processes are in place for the scrutiny of the financial powers contained in the Wales Bill.
Best Practice Budget Process
We're on to the first of three debates this afternoon.The chair of the Finance Committee, Jocelyn Davies opens the debate on the committee's report on Best Practice Budget Process Part 2.
Zero hour contracts raised by Plaid's Simon Thomas. Zero-hours contracts, or casual contracts, allow employers to hire staff with no guarantee of work. They mean employees work only when they are needed by employers, often at short notice. Their pay depends on how many hours they work.
Minister says he has "no intention of extending councillor terms to 6 or 7 years." Back in February Mr Andrews said term limits for councillors will break up "t
he old boys' club".
Picture: Leighton Andrews
David Rees speaks about cuts to local authorities affecting facilities, for example leisure centres.
@GriffithsJECtrl
says 20 further deliberate grass fires were lit in the South Wales Fire and Rescue Service area yesterday, bringing the total to 874 in April.
Peter Black is the Liberal Democrat spokesperson for public services.
Ann Jones asks the minister about firefighter fitness in Wales.
A campaign has been launched to attract more women to join the fire and rescue service in Wales.
Leighton Andrews rejoined the cabinet in September 2014 as minister for public service, 15 months after he resigned. He is responsible for delivering local government changes.