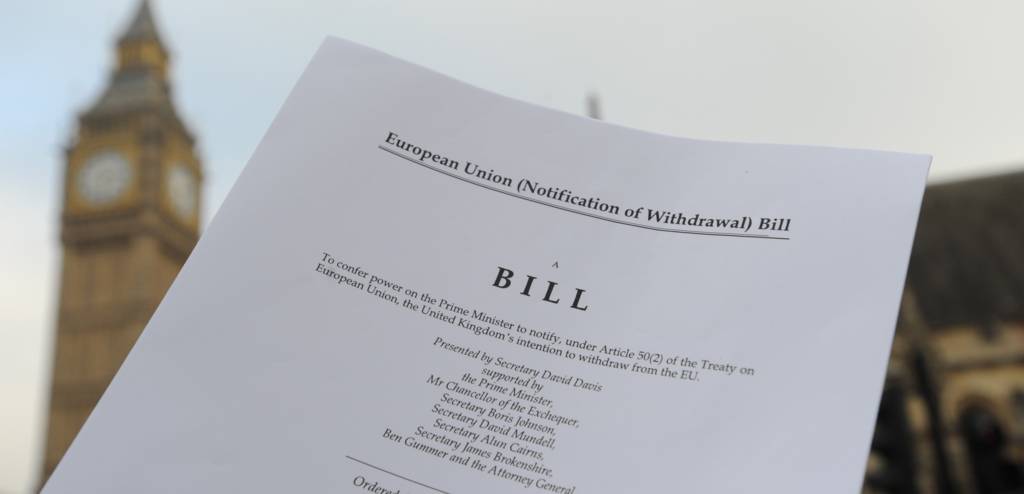 Summary
Lords looking at Brexit bill
Day in House of Lords starts with questions to ministers
MPs questioning work and pensions ministers
Urgent question on proposed takeover of Vauxhall
Commons looking at Cultural Property (Armed Conflicts) Bill and HS2 Bill
Debate in Westminster Hall on President Trump state visit

And there ends the day in the House of Lords.
Peers will be back tomorrow at the earlier than usual time of 11am to resume debate of the bill.
Do join us then. Goodnight. 
'A rock or a hard place vote'
Brexit Bill

The last speaker of the evening, Crossbench peer Lord Malloch-Brown now gets to his feet.
He acknowledges that he is standing between "those of you who are still here and your beds".
He uses his "graveyard slot" to argue that Parliament should be offered a vote on the final Brexit deal that amounts to more than "a rock or a hard place vote".
Finkelstein: Soft Brexit is the worst of both worlds
Brexit Bill

Conservative Lord Finkelstein notes that Nick Clegg was calling for a referendum on the EU "long before Ukip" and that both the Lib Dems and Labour voted to hold the referendum.
Addressing both parties he says "It is immensely good of them to insist that this be regarded as a Tory referendum but really we won't hear of it. You deserve your day in the sun too." 
He attacks those calling for "a soft Brexit" arguing that allowing domestic regulations to be created by a body to which the UK does not belong is "the worst of both worlds".
Pidding: Brexit wounds can be mended by moving forward
Brexit Bill

People are "fed up" and want their politicians to listen argues Conservative Baroness Pidding.
She says it would be "an act of considerable arrogance" to "frustrate" the will of the British people by using "parliamentary gymnastics".
She asks what precedent it would set if Parliament "ignored results it didn't like".
She acknowledges that the referendum "exposed a country divided" but argues that the "wounds" can only be mended by "moving forward".
'We are where we are'
Brexit Bill

Lib Dem peer Lord Lee of Trafford says that the referendum campaign contained "exaggerations and untruths" and that some voters may not have understood the implications of their vote. 
"That is true of all elections" he says.
He suggests that 16-18-year-olds should have been given the vote "but we are where we are". 
He tells peers that he cannot support his own party's position of holding a referendum on the final Brexit deal.
"That is why I am sitting so far away from my chief whip" he says. 
'Surely there can be no argument'
Brexit Bill

Crossbench peer Lord Judge says the question posed at the referendum "was a simple one" and "we know the result".
He argues that both Parliament and the public, through the next general election, will get a say on whatever deal comes out of negotiations.
However, he says that on the issue of whether or not the government should be allowed to trigger Article 50 - "surely there can be no argument".
'Water under the bridge'
Brexit Bill

Labour's Lord Parekh notes that previous speakers have questioned the legitimacy of the referendum result on the grounds that only 37% of the electorate supported remain or because "lies were told" during the campaign.
That, he says, is "water under the bridge" and urges peers to focus on what happens next. 
He argues that the 52% to 48% result of the referendum commits the UK to leaving the EU but that the public does not want to lose the rights and standards gained as a result of being an EU member. 
Blencathra: Peers' opinions on Brexit are utterly irrelevant
Brexit Bill

Conservative Lord Blencathra tells peers that their opinions on whether or not it is a good idea to leave the EU are "utterly irrelevant".
He admits to not being an expert on the EU or trade but says he does know about the British electorate.
He warns that seeking to "thwart them" would "unleash a firestorm".
Foulkes: I will oppose Brexit by any means possible
Brexit Bill

Brexit will be "a total disaster" and "I will oppose it by any means possible" begins Labour's Lord Foulkes of Cumnock. 
"We've got a long way to go and you ain't seen nothing yet" he warns ministers.
He notes that the referendum was advisory and that "only 37%" of the electorate supported leaving the EU.
Even Murifield Golf Club needs a two-thirds majority in order to change its rules to admit women he says
Carlile: Amending bill would bring Parliament into disrepute
Brexit Bill

The non affiliated peer Lord Carlile of Berriew argues that if the House of Lords insists on significantly amendments to the bill it would "bring Parliament into greater disrepute than it already is".
He opposes holding a second referendum: "that sounds like enjoying punishment and wanting more".
However he suggests that if Parliament considers a final deal to be "to the detriment" of the national interest it would be right to reject the deal.
Peer 'almost ostracised' for voting Brexit
Brexit Bill

Conservative Lord Sterling of Plaistow says he was "almost ostracised" when he told friends at dinner parties that he was voting for Brexit.
Now, however, he argues that more and more people and businesses are saying "I think we can handle this".
He believes the prevailing attitude of mind is "let's get on with it".
'The glimpse of an ankle'
Brexit Bill

Former ambassador to the EEC (European Economic Community) Lord Hannay of Chiswick accuses the government of failing to provide sufficient detail on its Brexit plans.
He describes the prime minister's Lancaster House speech as akin to lifting "a small part of the veil in which the government has shrouded its policy".
However, he adds that "we have not yet seen much more than the glimpse of an ankle".
'It is astonishing people will put stamps on these diatribes'
Brexit Bill

Conservative peer Baroness Wheatcroft says the referendum released "a wave of intolerance".
She tells peers that when she campaigned for a remain vote her "actual and virtual" postbag was filled with "irrational hostility" calling her "slut, whore, harlot and much worse".
"It is astonishing people will put stamps on those diatribes."  
She argues that Brexit will be catastrophic and says she could not explain or justify supporting the bill to her granddaughter.
Parliament needs to 'take back control'
Brexit Bill

Labour's Baroness Armstrong of Hill Top fears that a populism which rejects diversity is becoming "the driver of politics". 
She says she is proud to have been born in Sunderland "but it is monocultural".
We don't have many migrants in the North East, she says, but adds that people "believe what they read about migrants and they're frightened".
She hopes that Parliament will "take back control" of the process of leaving the EU and that it will do so in a way that "celebrates diversity".
'Ssshhh...'
Conservative MP tweets
Did she say that?
BBC journalist and PA's political reporter tweets
Lord Howell: single market is no longer relevant

Lord Howell of Guildford "can't see the point at this point in trying to amend" the bill. 
He says that "unilateralism" towards allowing EU migrants to stay in the UK will not work, and that EU partners must also promise a similar deal for British nationals in Europe. 
He also claims that the EU has "not been a good place for services industries" in recent years, as decreasing communication costs and the internationalisation of production have led to a "decreasing relevance of the single market". 
These kind of trade agreements do not meet the "fluid, new conditions" of global trade. 
MPs debate whether the trip should go ahead as anti-Trump protests take place outside Parliament.
Read more
Bill speeds its way to become law
HS2 Bill

House of Commons
Parliament
Earlier today in the Commons, MPs accepted the changes made by the Lords to the HS2 Bill, which is now set to become law. 
It will give ministers the ability to begin work on the line between London and Birmingham. This first phase of the £56bn scheme - which will eventually run to Manchester - is expected to take a decade to build.
The government accepted limits on the number of properties and land that could be compulsorily purchased to make way for HS2. 
A House of Lords committee had recommended that powers be restricted to what's needed for the project - rather than the wider development and regeneration opportunities.
Labour peer questions the skill of government ministers
Brexit Bill

Labour's Lord Alli admits he is glad that the House has emptied somewhat as he wants to make a confession.
"I like Theresa May - there I've said it," he says.
However "in the same vein of honesty" he adds that he does not believe Liam Fox, Boris Johnson and David Davis have the skills needed to successfully negotiate a trade deal with the EU.
He wants Parliament to have the power to send the government back to the negotiating deal if a satisfactory agreement is not reached, he says.
'Twere well it were done quickly'
Brexit Bill

Crossbencher and former Permanent Secretary at the Treasury Lord Macpherson of Earl's Court quotes Macbeth: "If it were done when 'tis done, then 'twere well it were done quickly."
The sooner there is certainty, he argues, the better.
However, he tells peers he is not yet sure whether he will support amendments to the bill and worries that leaving scrutiny to the Great Repeal Bill "will be too late".
Labour peer: Threat of UK withdrawal will force Europe to change
Brexit Bill

Labour's Lord Campbell-Savours tells the House that he differs from many of his colleagues in that he voted leave in the referendum.
He argues that the dreams of a European Union were shattered by "German self interest, French intransigence, fraud and financial mismanagement in southern Europe."
He voted for Brexit, he explains, in the hope that it would provoke an argument over Europe's direction of travel - "to be followed by a second referendum".
The UK's threat of withdrawal, he believes, will force Europe to reorder itself.
Yes, high risk, he acknowledges, but he argues that the people of Europe want change. 
MPs listen to adjournment debate

House of Commons
Parliament
MPs have been considering Lords amendments to the HS2 Bill this afternoon and have now moved on to the adjournment debate.
It's being led by Labour's Ian Murray, on the subject of motor neurone disease research, and the life of Gordon Aikman.
Mr Aikman was a prominent motor neurone disease (MND) campaigner.
Mr Aikman, who raised more than £500,000 with his "Gordon's Fightback" campaign, died aged 31 on 3 February.
Closing remarks
Foreign Office tweets
Foreign Office minister: 'the visit will happen'
President Trump state visit debate

Foreign Office Minister Sir Alan Duncan gives the government's response to the petition, claiming that the state visit was part of plans for strengthening bi-lateral relations with the United States.
As he is speaking, the crowd can be heard screaming outside. SNP MP Alex Salmond interrupts to claim he is having trouble hearing the minister over the noise. 
He says that both President Bush and President Obama were invited in their first terms, so it was "entirely appropriate" that President Trump be given the office as a democratically elected leader of the UK's greatest ally. 
In terms of procedure, he points out that the Foreign Office chairs a committee along with the Royal household for state visits, brushing aside claims that the Queen would have been caught off-guard. 
Her concludes the debate by saying: "This is a special moment for the special relationship.The visit should happen. The visit will happen," and when it does, "he expects the UK will extend a polite and generous welcome to President Donald Trump."
'Crack on' with the referendum
Brexit Bill

Crossbencher and Professor of Contemporary British History Lord Hennessy of Nympsfield quotes Friedrich Nietzsche: "The state is the coldest of all cold monsters."
Adapting this he describes the bill as representing "the coldest of cold print".
However, he says the government needs to "crack on" with the referendum.
He uses his speech to "salute" those who devoted "heart and sinew" to the "doomed" cause of getting the UK into the European community. 
Labour: need for more scrutiny on state visits
President Trump state visit debate

Shadow Foreign Office minister Catherine West gives the official opposition's position on President Trump's state visit. 
She says that inviting President Trump in light of the Muslim ban "sends the wrong message to the White House", and claims that other leaders - including Germany's Angela Merkel - have been stronger in "taking [him] to task".
She also believes that a mechanism should be in place to approve a state visit, given that the Muslim ban was announced within hours of the prime minister offering the visit. This would allow for more time to scrutinise such decisions.
She concludes that she agrees with the Speaker of the House of Commons statement last week, against President Trump addressing Parliament.
Whitty: EU is best hope for peace and security
Brexit Bill

I do not want my name recorded in supporting the removal of my country from the European Union, says Labour's Lord Whitty.
The EU, he argues is the "best hope for peace, security and justice in a continent which has been scarred by war".
Lord Empey: Ministers must be free to negotiate
Brexit Bill

Ulster Unionist peer Lord Empey recalls his own experience negotiating the Good Friday Agreement.
He tells peers that if, during the negotiations, his opponents had known what the other side's bottom lines were "we would never have got an agreement". 
Ministers must be free to negotiate, he says. 
Byrne: state visit 'will be showcase of what divides us'
President Trump state visit debate

Labour's Liam Byrne says that a US president's state visit should offer "shared stand" on issues of democracy and human rights, but will instead "be a showcase of what actually divides us".
He believes that the level of protests on his arrival will make those taking place outside in Parliament Square tonight "look like a tea-party". 
This, he says, will make US-UK relations worse, not better. 
Despite this, it is too late to cancel the state visit now but he says that it should be made as short as possible. 
Bill passing into law
Heritage minister tweets
President Trump a 'disgusting' man
President Trump state visit debate

House of Commons
Parliament
The anti-Trump brigade is out in full force.
Labour's Daniel Zeichner says that "turning to such an unstable regime, it is really a big risk". He calls President Trump a "disgusting" man and says "don't welcome bigots".
The SNP's Carol Monghan reiterates her belief that "xenophobic, sexist and rascist rhetoric" had "been legitimised". 
She asks MPs in the committee room to stop and listen to the protests outside. 
The Liberal Democrats' Alistair Carmichael says that the prime minister's judgement was "catastrophically wrong" in inviting the President. 
Needless to say, these MPs do not believe that President Trump's should be invited for a state visit. 
Live coverage of Trump protest
BBC News is live at the Stop Trump rally in Parliament Square in London.
It is being held to coincide with the parliamentary debate about Donald Trump's state visit to the UK.
The group One Day Without Us has organised demonstrations nationwide to celebrate the contribution of immigrants to British Society.
You can watch what's going on here on Facebook live.
Give the people a say on the deal - Lib Dem peer
Brexit Bill

Criticism now from Baroness Walmsley: a Lib Dem peer who says there was incivility and a lack of respect in Lord Forsyth's speech on the Lib Dem stance.
She says she will be supporting amendments on EU nationals in the UK, access to the single market and on an amendment which will allow the British people to have the final say on the deal the government reaches.
"All those most affected should have a say," she says, including citizens who were excluded in the previous referendum, such as EU nationals and 16 and 17-year-olds.
Duty for peers to pass bill unamended, says leave supporting peer
Brexit Bill

Lord Forsyth of Drumlean says that Brexit campaigners have been abused for campaigning for leave.
He says there is a four-letter word which should concern the Lords: duty. "The bill before us has been passed unamended and overwhelmingly," he says. 
The bill is simply to give the power to trigger Article 50, and he says and it should be passed unamended by the Lords.
"We are having a great stramash" on doing what the two party leaders (he refers to David Cameron and Jeremy Corbyn) wanted to do the day after the referendum vote, he says.
He has some choice words for the Lib Dems (or, as he insists, "liberals"), their leader Tim Farron, and the party's opposition to Brexit, saying they have come to the debate "boasting" they will use the Lords to challenge the verdict of the referendum and call for a second poll. 
He says MPs who voted for the bill in the Commons, despite voting remain personally, put democracy above their own personal beliefs.
'Megaphone diplomacy is never right'
President Trump state visit debate

Conservative Anne Main says that "megaphone diplomacy is never right", claiming that calmer diplomacy is what is needed. 
She says that the Queen would not have been unaware of the visit, as it was offered in her name, and she will be able to act in her capacity as a "soft power". 
She accuses those calling for the state visit to be cancelled are "stirring up the bees nest", rather than respecting the wishes of the American people.
By engaging the President, we will be able to criticise individual policies as they come up, she says. 
"It is a dangerous road to head down" if we try to ignore him as we will reduce our ability to ask for help. 
Involve Parliament from the outset, says committee chair
Brexit Bill

Lord Boswell of Ayno, a non-affiliated peer who chairs the Lords EU committee, says the committee has published a series of reports on Brexit and specific policy areas.
He says the committee has stressed the importance of parliamentary accountability during the process. Accountability after the fact is not sufficient, he says.
The government now says Parliament is to get as much information as the European Parliament, he says, but it is not clear what that encompasses. 
"I think the government would be wise to make a virtue of necessity and involve Parliament from the outset," he says.
"As chairman of the European Union Committee, I feel obliged to support the government," he says, and if a material attempt to obstruct the bill is made, "I would vote for it to prevail," he concludes.
Leigh: Everyone has made 'ridiculous sexual comments'
President Trump state visit debate

Conservative MP Sir Edward Leigh believes it is improper of conservatives in this country to criticise conservatives in the United States. "He's just not my type of conservative," he says. 
He believes that President Trump would never get elected in this country, but still needs to be listened to.
AS regards to President Trump's controversial "grab her by the pussy" comment, he argues that most people have made "ridiculous sexual comment sometime in their past", a statement which causes a stir in the room.
Labour's Chris Bryant agrees, but calls for greater scrutiny of those who are offered state visits in the future. Sir Edward Leigh agrees with this. 
He also uses his speech to highlight the inconsistency in criticism of state visits, citing previous visits by Zimbabwe President Robert Mugabe, two Chinese premiers and Saudi princes.   
Certainty needed - Lib Dem peer
Brexit Bill

Baroness Smith of Newnham - a Lib Dem peer - points out that the demographic of the Lords does not tend to include Generation X - those who were born after 1969 - and so the debate is skewed.
She says that many of the messages she has received concerning the Brexit debate come from the "disenfranchised", such as EU nationals living in the UK, who did not vote in the referendum.
She goes on to call for certainty for EU nationals who are living in the UK. "We need to take the lead," she says.
As she finishes, there's a little scattering of applause from the public gallery - which a few of their lordships appear to frown about.