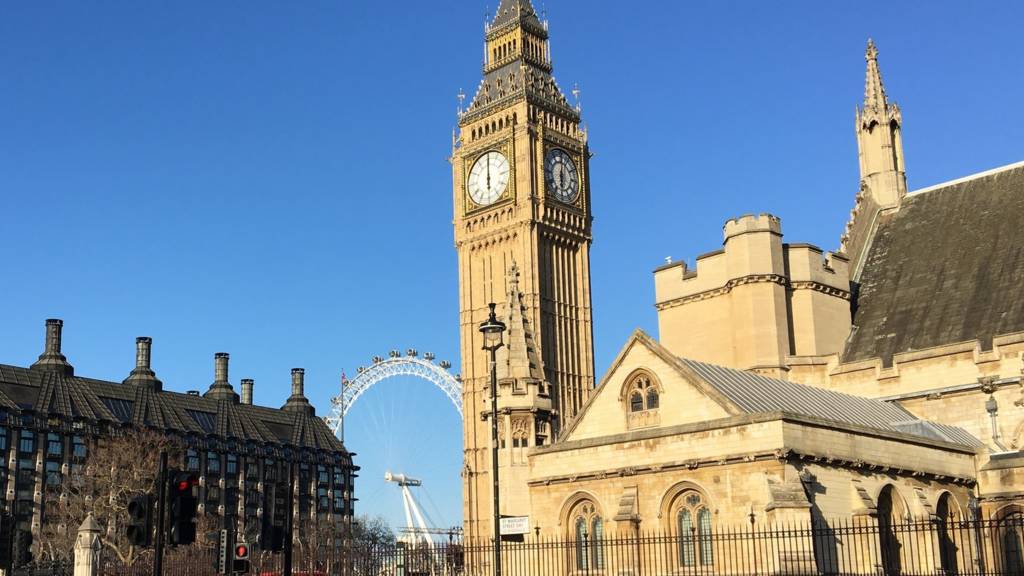 Peers reject Brexit bill single market proposal
Watch BBC Parliament on Freeview Channel 131. Follow us on Twitter @BBCParliament
Summary
Communities Secretary Sajid Javid answers questions
Urgent question on NHS correspondence
Main business on future flood prevention and health and social care
Peers begin day with oral questions
Brexit bill to be debated at committee stage
The former Tory prime minister also says the costs of leaving the EU will be "unpalatable".
Read more
End of the day in the House of Lords

Lord Warner withdraws his amendment and that concludes the debate for the day.
Peers will return to the bill on Wednesday.
Tomorrow business begins at 2:30pm with oral questions followed by debate of the Neighbourhood Planning Bill. 
'And I enjoyed every minute of it'
Brexit Bill

Brexit Minister Lord Bridges of Headley begins his response by assuring peers that Parliament "will play key role in scrutinising negotiations".
However, he says there needs to be a balance, arguing that scrutiny must not come at the expense of "our negotiating position and the national interest".
He believes the government has been willing to provide information to Parliament, noting that he himself has made six statements, responded to four debates and answered 18 oral questions.
"And I enjoyed every minute of it," he adds.
Ludford: There can't be any objections
Brexit Bill

Baroness Ludford responds on behalf of the Lib Dems.
She supports the amendments and suggests that there can't be any objection to the government agreeing to "these kind of parametres".
Labour spokesman Lord Lennie says the amendments ensure that members of the Houses of Parliament will be as well informed as members of the European Parliament.
The government, he argues, should make use of the expertise available "in this place".
How peers vote...
House of Lords tweets
Warner: There is no crack team of negotiators
Brexit Bill

Crossbencher Lord Warner says there are big question marks over the UK's negotiating clout.
There is "no crack team of negotiators waiting to be helicoptered across the channel", he warns. 
Parliamentary oversight, he argues, will allow warning bells to "sound off" if things are "going seriously off-piste".
Green Party peer Baroness Jones agrees, telling the government that it cannot expect "a respite" from scrutiny during negotiations. 
Conservative Lord Blencathra disagrees suggesting that peers may currently be doing too much scrutiny.
Peers begin debate of amendments on parliamentary oversight
Brexit Bill

Debate on this subject of impact assessments concludes and the amendments are withdrawn. 
Peers now begin the final group of amendments, which deal with greater parliamentary oversight of negotiations. 
Amendment 8 requires the government to produce a progress report on negotiations covering trading relationships with the EU, the movement of UK and EU citizens, cost of the exit charge and the implications for the devolved administrations.
Amendment 18 requires the prime minister to make quarterly statements on the negotiations and seeks to allow members of both Houses to review confidential documents relating to the negotiations.
Amendment 24 calls for reports on how the UK plans to continue co-operation with the European technical agencies. 
Impact assessments 'would expose the UK's position'
Brexit Bill

The Labour frontbench has tabled an amendment requiring the government to publish any existing impact assessments or economic forecasts that have been conducted by certain government departments including the Treasury. 
This, argues opposition spokesman Lord Lennie, would put Parliament on "a level playing field" with the government.
Brexit Minister Lord Bridges replies that this would "expose the UK's negotiating position".
He adds that the bill is "not the vehicle to insert conditions on negotiations". 
In a speech, Sir John Major says that voters are being given over-optimistic expectations about Brexit.
Kramer: Impact assessments will shape negotiations
Brexit Bill

Lib Dem Baroness Kramer disputes the assertion that impact assessments are pointless.
"Let us not hope so," she says adding that it is on the basis of such assessments "that the government is shaping trading negotiations". 
She argues that impact assessments will be improved by being available to the public where problems can be identified early on. 
Peers debate value of making forecasts
Brexit Bill

Conservative Lord Forsyth suggests that the public listened to the government's impact assessments, decided not to believe them and that is why they voted leave in the referendum.
Crossbencher Lord Bilimoria says that it would be "foolish" to give up making forecasts because in the past some forecasts have been wrong.
Another crossbencher, and former head of the civil service Lord Kerslake, agrees: "That way madness follows."
Conservative Baroness Finn says that this bill is "not the place to get in to the detail" of impact assessments.
Government committed to mining, and health and safety
Adjournment Debate

House of Commons
Parliament
Business, Energy and Industrial Strategy Minister Margot James says she hopes for a bright future for the ICL mine. 
She says the company's commitment to new minerals means that there is potential for new jobs in the future. 
She also reaffirms the UK's commitment to health and safety, saying the UK will not turn a blind eye to any violations of health and safety. 
And that ends the day's business. 
The Commons will meet again tomorrow morning at 11.30am for Treasury questions and the final estimates day.
Green peer calls for environmental impact assessments
Brexit Bill

Green Party peer Baroness Jones of Moulsecoomb speaks to her amendment which calls for impact assessments on the effect of Brexit on securing compliance with environmental regulations and regulatory bodies. 
She addresses criticism from some peers that seeking to amend the bill amounts to frustrating the will of the people.
That is complete nonsense, she says; "it is our duty to amend" the bill.
Impact assessments are 'meaningless rubbish'
Brexit Bill

Conservative Lord Blencathra warns the minister that he is "very tempted" to support these amendments provided two conditions can be met. 
Firstly, he wants the impact assessments to be drawn up by "the same geniuses" at the Treasury, the IMF and the Bank of England who predicted that "we would be £4,300 per year worse off" after Brexit.
Secondly, he suggests these assessments should be sent to the EU negotiators 
There would be nothing more likely to completely mislead them, he says.
Or, he adds, we could get PricewaterhouseCooper do it "after their Oscars set when they couldn't add up a few hundred votes properly". 
Ultimately, he argues that impacts assessment are meaningless rubbish and no one takes them seriously, 
Former Northern Ireland Secretary Lord Hain says the open border should be maintained after Brexit.
Read more
Adjournment debate on the ICL mine in Boulby
Adjournment Debate

House of Commons
Parliament
Labour's Tom Blenkinsop opens his adjournment debate on the ICL potash mine in Boulby. 
The mine, which produces potash for fertilisers, announced 140 job losses at the site in North Yorkshire. 
There has also been evidence of the dangerous conditions miners work in, with a man dying last year from a sudden underground accident.  
Mowat: system is 'under-pressure' but adjusting
Estimates day

House of Commons
Parliament
Health Minister David Mowat opens his remarks by acknowledging that if we were to draw up a new NHS today, it would not be the one we currently have. 
He says this in reference to considerable demographic changes since it was established.
He acknowledges that the system is "under-pressure", but that the estimates are adapting to changing needs. 
And he says that comparisons in spending with other EU countries - which had been made throughout the debate - are "unfair" and taken out context. 
What's the difference?
Open University tweets
Amendment calls for Brexit impact on the North East of England
Brexit Bill

Labour's Baroness Quin speaks to her amendment, which would ensure that Article 50 could not be triggered until the government has produced an impact assessment of Brexit on the North East of England. 
She predicts the government repsonse will be along the lines of "yes, don't worry, we will consult".
However, she says she would like something more concrete, for example: who will the government consult and how often.
We need specific answers as well as kind words, she says. 
Greater transparency needed to improve social care
Estimates day

House of Commons
Parliament
Shadow health minister Barbara Keeley says estimates are not enough to "maintain adequate social care".
She says it is a "disgrace" that one in eight of the entire elderly population live with some "unmet needs".
She also highlights the on-going issue of hospitals failing - or being unable - to discharge patients due to lack of social care facilities outside the hospital. 
She calls for an increase in "transparency"  in decision making so that broader conclusions can be made about what changes need to be made to social care. 
Peers vote to reject single market amendment
Brexit Bill

The House of Lords have voted by 299 to 136 to reject Lord Hain's amendment.
Peers now move on to the next set of amendments, which call on the government to publish reports on the potential impact of Brexit. 
Watch the composting at work...
House of Lords tweets
Whitford: Scotland-style integration could save billions
Estimates day

House of Commons
Parliament
SNP health spokesperson Philippa Whitford warns of short-term solutions in the English social care system. 
She says current plans seem like a "patch" in short-term funding, saying broader cuts are undermining integration. 
She says integration between social care and health will help reduce administrative costs by business. 
Simple methods such as free bus passes, free prescriptions and easier access to operations such as hip replacements can increase independence, therefore reducing social care, she points out.
And she also raises concern that social care jobs will be more difficult to fill post-Brexit as many who work in the sector come from EU countries. 
What are peers voting on?
Brexit Bill

The House of Lords is now voting on amendment 4, which has been tabled by Labour's Lord Hain.
The amendment requires the prime minister to give an undertaking to negotiate on the basis that the UK will remain in the single market.
The Lib Dems have said they will be supporting the amendment but the Labour frontbench has said it will not. 
Peers vote on single market amendment
Brexit Bill

Concluding, Lord Bridges urges remainers to "stop fighting the battle of the campaign" and "think about how we can overcome the challenges".
With respect, this amendment has no place in this bill, he says.
Respectfully, I completely disagree, replies Lord Hain. 
Turning to his own party, he predicts that Jeremy Corbyn will be judged by history to be on the wrong side of the argument "by forcing us in the Labour Party to do something that we do not actually believe in."
He tells peers that he has only ever gone against his party "once or twice" but says this is "a matter of crucial importance" and pushes the amendment to a vote. 
Minister: Staying in single market would mean staying in the EU
Brexit Bill

Responding on behalf of the government, Lord Bridges of Headley first notes that the amendment is not relevant to the bill being discussed.
He also argues that the House should honour the EU referendum.
Yes, he acknowledges, the Conservative manifesto did promise to protect British interests within the single market.
However, he adds, the manifesto also promised to respect the result of the EU referendum.
He also suggests that remaining in the single market would mean "to all intents and purposes" staying in the EU.
Mandelson clashes with his frontbench
Brexit Bill

Baroness Hayter expresses concern that remaining in the single market would mean that instead of being a member of the club that sets the rule "we would be mere recipients".
Lord Mandelson intervenes to argues that the UK would not be mere recipients but "large influential members in the EEA". 
Everyone accepts that, he says, "and I cannot understand why my own frontbench can't see that". 
That is a hope, says Baroness Hayter, rather than a guarantee. 
She acknowledges that her heart is with the amendment but concludes that she cannot support it.
Lib Dems point out disagreements
Lib Dem peer tweets
Hayter: We cannot airbrush freedom of movement from referendum decision
Brexit Bill

Lib Dem Baroness Ludford says that her party will support the amendment and hopes that the "distinguished speeches" will have persuaded the Labour frontbench to support it too.
Labour's Brexit spokeswoman Baroness Hayter says that the arguments are persuasive but appear "as if the referendum hadn't happened".
We cannot "airbrush free movement" from the referendum decision.
Currently those countries who are members of the single market also have to accept freedom of movement. 
Mandelson: Government does not know what it is biting off
Brexit debate

I know how ponderous the EU can be, says Labour peer and former EU trade commissioner Lord Mandelson.
I know how difficult it can be for third countries in these negotiations, he adds. 
He suggests that by seeking to leave the single market the government does not understand "what it is biting off".  
Crossbencher Lord Dykes intervenes to ask why, given his European credentials, Lord Mandelson is not campaigning to keep the UK in the EU.
"My word," responds Lord Mandelson and continues: "Judging by my inbox the noble lord must be the only person who thinks I am not fighting to keep the UK in the EU."
However, he goes on to says that he is a democrat and respects the result of the referendum. 
We had the referendum, he says, we can now make choice between leaving the single market and "wrecking our economy". 
'Does he share my dismay?'
Brexit Bill

Crossbencher Lord Smith intervenes on Labour's Lord Cashman to ask if he "shares my dismay" that the leadership of the official opposition "appear to have set their face" against supporting the amendment.
At the heart of amendment, he says, is an instruction to the government to put membership of the single market at the heart of negotiations.
I do share his dismay, replies Lord Cashman.
Government should 'think again' on single market
Brexit Bill

Lib Dem peer Lord Oates supports Lord Hain's amendment.
The matter of membership of the single market was not on the referendum ballot paper, he says.
He argues that other than the referendum the prime minister has no other mandate.
Why then, he asks, is the government "saying no" to the single market. 
He urges peers to asks the government to "think again". 
Ageing population creates issues for social care
Estimates day

House of Commons
Parliament
Conservative Kevin Hollinrake notes that demographic changes will add further strains to UK social care.
In the past 10 years, the number of people in the UK aged over-80 has increased by 33%. 
He cites factors such as the national minimum wage (which has "soaked up" a lot of funding) and the poor profitability of care homes, which has led to closures of some homes. 
He says that any funding changes should put "need first" to ensure that areas unable to raise as much money as wealthier areas are not hard done by. 
McCabe: Hunt's 'stewardship a disaster'
Estimates day

House of Commons
Parliament
Labour's Stephen McCabe launches a stinging attack on the health secretary, calling his stewardship "a disaster".
He says the government has led to the "steady dismantlement of the country's greatest peacetime achievement."
He says that Health Secretary Jeremy Hunt is happy to "flex his muscles" when it comes to bullying junior doctors, but it's always someone else fault when it comes to organisational issues - with reference to social care and long A&E waiting times. 
"It used to be in exchange for the red box and ministerial salary, ministers took responsibility. The buck stopped with them. But no more," he says. 
Anarchy in the Lords?
Press Association reporter tweets
Single market access in exchange for EU migrants?
Brexit Bill

Labour's Lord Wigley has tabled an amendment in this group.
His amendment 5 requires the prime minister to give an undertaking to ensure the UK's "unfettered access" to the European single market.
Lord Wigley tells peers that the issue of single membership is vital to "so much" of the manufacturing industry, particularly in Wales.
He urges the government to reach a deal whereby Wales has barrier free access to the single market in exchange for allowing EU immigrants to come to Wales to work.
Industry, business and agriculture would sleep much easier, he says. 
Cooper: social care situation worse than feared
Estimates day

House of Commons
Parliament
Labour's Rosie Cooper says that proposed changes to social care are akin to "rearranging the deckchairs on the Titanic" and represent broader issues in the NHS. 
She argues that many of the figures for both national NHS and more local social care are unable to capture how serious the situation is. 
"Organisational chaos," she says, "is leading to patients getting lost" in the system are unable to link social care with health care. 
Single market access - what does it mean?
29 June 2016

Business leaders are calling on a future government to ensure continued "access" to the EU's single market following the referendum but what does that short but significant word mean?
As the prime minister has pointed out "access to the single market has many potential different meanings".
Japan and the US have "access" and, as one economist told me, even Haiti does.
Countries outside the EU have to negotiate trade deals, pay tariffs, get through customs and abide by EU rules.
Corpses and mayhem
Conservative peer tweets