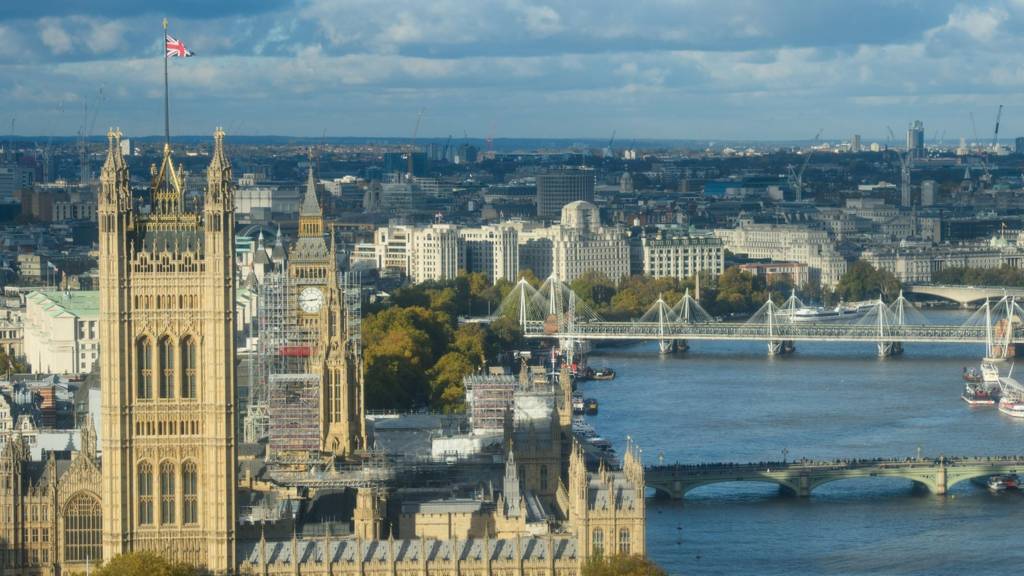 Peers debate education's role in society
You can watch BBC Parliament on Freeview channel 232 and follow us on Twitter @BBCParliament.
Summary
Peers debate the role of education in society
The Commons is not sitting
A guide to plans for the UK to leave the European Union, after the 2016 referendum.
Read more
'Imagination needed' - Archbishop
Education debate

The Archbishop of Canterbury rises at the end of the debate to thank members for taking part - "so thoughtfully and so widely".
"We need adaptability and imagination," he says, because needs vary, urging a reimagining of the education system.
And that's it for today in the Lords.
Join us again on Monday afternoon for education questions at 2.30pm in the Commons - and the second reading of the Finance Bill, which enacts measures announced by the chancellor in the Budget.
Education is fundamental - minister
Education debate

Education Minister Lord Agnew of Oulton says education is fundamental to creating a flourishing society.
He promises that young people over the age of 16 will get a "gold standard" of education and tells peers what the government is doing to drive up technical education standards in the country.
Lord Agnew says the government's commitment to further education is underlined by its commitment to invest £7bn in the system.
A dramatic dawn breakthrough has seen the PM secure a last minute deal to move Brexit talks onto the next phase.
Read more
'Not just about quality of learning' - Labour
Education debate

Labour's education spokesperson Lord Watson of Invergowrie says lifelong learning is not just about quality of learning, it's about quality of life.
He says a prosperous learning and earning higher education sector is needed more than ever, and says the government needs to encourage it to tackle the skills shortage the UK could face in the future.
'Envy of the world' - Lib Dem
Education debate

Lib Dem education spokesperson Lord Storey says he wants to talk about early years - "which is where the foundations of a flourishing society are laid".
He says the UK's provisions have been the envy of the world and continues by urging ministers to ensure early year learning is not just about child minding, but offering excellent opportunities to parents and children.
Retired bishop speaks again in the Lords
Today in Parliament editor tweets
'Indian perspectives on education'
Education debate

Conservative Lord Gadhia praises the Archbishop of Canterbury for using his debates to "elevate our horizons from time to time".
He says he wants to speak about the Indian perspectives on education and calls for openness to new ideas
"It is vital that we keep open, rather than close off young minds," he says.
'Cross-border' issues around education
Education debate

Former first minister of Scotland Lord McConnell of Glenscorrodale says he hasn't spoken about education often because it is a devolved issue. Although he says he thinks there are some issues that cross borders.
He says he's always had a passion for teaching - Lord McConnell is a former maths teacher.
All people can remember a good or bad teacher from their childhood, he continues - "the role of individual teachers should never be forgotten by education policymakers".
'Wisdom, hope, dignity and community'
Education debate

Rachel Treweek, the Bishop of Gloucester says the Church of England's schools encourage "wisdom, hope, dignity and community".
She also says in 94 local authorities, fewer than half of disadvantaged five-year-olds are developmentally ready for school.
Party plans in full swing
Media representative for Commons library tweets
Dissenting voice in the Lords
Labour peer tweets
'Sharp questions' about resources
Education debate

The former Archbishop of Canterbury Lord Carey warns that although many good things are happening in education, the pressure on state schools is raising "sharp questions" about educational resources.
He also raises the issue of teacher shortages, saying that "it's always schools in the poorest areas that are most affected," going on to claim that this has an impact on social cohesion.
'Wonderful education' - Baker
Education debate

Former education secretary Lord Baker of Dorking talks about his "wonderful" Church of England education.
He says he's not in favour of any more single faith schools, and that children of all creeds should learn, eat and play alongside each other.
Lord Baker also calls for a "fundamental change" to increase technical education in the country.
'I'm a failed child' - Bird
Education debate

Crossbencher Lord Bird, who founded the Big Issue, says education is the foundation of "all the prosperity of our society".
"If we want to go into our prisons, we can go into our prisons and find that 80% of them will be people who are failed at schools," he says.
He categorises himself as a "failed child" who was sent to prison in his youth.
He calls for an "enormous plan" - "we need some real big strategising".
Peer tweets campaign points from speech
Labour peer tweets
Lord Adonis' criticism of vice chancellors
BBC parliamentary correspondent tweets
Calls for inquiry into senior university pay
Education debate

"Anyone with their wits about them realises we are in a grip of a social crisis," says Labour's Lord Adonis.
The former education minister lists six things he needs to happen, including appointing a minister for good schools, with direct responsibility for school improvements in areas of low educational standards.
He says the the government has to tackle the "cancer" of school exclusion, saying schools should be forbidden from excluding poor behaving pupils, unless laws have been broken.
On tution fees, he says the right thing to do is to reduce fees to £3,000 a year.
And he says that on the scandal of senior university pay, which he has campaigned about, there is a need for an independent inquiry, which would look at limits to top pay in universities.
He suggests the Archbishop of Canterbury should lead the independent inquiry.
Peer calls for emphasis on vocational skills
Education debate

"The FE sector has progressively had its remit altered through changes in government policy," says Conservative Lord Lingfield, a noted educationalist.
He says that the provision of technical skills has been "distorted" and that ministers are wrong to insist that colleges are places where "the pieces should be picked up".
He says that FE colleges should concentrate on vocational skills and that the largest departments in those colleges should not be working towards getting young people a grade C at GCSE English and Maths, as government insists.
'Vital to our future'
Education debate

Former chief rabbi Lord Sacks says the subject of the debate is "vital to the future of our children and grandchildren".
"We make a grave mistake if we think of education only in terms of knowledge and skills," he says.
He says there's no way of knowing what skills will be required in the future, and that children need to be given a strong sense of collective responsibility for the common good.
"We need to teach our children to care for others, especially for those not like us."
Education 'not always happy and productive'
Education debate

Lib Dem Baroness Garden of Frognal says that education is essential in building a skilled society, and is imperative for lifelong learning.
"Sadly our education system is not always the happy and productive experience it should be."
She laments the fact that "curiosity and enthusiasm are trumped by testing," and says it can generate fear of failure in the very young.
Labour's spokesman contributes
PA's parliamentary editor tweets
'Still isn't enough'
Education debate

Education isn't only about skills, it isn't only about qualifications. It's about preparing our citizens for tomorrow, says former Conservative cabinet minister Baroness Bottomley of Nettlestone.
"We have seen a massive change in the ability of young people to fulfill their potential - but it still isn't enough."
Today's debate: who's speaking and what's it about?
Education debate

You can read more about today's debate in the Lords here.
This is general debate. During debates, members are able to put their experience to good use, discussing current issues and drawing the government's attention to concerns.
Hannah Richardson
BBC News education reporter
Young people are taking out loans to pay for fees without effective help or advice, a watchdog says.
Read more
'Deeply Christian schools' - Welby
Education debate

The Church of England's offer to education are schools that are "deeply Christian" but that welcome the whole community, Archbishop Welby says.
"The ethos and values of Church of England schools will be guarded and will continue", he promises.
Theme of education chosen by Archbishop for today's debate
Archbishop of Canterbury tweets
Churches 'pioneers' in free education - Welby
Education debate

"It was the churches that pioneered the universal education system, free for all," says Justin Welby, opening his debate.
He warns that Brexit presents unforeseen challenges and opportunities, and the education needs to be able to prepare for it.
He also says one of the areas he's most concerned about the "handing down of poverty".
Today in the Lords
Education debate

Good morning. Shortly we'll begin our coverage from the House of Lords.
There's no legislating today - instead, peers will take part in a debate on the role of education in building a "flourishing and skilled" society.
The debate has been tabled by the Archbishop of Canterbury, Justin Welby.
Summary: today in the Commons
Urgent question on US decision on embassy
In response to an urgent question from Labour's Emily Thornberry, Foreign Office Minister Alistair Burt said the US president's decision to recognise Jerusalem as Israel's capital is "unhelpful" for the prospects of peace in the Middle East.
Mr Burt told MPs the UK disagreed with President Trump and stressed it had "no plans" to move the British embassy in Israel from Tel Aviv.
Labour's Emily Thornberry said the move was "reckless" and had taken a "hammer blow" to the peace process.
"He is setting it back decades."
President Trump said he had "determined it is time to officially recognise Jerusalem as the capital of Israel", reversing decades of US policy on one of the thorniest issues between Israel and the Palestinians.
That's where we'll leave our written coverage of today's debate in the Lords but you can continue to watch the debate unfold using the live stream above.
We'll return to the House of Lords tomorrow morning at 10am, when peers will take part in a debate on education led by the Archbishop of Canterbury.
Lord Pearson is 'fueling anti-Muslim sentiment'
Islamist terrorism debate

The Lib Dem's Lord Hussain says he has never met any Muslim who believes the term Al Hijra refers to anything other than a reference to an annual festival.
He argues that it makes "no sense" for Lord Pearson to ask Muslim leaders to re-examine the term.
He adds that the idea that the majority of Islamic terrorists had any knowledge as to the meaning of such terms is "laughable".
He accuses Lord Pearson of fueling anti-Muslim sentiments which lead to hate crime.
Pearson: Islam does not sit easily with Western values
Islamist terrorism debate

Lord Perason says he is making "yet another attempt" to start some kind of "open debate" on Islam.
"You can say what you like" about the virgin birth and resurrection of Jesus Christ, he says, "but you get into serious trouble if you try to touch at all on the subject of Islam".
He argues that Islam does not sit easily with Western values and that jihadists take "their evil inspiration" from Muslim tenets.
MPs call for action over prison "crisis"
MPs have pressed the Government to take more urgent action to tackle what they say is a "crisis" in prisons in England and Wales. 
They argued that faster reductions in the prison population and drug abuse were needed. The Government said it had an ambitious plan to ensure safety, boost staffing and create more prison places. Simon Jones reports.
You can hear more from Today in Parliament on BBC Radio 4 weeknights at 23.30 - or find previous episodes of the programme via the BBC iPlayer.
Debate on Islamist terrorism begins

Ukip peer Lord Pearson of Rannoch opens his debate on Islamist terrorism. He is asking the government to encourage UK Muslim leaders to re-examine the Muslim tenets of abrogation, Taqiyya and Al Hijra and to publish their conclusions.
In Islam the doctrine of Taqiya allows Muslims to deny their religious faith in the face of persecution.
Al Hijra is the festival that celebrates the Islamic new year and marks the Prophet Muhammad's move from Mecca to Medina.
"Abrogation" is a word used for seemingly contradictory material within the two main sources of Islamic law.
Talks to end an impasse continue, with the European Council chief set to address the issue on Friday.
Read more
UK 'leading the world' in cutting carbon emissions
Natural environment and animal welfare debate

Environment Minister Lord Gardiner of Kimble lists the actions of the government including a proposed ban on microbeads and tackling "ocean plastics".
He adds that the government has launched a consultation on a total ban on ivory sales, "putting us at the heart of tackling the drastic and terrible decline in elephant populations".
He also tells peers that the UK is "leading the world" in cutting carbon emissions.
Michael Gove is 'new convert' to environmental cause - Labour peer
Natural environment and animal welfare debate

Labour's Baroness Jones of Whitchurch says the Conservative manifesto commitment to hold a free vote on whether to back fox hunting was "a toxic policy" during the election campaign earlier this year.
She suggests that the government has "learnt its lesson" and welcomes Environment Secretary Michael Gove as "a new convert to the environmental cause".
"We welcome all repentant sinners," she says but adds that Mr Gove will be judged on his actions.
"Fine word and press releases" need to be backed up by legislation, she says. She expresses concern that the environment department will be overruled by other ministers.
'The nattering naybobs of negativity'
Natural environment and animal welfare debate

When it comes to the environment "we mustn't be the nattering naybobs of negativity", says Conservative Lord Ridley.
He argues that there are things "going in the right direction" and recalls that when he was growing up the River Tyne was home to neither salmon nor otters.
"Now there are all three."