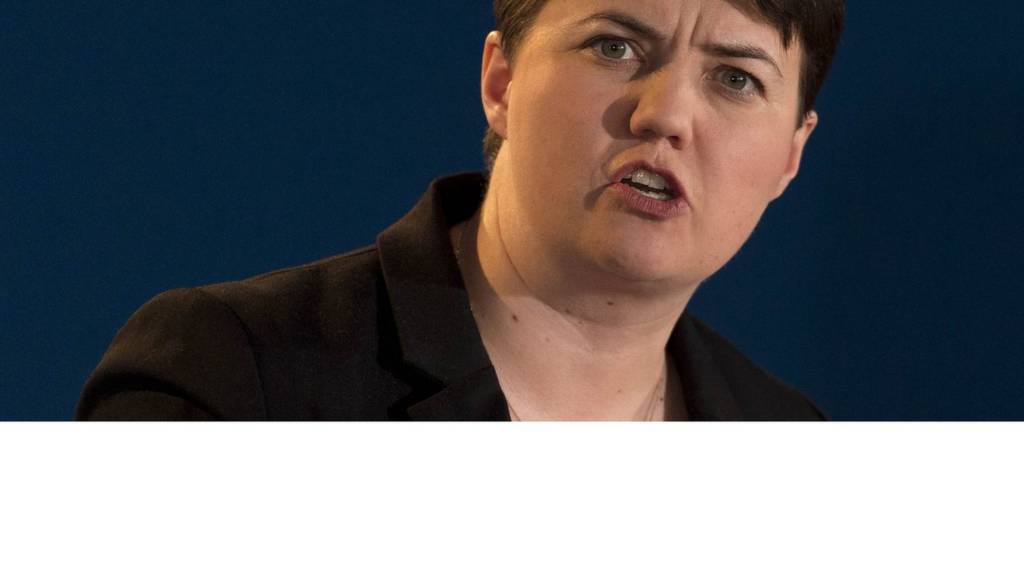 Summary
SNP suspends member over abusive tweet to Scots Tory leader
Politicians from all parties condemn abuse levelled at Ruth Davidson
Ms Davidson says she has 'accepted an apology' over comments
Nicola Sturgeon says English people have nothing to fear from SNP
Man dies after A9 lorry crash
Bin lorry crash inquiry date set
Graham Fraser
BBC Scotland
That is all for today's Scotland Live.
Join us again from 07:00 tomorrow.
Good night.
A man has appeared at Kilmarnock Sheriff Court charged with making a hoax bomb call to Shetland.
Forty-two year old Gary Docherty, from Saltcoats in North Ayrshire, made no plea and was bailed to appear again.
The court heard that Docherty had phoned the coastguard, claiming that the explosive devices had been planted on accommodation barges housing oil construction workers in Lerwick and Scalloway.
Police say the coastguard received a call in the early hours of 17 March, but after inquiries it had emerged that the call was a hoax.
Hamilton hopes for legacy
Veteran second-row Jim Hamilton is keen to ensure his legacy endures through Scotland's locks of the future - Jonny Gray, Grant Gilchrist and Tim Swinson.
Hamilton spoke of the "huge role" he and his experience must play in the junior players' development.
"In five year's time, when I'm not wearing the jersey, and Jonny Gray is, there's a piece of me in there that'll have helped him," said Hamilton.
"Hopefully the skills I've given Jonny, Grant, Tim will rub off on them."
Body of missing man found
The body of missing 42-year-old Peterhead man Malcolm MacNeil, also known as Calum, has been found.
Police are treating the death as unexplained.
Inverness' North Hop beer festival dates have been confirmed - 21 & 22 August.
Germany's historic Bavarian State Brewery will take part.
England 'has nothing to fear'
The first minister of Scotland has said people in England have nothing to fear from the Scottish National Party.
However, Nicola Sturgeon told the BBC's James Cook that her party could be expected to "assert itself" after the 7 May general election.
Recent polling has suggested the SNP will win most of the 59 Scottish seats at Westminster.
Scots firm secures major confectionery contract
A Scottish confectionery firm has secured a contract to launch a range of fudge products across the French market.
Tilly Confectionery, which produces the Mrs Tilly's range of Scottish tablet, fudge and macaroon, will see its products on French shelves next month.
Stockists will include major retailers such as Monoprix and E.Leclerc.
Tilly, based in Larbert, near Falkirk, said forecasts suggested sales could exceed 100,000 units in the first year.
Facebook syndicate wins lottery
A syndicate of people set up via Facebook has scooped more than £1.1m in a EuroMillions draw.
The 38 people from around the country are each receiving at least £21,213 after their success in the Mega Friday draw on 27 February.
The syndicate, known as "Gary's Players", was set up more than two-and-a-half years ago by 47-year-old Gary Schei, of East Linton in East Lothian.
The finance manager had four shares in the syndicate, netting him £84,852.
DIY power plant man jailed
A man who rigged up a DIY power plant in a bedroom to power his home has been jailed.
Charles McKenzie had originally received a community payback order after admitting a charge of reckless conduct.
But he breached it by stealing electricity and metal and was jailed for 14 months.
McKenzie set up the system in his 14th floor Dundee flat after his electricity was cut off due to unpaid bills.
Will you see the eclipse?
@bbcweather
Here's an idea of your chances of viewing the #Eclipse2015 tomorrow. Timing of cloud breaks will be crucial.
BBC Scotland Weather
Latest
A cloudy night for most with some mist and fog in the south west. Rain in the north west, patchy across the north east. Low temperatures of 5/7C in towns.
"It is three weeks on Saturday is all I know. I just know it is on a Saturday."
Tennis star Andy Murray has been speaking about his wedding to Kim Sears.
Read his thoughts
on his forthcoming nuptials, and tennis commentary.
Thousands of chickens killed in farm fire
Three thousand chickens have been killed in a major fire at a Gretna farm.
Firefighters spent about 10 hours at the scene of the blaze in an industrial farm building.
They were called to the developing fire at 04:05 and remained on the scene until about 14:30.
Profile - Nicola Sturgeon
@BBCJamesCook
James Cook
Scotland Correspondent, BBC News
Coming up on BBC News at 1740 @NicolaSturgeon is the latest interviewee in our series of leader profiles:
Video - Skipper jailed over diver death
A shellfish boat skipper whose safety failings led to the death of a diver has been jailed for nine months.
Guthrie Melville's boat The Solstice was fishing for razor clams in Largo Bay when diver James Irvine died in March 2011.
BBC Scotland's Steven Godden reports from Stirling Sheriff Court.
MSPs clash over oil figures
Earlier today, MSPs clashed over the budget at First Minister's question time after claims that revised oil figures would leave a gap should Scotland ever have full fiscal autonomy.
Watch the report of BBC Scotland's political editor Brian Taylor.
A senior Scottish Liberal Demcorat MP has criticised the telecoms provider BT for delays in installing and repairing broadband connections in his constituency.
John Thurso, the MP for Caithness, Sutherland and Easter Ross, said BT's response to recent problems had been unacceptable.
He raised the issue in the House of Commons with William Hague, the leader of the House.
Referendum assault case delay
Catriona Renton
BBC Scotland
A Labour candidate accused of kicking a woman at a polling station on the day of the Scottish independence referendum has had her case deferred until after the General Election.
Councillor Marie Rimmer, 67, is the candidate for St. Helens South and Whiston.
She had been in Glasgow to campaign for a no vote on 18 September last year. Ms Rimmer has previously pleaded not guilty to assaulting Patricia McLeish at the polling station in Shettleston.
Ms McLeish once stood as a candidate for Solidarity. The case was adjourned because there was no available court until 3 August.
Steven McKenzie
BBC Scotland Highlands and Islands reporter
A plan to build an archive in Scotland to hold the records from all the civil nuclear sites in the UK has been recommended for approval.
The Nuclear Decommissioning Authority (NDA) has proposed constructing the centre near Wick.
Highland Council planning officers have recommended that councillors give the project planning permission.
Records from Dounreay near Thurso and Sellafield in Cumbria would be among those held at the archive.
It has also been proposed that the centre will historical documents from Caithness, including papers dating to the 15th Century.
Councillors will be asked to make a decision on the project next week.
Video - Solar eclipse eye health warning
Hoping to view the eclipse of the sun? Sky watchers are being warned to protect their eyes if they want to view Friday's phenomenon.
BBC Scotland's science correspondent Kenneth Macdonald
has advice on how to prepare.
Most metres run? Most tackles made? Leading points scorer?
Check out the stats ahead of the Championship finale.
Rail services on the East Coast were disrupted earlier after a train hit a flock of sheep.
The Aberdeen to Edinburgh service had to divert to Arbroath and take a later train after the incident, which happened south of Stonehaven this morning.
Nobody was injured.
Volunteers sought for £842m hospital
A recruitment drive has been launched to find 200 volunteers to help out at Scotland's largest hospital
ahead of its planned opening in May.
The volunteers will be welcome and guide visitors at the new £842m South Glasgow University Hospital.
They will also provide help on the use of self-service check-in kiosks and assist patients to waiting areas.
NHS Greater Glasgow and Clyde (GGC) said anyone interested should email: margaret.young4@ggc.scot.nhs.uk
Tory leader 'accepts apology'
@RuthDavidsonMSP
Scottish Tory leader Ruth Davidson: Mark phoned my office to apologise. Showed genuine contrition and says he won't make anti-gay statements again. I accepted his apology.
Davidson contacted by police
After a SNP member who subjected the Scottish Conservative leader to homophobic abuse
on Twitter was been suspended from the party, it has emerged Ruth Davidson has been contacted by the police but has decided not to pursue a complaint.
Farmer tells trial of body find
A farmer has told a murder trial how he found a body lying under a hedgerow as he worked collecting hay bales.
John Baxter said he was as working in a field at North Glen Farm, in Langbank, Renfrewshire, in the early hours of 13th July 2004 when he saw the remains.
The 58-year-old said the body was partially covered in cut grass. It was later identified as 34-year-old Martin Toner.
Douglas Fleming, who's 50, and 57-year-old John McDonald both deny murder. The trial at the High Court in Glasgow continues.
United appeal McGowan red
Dundee United have confirmed they will appeal against the red card received by full back Ryan McGowan during last night's Scottish Cup quarter final replay against Celtic.
McGowan was sent off late in the match for a tackle on midfielder Liam Henderson as they fell to their third defeat in the space of 10 days by the Scottish champions.
McGowan was the sixth player to be shown a red card in the three meetings between the two clubs.
A fatal accident inquiry into a bin lorry crash in Glasgow in which six people died will be held in the summer.
The Crown Office says families of those involved have been informed. It'll be held at the city's Sheriff court from 22 July.
Six people died and 10 more were injured when a council bin lorry crashed into pedestrians in Glasgow city centre on 22 December.
Cotter 'enjoying' Scotland role
Vern Cotter says he always knew his task as head coach of Scotland "was going to be difficult" in the Six Nations but that he's "enjoying" his role.
The Scots host title-chasing Ireland at Murrayfield this weekend looking to avoid a whitewash of championship defeats and pick up the wooden spoon.
"We knew it was going to be difficult. We've had things affect us that have been out with our control and we've lost momentum through injuries and suspensions.
"I'm really enjoying coaching this group. They're a good bunch of players and a good group of men. I think it's exciting as there's almost another generation coming through.
"They're obviously disappointed not to have got a win on the scoreboard but if we keep working positively on creating aspects from each part of our game then hopefully we'll get a positive one at the end globally."
Ireland prepare for Scotland
Winger Luke Fitzgerald and loose-head prop Cian Healy are back in the Ireland team for Saturday's crucial Six Nations finale against Scotland.
Fitzgerald, 27, has not played for Ireland since the narrow defeat by New Zealand in 2013.
Healy, a late withdrawal from the team for the championship opener in Italy, starts after coming on as a replacement in the last three games.
The Leinster pair replace front rower Jack McGrath and left wing Simon Zebo.
'All oil predictions were wrong'
Scottish First Minister Nicola Sturgeon has said everybody who tried to predict the price of oil had got it wrong.
Her comments came after new forecasts wiped £9.6bn off expected North Sea revenues over the next five years.
Ms Sturgeon said the Scottish and UK governments as well as the Office for Budget Responsibility had put prices at between $100-120 a barrel.
The industry was hit after the price of Brent crude oil dipped below $50 a barrel, after having been at about $110 between 2010 until mid-2014.
Her comments came after big changes to the North Sea tax regime were announced, to support the sector.
Reevel Alderson
Home affairs correspondent, BBC Scotland
Police Scotland have revealed they have received 27 complaints since May last year from members of the public about their controversial policy of allowing officers to carry weapons while carrying out routine duties.
Speaking to Holyrood's Justice Committee, Assistant Chief Constable Bernie Higgins said during the same period the force has received more than 5000 complaints about a range of matters ranging from incivility to use of excessive force.
He said firearms officers were unquestionably among the best trained in the force. In a recent incident in Edinburgh, he said, two armed officers were confronted with a man wielding a knife.
One was stabbed four times, but they declined to use their weapons to subdue the attacker because they assessed it would put members of the public standing nearby at risk.
Fleeting signs for Glasgow
Glasgow City have signed Scotland's record goalscorer, Julie Fleeting, after the 34-year-old left Scottish Premier League rivals Celtic.
The former Arsenal striker, who scored 116 international goals in 121 games, was with Celtic for two seasons.
"I'm looking forward to an exciting season with Glasgow City," she Fleeting, who is currently injured.
"We have such a talented group of players, many experienced and others young and enthusiastic."
Scotland will need to win a tie-breaker against China to keep their World Women's Curling Championship title hopes alive in Sapporo, Japan.
Eve Muirhead's rink lost 8-6 to round robin leaders Switzerland on Thursday morning.
The Scots later defeated Sweden 10-7, but that meant they would need to defeat the losers of the match between China and Russia to make the play-offs.
China lost 11-6 as Sijia Liu's rink finished fourth equal with Scotland.
Football image
@bbcgetinspired
Get Inspired
With BBC Sport
Gemma Fay "Football now has an image of strong feminine women but we've still got a way to go"
bbc.in/195B0Qd
Coming up
@BBCScotlandNews
Keen for the eclipse? Mind you watch it safely. On #Repscot at 13:30, @macdonke reveals all.
► bbc.in/1d8nh8E
The Get Inspired Q&A is under way with Hannah Miley, Gemma Fay and Beth Tweddle answering questions.
Watch live coverage
here.
A temporary dam has been completed at the site of a flood-damaged weir on the Caledonian Canal.
The waterway has been closed to sea-to-sea traffic since heavy rain combined with melting snow to wash away the weir near Fort Augustus earlier this month.
Scottish Canals says the dam will allow repairs to be made properly at the site at Cullochy.
The organisation hopes the canal will be re-opened to sea-to-sea traffic on 30 April.
Goalkeepers 'best we've ever had'
Scotland have never had a better group of goalkeepers, according to former number one Andy Goram.
Manager Gordon Strachan this week suggested that Craig Gordon, David Marshall and Allan McGregor form the best "three" in international football.
And Goram told BBC Scotland: "This is the best group of goalkeepers that Scotland have ever had.
"And I include Jim Leighton, Alan Rough and myself when we were a three."