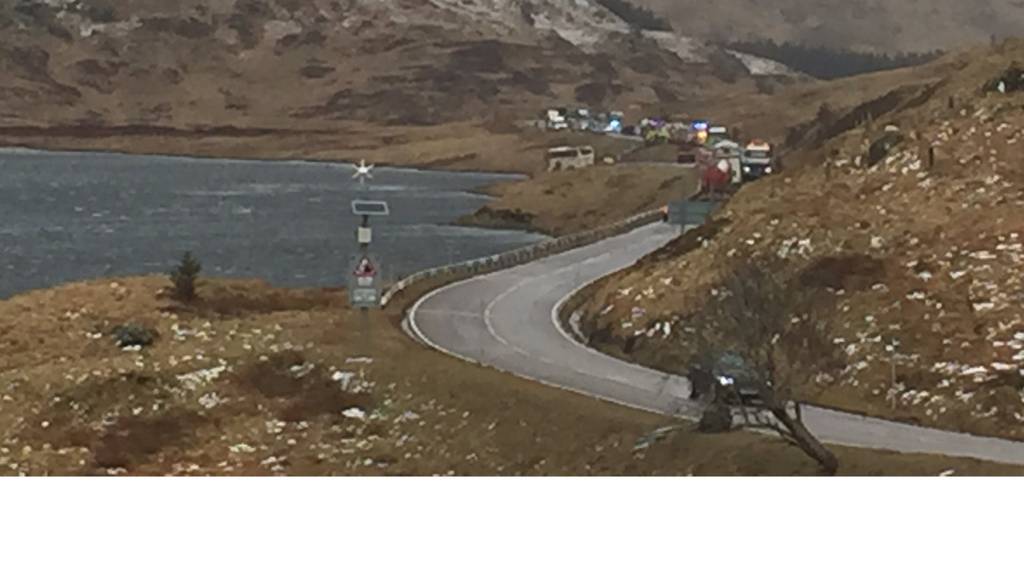 Summary
Coach rolls on A83 Rest and Be Thankful in Argyll
Police say 51 people on board; five seriously injured
Royal Navy helicopter transports seriously injured to hospitals in Glasgow
Shell and Taqa to cut hundreds of North Sea jobs
Baby attacker jailed for seven years
Graham Fraser
BBC Scotland
That is all for today's Scotland Live.
Join us again from 07:00 tomorrow.
Good night.
Police control struggling to cope with calls
Reevel Alderson
Home affairs correspondent, BBC Scotland
Police Scotland has been urged to halt its programme of control room closures.
It followed reports of problems at Bilston Glen, which previously handled calls from the Lothians and Borders.
Liberal Democrat leader Willie Rennie said the control room in Midlothian was struggling to cope following the closure of the Glenrothes control room in Fife on 17 March.
He told Holyrood more than 1,000 calls were lost in one day, and non-emergency calls took 40 minutes to answer.
'Driver cooperating with police'
Lochs and Glens, the bus company involved in the A83 crash earlier today, say the driver of the coach is cooperating with police.
They said: "We are providing all necessary support for those passengers who were on board and the relatives of those who have been injured. The driver and the company are cooperating fully with the police investigation to establish the exact cause."
BBC Scotland Weather
Latest
Rain in north east becomes confined to Shetland overnight.
Elsewhere, largely dry with widespread frost and risk of ice.
On Reporting Scotland:
• A83 crash
•Oil job losses
• Penrose Inquiry
•Rape in Uddingston
Watch now on BBC One Scotland and online.
Pauline McLean
BBC Scotland
Good luck to Dorothy Paul who bows out tonight @GlasgowKings @GlasgowComedy a final song, a fish supper and back to granny duties!
The Scottish Government's considering whether there should be a specific offence of Domestic abuse and if a new law is needed to deal with revenge porn.
The First Minister Nicola Sturgeon told a women's aid conference that she is committed to tackling all forms of violence against women.
A public consultation to examine the possible benefits and pitfalls of legislation will run until the middle of June.
A83 crash - Bus company statement
A spokesperson for Lochs and Glens - the bus company involved in today's coach crash on the A83 - said: "We are liaising with the emergency services regarding the injured passengers and to establish the cause of the accident.
"In the meantime, buses have been provided to transport the remaining passengers back to their hotel."
'Thoughts with passengers'
Following the bus crash on the A83 at the Rest and Be Thankful, Transport Minister Derek Mackay said: "Scottish Ministers have been kept fully informed of this serious incident across the afternoon and our immediate thoughts are with the passengers who have been transported to hospital.
"The emergency services have been working closely with helicopters from both Prestwick and Lossiemouth as well as mountain rescue teams and a rest centre has been set up in 'Three Villages Hall' in Arrochar to help the walking wounded.
"The A83, at The Rest and Be Thankful, remains closed to allow the investigation into what caused the accident to get under way."
Road Policing Inspector Adam McKenzie, from Police Scotland, spoke to BBC Radio Scotland about the bus crash on the A83 at Rest and Be Thankful.
He said: "A tour bus which was heading through Argyll was struck by a very strong gust of wind which unfortunately blew it on to the muddy verge, causing the bus to flip on its side and roll down the hill coming to a rest at the side of Loch Restil.
"Fifty one persons were on board and thankfully we can account for every single person."
Aberdeen's Neil Fachie has won a gold medal on the opening day of the Para-cycling Track World Championships in the Netherlands.
He, and tandem pilot Pete Mitchell, came home fastest in the men's B kilometre time trial.
Woman raped in Lanarkshire
Police are searching for a man who subjected a 20-year-old woman to a "horrendous" rape in South Lanarkshire.
The woman was walking home from Uddingston train station when she was approached from behind by a man at about 22:15 on Tuesday.
He raped her in a wooded area close to the town's Castle Gate.
The suspect is described as white, aged between 30 and 50-years-old and about 5ft 9in tall. He was wearing dark clothing including a hood.
Warriors 'can be like Barca'
Glasgow Warriors head coach Gregor Townsend
speaks to BBC Scotland's David Currie
about his recent visit to Barcelona on a fact-finding mission.
Following a fire at St Dominic's Primary in Airdrie, a spokesperson from North Lanarkshire Council said: "Scottish Fire and Rescue are dealing with what we understand to be a significant fire at St Dominic's Primary School in Airdrie.
"We are not in a position at this early stage to assess the extent of the damage but we will work with the emergency services to do so when possible.
"The school will be closed on Friday and we will post further updates for parents on our website at
www.northlanarkshire.gov.uk
."
The school roll is 178 and the nursery takes 40 children in the morning sessions and 40 in the afternoons.
Health Secretary Shona Robison has described infections caused by blood transfusions as "one of the greatest healthcare-related tragedies in this country".
Her statement followed publication of the Penrose Inquiry report.
Thousands of people were infected with Hepatitis C and HIV through NHS blood products in the 1970s and 80s.
There had been an angry response to the report from some victims, who publicly burned copies.
The Dundee United full back Ryan McGowan won't be available for their home match against Ross County next Saturday after his red card appeal was rejected by a disciplinary panel.
McGowan was sent off against Celtic in their Scottish Cup replay and will serve a two match suspension, one immediately and one to be served in the Scottish Cup.
A primary school in North Lanarkshire has been badly damaged by fire.
The blaze broke out at St Dominic's Primary, in Petersburn Road, Airdrie, shortly after lessons ended for the day on Thursday.
A spokeswoman for North Lanarkshire Council said no pupils were in the school at the time.
She said fire crews were still at the scene and the damage was thought to be extensive. It was unlikely, she said, that the school would open on Friday.
Reader Stuart Herd took this picture of the bus crash on the A83 at Rest and Be Thankful.
Police say there were 32 people on board and five were seriously injured. A Royal Navy helicopter has transported the seriously injured to hospitals in Glasgow.
Scotland - What did we learn?
What did we learn from Scotland's victory over Northern Ireland?
BBC Sport's Richard Wilson looks back at the game.
Scotland u-21s win against Hungary
Debutant Lawrence Shankland scored a late double as Scotland under-21s grabbed a 2-1 friendly win away to Hungary.
Szenes Bence had put the hosts ahead just after the hour-mark but Scotland fought back.
Aberdeen striker Shankland struck twice in the final five minutes to turn the match in the Scots' favour.
It was former St Mirren manager Danny Lennon's first game in charge after Billy Stark quit last November.
Olympic BMX track for Glasgow
Scotland's first Olympic-standard BMX track is to be built in Glasgow.
Knightswood Park, in the city's north west, has been selected as the preferred location for the £2m track.
The announcement came as Glasgow and Berlin were named co-hosts of the first European Sports Championships in 2018.
The event, which includes the European Cycling Championships, will see more than 650 top cyclists compete in road, track, mountain bike and BMX championship events across Glasgow.
Police statement on A83 coach crash
Police Scotland, in a statement on the coach crash on the A83 Rest and Be Thankful, said: "Around 14:10 this afternoon, a coach with tourists overturned on the A83 Rest and Be Thankful."
It added that 32 people were on board, of which five are believed to be seriously injured but not thought to be life-threatening.
"They are being taken by ambulance/medivac to either the Southern or the RAH for treatment," the statement added.
"Twenty five people are described as 'walking wounded'.
"Emergency Services are at the scene. The A83 is closed with local diversions in place."
BBC presenter Euan Mcllwraith reports the coach came to a halt about six feet from the edge of a small body of water.
He says the bus was a Lochs and Glens coach and emergency services cut the side of it away to help passengers inside.
"Although there have been injuries, and serious injuries, these people are very, very lucky," he tells BBC News.
The Scottish Ambulance Service said it has "multiple resources" responding to the incident.
"These include ambulance crews supported by officers, a Special Operations Team, an air ambulance helicopter and two emergency medical retrieval teams, working alongside the Police and Fire Service," a spokesman added.
Five casualties are being airlifted by Royal Navy helicopter to hospitals in Glasgow. Their condition is unknown.
A second helicopter from RAF Lossiemouth remains at the scene of the crash with a mountain search and rescue team.
Renewable electricity 'close to 50%'
Nearly half of Scotland's energy consumption came from renewable sources last year, according to official data.
Figures released by the Department of Energy and Climate Change (DECC) showed 49.6% of gross electricity consumption came from renewable sources last year.
The figure was up from a total of 44.4% in 2013.
The Scottish government said Scotland had almost met its 50% renewable electricity target, a year ahead of schedule.
'Number of injuries' after A83 crash
BBC presenter Euan Mcllwraith, who is at the scene of the coach crash on the A83, reports the bus appeared to have been full of pensioners.
The coach came down an embankment close to the top of the Rest and Be Thankful.
It is about 30 feet down the embankment and rescue services are at the scene.
There are a number of injured, with about four or five people believed to have suffered spinal injuries.
NHS workers jailed for selling equipment on eBay
Two East Lothian NHS workers have each been jailed for nine months after they admitted stealing dental equipment worth £75,000.
Darren Lawson, 41, from Dunbar, took the items from storerooms at NHS Lothian and Gianni Donofrio, 47, of Prestonpans, sold them on eBay.
They stole from Duncan Street Dental Centre in Edinburgh and Edenhall Hospital in Musselburgh in 2013.
They were sentenced at Edinburgh Sheriff Court.
Ferry fares to fall on Clyde and Hebrides services
Fares on Clyde and Hebrides ferry routes,
where road equivalent tariff (RET) will not apply, are to be cut.
The Scottish government said the price of a single passenger fare will fall by an average of 44% and car fares will be cut by an average of 55%.
The reduced fares will be introduced in October when RET is applied to the first routes since Arran was added to the scheme last year.
The new RET routes include Mallaig to Armadale and Oban to Craignure.
A83 incident
@argyllandbute
Argyll and Bute Council
tweets
: The A83 is closed around 200 metres north of the Rest and Be Thankful due to a road traffic incident. Emergency services are in attendance.
Breaking
Coach overturns on A83
A coach, which is believed to have been carrying dozens of people,
has overturned on the A83 at the Rest and Be Thankful in Argyll.
The Scottish Fire and Rescue Service said crews from Lochgilphead, Arrochar and Inveraray were on the scene along with police and ambulance crews.
It is understood the incident happened at 14:10.
Two search and rescue helicopters from HMS Gannet at Prestwick have also been sent to the scene.
'Mother's Day' cocaine supplier jailed
A man who claimed a gift-wrapped cocaine stash was a Mother's Day present has been jailed for two years.
John McCallum was caught with more than £140,000 of the Class A drug in a car at Shandwick Square Shopping Centre in Easterhouse, Glasgow, on 29 March 2014.
The High Court in Aberdeen heard that police had been monitoring the 34-year-old after receiving a tip-off that he was delivering drugs.
McCallum admitted a charge of being involved in the supply of cocaine.
Nature photography awards
The winners of the Scottish Nature Photographer of the Year have been announced.
Check out our gallery.
United player accused on assaulting Celtic keeper
Dundee United footballer Paul Paton is set to stand trial accused of assaulting Celtic goalkeeper Lukasz Zaluska.
The 27-year-old is alleged to have repeatedly hit Mr Zaluska on the head to his injury on 20 October last year.
Papers at Glasgow Sheriff Court claim Mr Paton carried out the attack at Ashton Lane and Byres Road "whilst acting with another".
Mr Paton was not in court, but pled not guilty by letter.
Poles 'most economically active'
Polish people are the most economically active ethnic group in Scotland, according to analysis of the last census.
It also found that Indian people were the most likely to be highly-qualified and working in the top professions.
Chinese and Arab people were most likely to be students.
The findings featured in a report by Scotland's chief statistician, which looked at ethnicity, religion and disability, based on 2011 Census data.
Ross County manager Jim McIntyre has told BBC Scotland that his side has achieved nothing, despite winning five of their last six matches as they try to maintain their Premiership status for next season.
County have earned 16 points out of the last 18 available to pull away from the relegation and play-off positions, but McIntyre refuses to write other sides off and expects St Mirren in bottom place to turn results around as the season finale approaches.
Warriors welcome back internationalists
Glasgow Warriors will welcome welcome back nine of their Scotland internationals who featured in the game with Ireland last weekend for tomorrow night's Pro12 match with Leinster.
Stuart Hogg (pictured), Tommy Seymour, Mark Bennett, Finn Russell, Fraser Brown, Tim Swinson and Rob Harley have been named in the starting fifteen, while Jonny Gray and Adam Ashe are both included on the bench.
The game kicks off at 19:35 and is live on BBC Two Scotland.
Reevel Alderson
Home affairs correspondent, BBC Scotland
MSPs have been debating the accountability of Police Scotland following rows over its controversial policies of stop and search and arming officers on routine duties.
Opening the debate, Labour MSP Hugh Henry said the single police force was established two years ago but experience of that period had given "grave concern."
He said he was not criticising individual officers or non-uniformed staff.
But he criticised the force's watchdog body, the Scottish Police Authority, which he characterised as a "toothless tiger."
Mr Henry told Holyrood: "It is largely ineffective and comes to the game after the event rather than setting out its policies and expectations in advance."
Neilson staying at Hearts
Hearts head coach Robbie Neilson has no intention of leaving the Scottish Championship title winners yet.
The Tynecastle club's owner, Ann Budge, feared Hearts could lose him to another club after securing promotion with seven games still to play.
"I'll be here next season," said Neilson. "I'm not ready to make a step yet. I'm really happy where I am.
"I'm only in the job nine or 10 months, so I've still got a long way to go; a long way to take this team."
Police investigate Uddingston rape
Police in South Lanarkshire are investigating the rape of a woman in Uddingston on Tuesday night. The woman was walking home from the train station at 22:15 when she was forced onto a wooded area close to Castle Gate.
The man as described as being white, aged 30 to 50, with red hair and facial hair and about 5ft 9in tall.
Detectives are carrying out door to door enquiries and analysing CCTV footage.