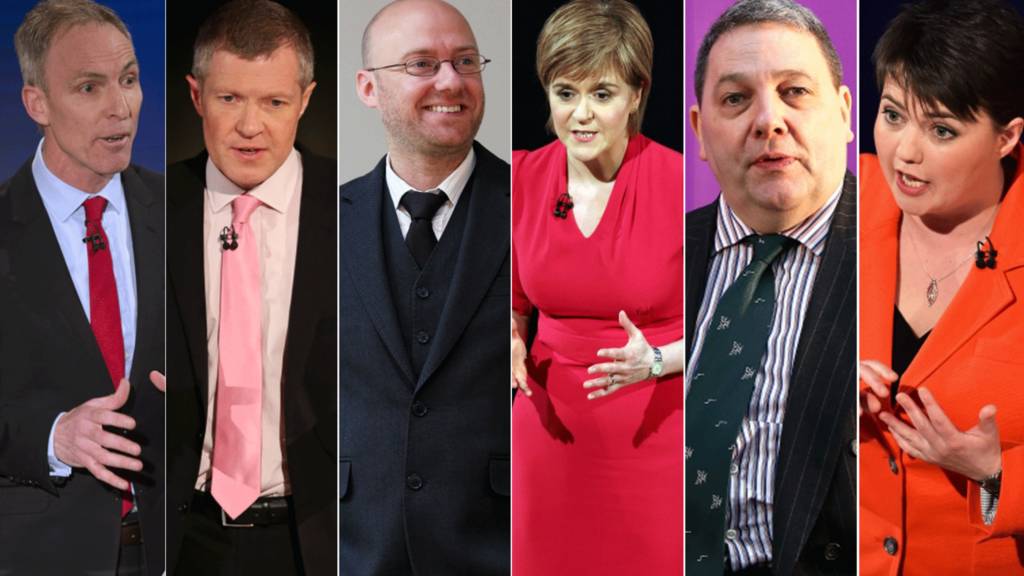 As-it-happened: Scottish leaders' debate on 8 April, 2015
Summary
Scotland's main political leaders took part in the first of two BBC Scotland debates ahead of the 7 May General Election
Scottish Labour's Jim Murphy; Willie Rennie for the Scottish Liberal Democrats; the SNP's Nicola Sturgeon and Ruth Davidson for the Scottish Tories answered questions
They were joined by Patrick Harvie, joint leader for the Scottish Green Party, and David Coburn, Scotland's UKIP spokesman
The debate took place before an audience gathered at Elphinstone Hall in Aberdeen
And that's the end of the debate. Thanks for joining us!
Ms Sturgeon attacks Mr Coburn's "narrow-minded" attitude and says he is a disgrace. Ms Davidson supports the comments, but says the UK can still get a better deal out of Europe.
Mr Coburn says it's time to leave the EU, because 70% of decisions which affect the UK are made by an unelected commission.
Mr Murphy says the election is a choice between a Labour government and a Tory government.
Mr Coburn says his party would be against anyone wanting to "break up" the UK. Ms Sturgeon says she's relieved that she's not in agreement with UKIP.
Ms Sturgeon says you can change the policy direction of governments without bringing them down. Mr Murphy says the way to avoid the horse trading is by voting Labour. (Ms Davidson says the same goes for her party).
Brian Mathuna
tweets
:
Lib dem guy has a great sense of humour tbf to him. Dark humour about damage tuition fees did. #leadersdebate
Ms Sturgeon says the SNP won't vote for further spending cuts in the next parliament or back a replacement for Trident nuclear weapons.
Ms Sturgeon says there is a "triple lock" on independence - "material change", its insertion in the 2016 manifesto and the vote itself.
Ms Sturgeon says this election is not about another independence referendum. She said something "material" would have to change, like the Tories trying to "drag" Scotland out of Europe, for example.
Paula McNulty
tweets
:
Is there still time to set up a new party to vote for? So uninspired by this chat & seriously question the hashtag accuracy -#leadersdebate
What's the background to the Scottish independence referendum?
Ms Davidson says she's committed to the UK. She says she would not block another independence referendum, but adds the SNP says it was a once in a generation event.
Gavia Baker-Whitelaw
tweets
:
The Scottish #leadersdebate is soooo much better than than the UK-wide one. Much less condescension/false posturing, I think??
Mr Rennie makes clear that he said sorry for the Lib Dem U-turn on tuition fees, but says once again the country must stay the course on economic recovery.
Jimmy Laing
Interestingly no one mentioned the over taxation of the oil industry during the oil debate.
Mr Harvie asked if the Greens are saying they won't support a government which is in favour of capitalism. He says big companies are controlling many services, and that needs to change.
Jackie Mackay
Conservatives and Lib Dems and Labour say we have the fastest growing economy and the lowest unemployment rate, yet the wages are down and the public sector workers have had no real pay rise in several years yet have sneaked taxes added into our superannuated pensions. If the wages don't go up then surely circulating cash falls, therefore businesses suffer.
Andrew Picken
tweets
:
Fair play to @BBCJamesCook for calling out the awful jargon which plagues Scottish politics #leadersdebate
Mr Harvie says he would never back a government which supports nuclear weapons.
Ms Davidson says scrapping the Barnett funding formula would cost Scotland billions.
Mr Murphy says people who benefit from the Scottish welfare have to hand over vouchers to get food. Ms Sturgeon accuses him of using less well off people to make a political point.
Ms Sturgeon says the alternative to having more powers is to accept you will be at the mercy of more Westminster cuts.
Ms Sturgeon says Scotland's economy is not based on oil. She adds that the other parties wrongly give the impression that Westminster is a guardian of public services.
Brianna Bethany
tweets
:
spread the risk that's rich from the party who wants to cut money from Scotland #leadersdebate
Mr Coburn says Scotland would be finished if it had listened to "Ms Sturgeon and her crew".
Ms Davidson says 140,000 work in oil and gas. Mr Harvie says you need to support those workers to build skills in new energy.
Aaron Carr
tweets
:
@patrickharvie: fossil fuels will kill us (I paraphrase) and he's absolutely right #leadersdebate
Mr Rennie says there would be "blind panic" if Scotland had become independent, given what he said was the SNP's reliance on oil prices.
Ms Davidson says the UK is one country and Scotland voted to stay in it. She says that means everyone putting money into the same pot.
Douglas Fraser
Business/economy editor, Scotland
What would happen if the Scottish Parliament got full fiscal autonomy? Excuse the jargon. What it means is that Holyrood would have control over all of taxation in Scotland......
Find out more
Ms Sturgeon asked about "full fiscal autonomy" (complete of taxation and spending) for Scotland. She says she would vote for it. Mr Murphy says he doesn't support it, because it means being cut off from sources of taxation across the UK.
Ms Sturgeon says the country has to work towards boosting renewable energy sources.
Mr Harvie says you can't save money by "cancelling your membership of the civilised world".
Mr Murphy says the Conservatives refuse to tax millionaires more, while Labour wants to end "zero hours" contracts.