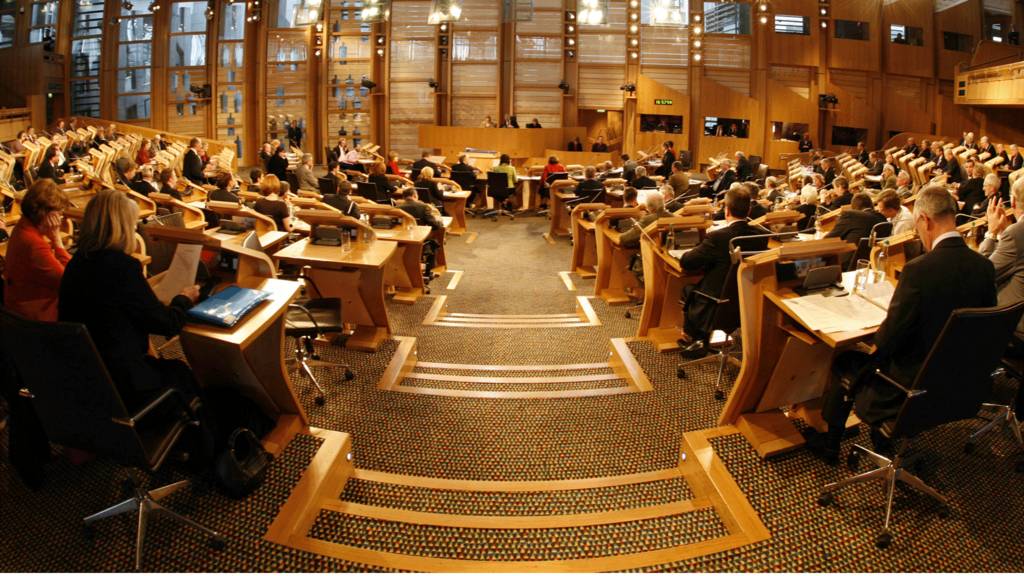 Summary
MSPs took evidence from Deputy First Minister Nicola Sturgeon on welfare.
Granddaughter of Nelson Mandela, Ms Nandi Mandela, gave time for reflection
MSPs questioned Scottish government minister's during topical question time
The Scottish government led a debate entitled 'The economic opportunities of Independence'
5.05pm: Member's debate: Gaza
That concludes our coverage of Holyrood today, thank you for watching the proceedings with us at
Democracy Live
.
Mr Yousaf says the UK government must bring more urgency to its actions adding he agreed with Baroness Warsi that it had been "painfully silent".
Mr Yousaf says the Scottish government has donated £500,000 of aid funding to help the people of Gaza.
The money will go towards providing water, food, shelter and medical assistance.
The UK government is giving an extra £3m of aid for Gaza, taking its total to £10m.
The minister said "rockets that are fired into Israel are wrong" and called for both sides to continue the cease-fire and for Israel to lift the blockade of Gaza.
Mr Yousaf said 458 children had been killed in Gaza and 200,000 are in need of emergency food aid.
"The Scottish government cannot and will not stand idly by".
External Affairs Minister Humza Yousaf is now closing the debate on behalf of the Scottish government, saying this was a debate "we'd rather not be having" but praised the exemplary tone of his fellow MSPs.
SNP MSP James Dornan condemned Israel's "completely indiscriminate and completely disproportionate" attacks on Gaza.
Mr Finnie says on his trip to Gaza with Labour MSP Claudia Beamish, he saw "first hand the consequence of so called smart weapons and that was the death of 11 members of the same family".
He adds that he is proud of the Scottish government's call for an arms embargo on Israel which "contrasts with the silence elsewhere".
Independent MSP John Finnie, who visited Gaza in 2012, is now speaking.
Mr Macintosh said the Jewish community in Scotland were "feeling increasingly let down" and some live in fear at the moment.
Labour MSP Ken Macintosh said some Jewish people in Scotland were concerned and anxious at the moment.
Colin Keir, the SNP MSP is talking.
Sarah Boyack, the Labour MSP, says many members support the two state solution, but the "challenge is we are as far away from that solution as we have ever been".
Mr Mason focuses on the complexity of the situation in the Middle East and asks for Israel to be treated the same way as other countries.
SNP MSP John Mason is delivering his speech.
Labour MSP Cara Hilton says 456 children have been killed in this latest conflict and condemned the "brutal Israeli government".
BBC Analysis Middle East Conflict
Ms Johnstone highlights the need for psychiatric treatment for 400,000 children in Gaza due to the conflict.
Scottish Green MSP Alison Johnstone is speaking.
Mr Findlay condemns the Israeli government and violence on both sides.
Labour MSP Neil Findlay says "this is a humanitarian disaster unfolding before our eyes" and criticises the Israeli government.
"We must have justice for the people of Gaza and Palestine" concludes Mr Eadie.
SNP MSP Jim Eadie has the floor in the debate.
Labour MSP Alex Rowley welcomes the debate and the Scottish government actions.
SNP MSP Christine Grahame is making her speech.
Labour MSP Drew Smith's motion:
That the Parliament regrets and unreservedly repudiates the ongoing violence and loss of human life in Gaza and Israel, which, according to journalists running risks to their own safety to report from the area, stood, as at 28 July 2014, at more than 1,000 Palestinian deaths and 45 Israelis; considers that the continuation of violence will further escalate the already severe and enduring humanitarian catastrophe in the densely populated Gaza Strip; believes that the number of Palestinian civilian fatalities, including many women and children, indicates a disproportionate action by the Israeli military; condemns both indiscriminate rocket attacks and military bombardment of civilians and believes that hospitals and schools, in particular, should be places of safety and therefore also condemns attacks on them or their use to store or fire weapons; confirms its view that the continuation of the Israeli-Palestinian conflict is rooted in the continued failure to achieve a political solution to a problem that cannot be solved by violence; supports the comments made by the United Nations Secretary-General, Ban Ki-moon, on 24 July, who has described the situation as an "intolerable, unacceptable crisis" and agrees with him that it is imperative for the killing to stop; notes calls for the international community to fully use its influence to break the cycle of failed talks, continuing occupation and outbreaks of violence that threaten the prospect of a two-state solution by renewed and robust efforts to broker peace and justice in the region with the objectives, amongst others, of an immediate interim ceasefire, a long-term plan to prevent further violence, efforts to aid the necessary rebuilding of Palestinian civilian infrastructure, including the importation of vital humanitarian supplies into Gaza, and crucially a process that can finally lead to the creation of a viable Palestinian state alongside a secure Israel in accordance with previous UN resolutions, and notes calls for the UK Government to support these objectives and to prohibit the supply of equipment or parts of equipment that are likely to be used against civilians and for the Scottish Government to do all that it can in support of the same and to foster and maintain good community relations between all religious and ethnic groups who have their home in Glasgow and across Scotland and who, in common with people around the world, wish to see a settlement that respects the right of all human beings, irrespective of religion or race, to live in peace with both dignity and security.
The Palestinians have "suffered too much for too long", says Mr Hume who repeats calls for a two state solution.
It is the turn of Lib Dem MSP Jim Hume in the debate.
Independent MSP Jean Urquhart is now making her speech, saying she is proud so many people want to speak in this debate.
Labour MSP Malcolm Chisholm says he is forced to use words like "obscene and grotesque" to describe the "massacre" in Gaza.
Mr Fraser stresses the fault is not all on one side, highlighting Hammas's attacks on Israel.
Conservative MSP Murdo Fraser welcomes the tone of Drew Smith's motion and speech and says the "overriding concern is for the innocent civilians caught up in the strife" in Gaza.
Ms Beamish visited Gaza in November 2012 as part of a Europe-wide delegation of parliamentarians, along with independent MSP John Finnie.
Labour MSP Claudia Beamish is speaking, highlighting acutely injured children and long term health issues arising in Gaza.
"Gaza is a prison camp and the people of Gaza deserve our support." Ms White adds.
"The suffering of the Palestinian people must stop, the people of Gaza are being left with nothing." says the Glasgow Kelvin MSP.
SNP MSP Sandra White is now giving her speech, calling for the support of the people in Gaza facing a "huge humanitarian crisis".