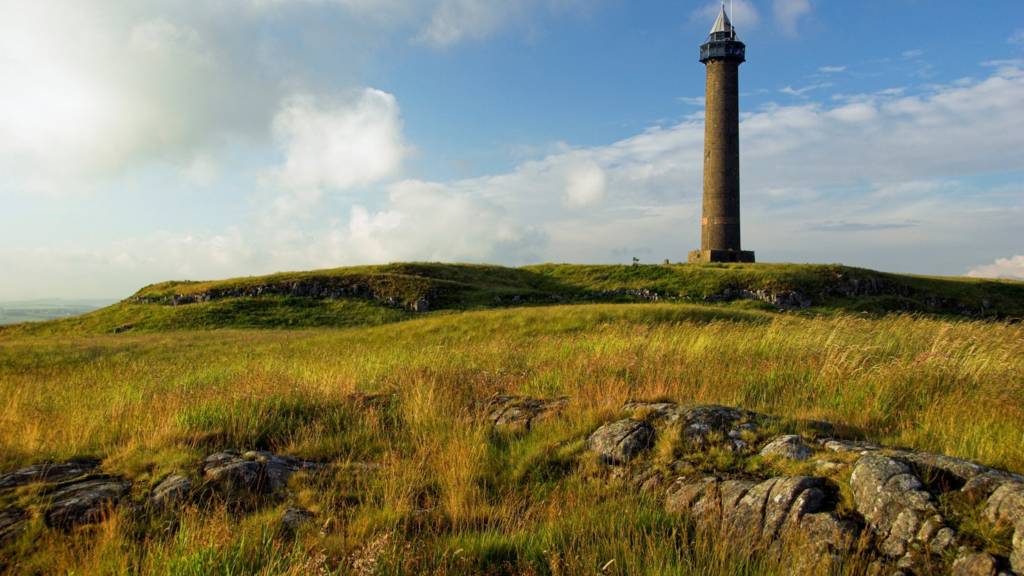 Summary
Updates for Thursday 19 February
More news, sport, travel and weather from 09:00 on Friday 20 February
Nichola Rutherford
BBC Scotland
That's it for another day for the South of Scotland Live page. We'll be back tomorrow at 09:00.
BBC Scotland Weather
Latest
This evening and tonight, expect a mix of cloud and clear spells.
A few showers are possible over the western Borders.
In Dumfries and Galloway, expect a mix of cloud, clear spells and further showers.
These more frequent for a time at first this evening, but becoming more isolated overnight to areas further north across the Galloway forest rather than near the coast.
The showers will be of sleet or wet snow over higher ground, with a dusting of snow possible over the hills.
A risk of frost as temperatures dip to around freezing, milder in town and on the coast.
Scottish Borders Council and New Earth Solutions (New Earth) have announced they are not proceeding with a 24-year contract for an integrated waste management facility at Easter Langlee near Galashiels.
They had been working in partnership since April 2011 to deliver the project which aimed to divert a significant proportion of waste from landfill as well as create renewable energy from waste.
However, they said there had been "significant changes" in waste policy and regulation as well as "project-specific issues in terms of technology and funding".
The UK's 2,000th Lotto draw will take place this weekend after a 20-year history that has seen more than 13,000 winners taking a share of the jackpot.
According to Camelot, the best location to buy a chance at the top prize is Dumfries, which has a lottery millionaire for every 8,288 of the adult population.
Two more chances to get your radio news for Dumfries and Galloway and the Borders today.
Bulletins coming up at 16:30 and 17:30 then back at 06:30, 07:30 and 08:30 tomorrow morning.
The number of Borders metal detectorists and archaeological enthusiasts is increasing.
And to give advice on any artefacts they find, Hawick Museum is hosting a Treasure Trove Finds Day with experts from Treasure Trove on hand to answer any questions.
The event, at Hawick Museum on 28 February from 11am until 3pm, will be followed, in March, by an exhibition.
Get in touch
selkirk.news@bbc.co.uk
Let us know what you think of this service and what stories you'd like to see us feature.
Email selkirk.news@bbc.co.uk or dumfries@bbc.co.uk or tweet us on @BBCSouthScot.
Hawick jockey Craig Nichol was among the winners again this afternoon.
He steered Island Heights to victory for trainer Lucinda Russell in the 2.55pm race.
There's further disruption in store for drivers and pedestrians in Galashiels from Monday.
Resurfacing the High Street area will see closures, diversions and one-way reversals for the next fortnight.
It's part of the council's Inner Relief Road improvement scheme - timed to tie in with the Bank Street gas main work.
Satellite fitter spotted indecent images
A TV satellite technician was so alarmed by images he saw on equipment in a house in the Scottish Borders that he contacted the police.
It led the arrest of Brendan Lennon, 27, after an investigation uncovered 26,328 indecent images of children.
At Edinburgh Sheriff Court the laboratory technician, of Newtown St Boswells,
admitted having the images and distributing them to others.
Sheriff Gordon Liddle warned him he faced a jail term.
Queens Trust
tweets:
#throwbackthursday the GOAL from @ryanmccann5 that sealed our last Scottish Cup 1/4 Final win. photo: @RamsayKenny
Hydro improvements planned
The English national men's curling championships are getting under way ... in Scotland.
Dumfries Ice Bowl is hosting the event over the next four days.
A pioneering invention by a Dumfries-born engineer
is featured on a new set of Royal Mail stamps celebrating Inventive Britain
.
The i-limb artificial hand developed by David Gow is one of eight great innovations from the last century selected for the special collection.
Historic sites
@welovehistory
Historic Scotland
tweets:
See some less well known Scottish Borders sites on The Chain Mail with @RobinMcKelvie:
http://ow.ly/JgJZl
MSP Joan McAlpine has said she is deeply disappointed for the communities of Sanquhar, Kirkconnel and Kelloholm after the Scottish government
refused permission for a wind farm which could have earned them £450,000-a-year.
She said: "I am bitterly disappointed for the communities of Upper Nithsdale who need the money that Sandy Knowe would have delivered."
Police have issued a warning after a man and a woman accompanied by a young child handed over counterfeit £50 notes at a number of shops in Annan and Langholm.
The incidents happened on Tuesday and Wednesday.
They attempt to purchase low-value goods with the fake notes in order to receive change in genuine currency.
The first meeting of the new-look Hobkirk Community Council will take place on Monday 9 March after an uncontested election.
It will take place on Bonchester Village Hall at 7pm.
An essential maintenance scheme on the A751 south of Inch Parks Farm will begin on Monday 9 March, lasting for approximately three weeks.
Scotland TranServ, on behalf of Transport Scotland, will carry out the £1m project which will see a significant improvement to the road surface and drainage systems on the A751 which joins the A77 to the A75 in Dumfries and Galloway.
Debbie Muir
BBC Scotland, Dumfries
Councillors have received a progress update on repair works at the DG One centre in Dumfries.
The information was delivered behind closed doors due to the legal sensitivities of the situation.
Detailed plans for a new school in Dalbeattie
have been unveiled.
The building, on the site of the existing high school, would be home to the town's secondary, primary and nursery school.
It would also boast sports facilities including a six-lane running track, a rugby pitch and a 3G pitch for football and hockey.
BBC Scotland Weather
Latest
A largely dry and bright afternoon, but with the risk of a further few showers.
These frequent and blustery especially across northern Dumfriesshire.
A cooler day compared to yesterday however, with highs of around 7 or 8 degrees and fresh southwesterly winds.
The latest news from the Borders and Dumfries and Galloway coming up in our local radio bulletins.
Make sure you tune in at 12:30 and then again at 16:30 and 17:30 today.
Dumfries and Galloway Council
has extended its membership of Cosla by 12 months.
The authority gave notice that it intended to end its £110,000-a-year membership in January 2014.
It has now decided to remain part of the umbrella organisation for another year, but has served notice of its intention to quit thereafter.
Richard Gordon
At Scottish Borders Council
A flood protection scheme for Skiprunning Burn in Jedburgh town centre has been given the go-ahead by councillors.
Main work is likely to be carried out in the forthcoming financial year.
The burn has flooded the town centre a number of times over the years.
The worst incident in recent times was in August 2012 when dozens of homes, shops and businesses were flooded after a torrential thunderstorm.
Keeping the faith
@StranraerFC
Stranraer FC
tweets:
Who's making the journey to Cappielow for @Morton_FC away? @1987Seanw @stevie_aitken @swfreepress #believe #monblu
Meanwhile, Langholm trainer James Ewart heads to Sedgefield with Aristo du Plessis and Lord Wishes this afternoon.
Plenty of Borders interest at Musselburgh races later today.
Trainers Iain Jardine, Bruce Mactaggart, Sandy Forster and Alistair Whillans are involved along with jockeys Ryan Nichol, Tom Hamilton and Craig Nichol.
Past, present and potential volunteers are being invited to a gathering at Hawick Museum in Wilton Lodge Park on Sunday 1 March to explore the upcoming opportunities to get involved in the life of the park and museum.
The park's volunteer co-ordinator Lisa Brydon said: "We are looking forward to another exciting year of events and activities in the park."
The volunteer gathering takes place in the Scott Gallery at the Hawick Museum from 1pm to 3pm on Sunday 1 March.
Anyone seeking more information can contact Lisa Brydon by email lisa.brydon@scotborders.gov.uk or phone 07580 788617.
Get involved
Tweet us @BBCSouthScot
Let us know what is going on in the south of Scotland and what you would like to see on this live page service for the Borders and Dumfries and Galloway.
Tweet us @BBCSouthScot or email dumfries@bbc.co.uk or selkirk.news@bbc.co.uk.
The Moffat News is out today and leads on hopes of a £1m investment in a caravan park near the town.
Railway profits potential probed
Following the success of its previous event, Scottish Borders Business Forum is holding a second meeting on the Borders Railway and the opportunities for local businesses, titled "
What do Borders businesses need to profit from the railway?"
The meeting, to take place at Scottish Borders Council Headquarters on Friday, 6 March , has been scheduled to start at 11am to enable more tourism businesses to attend, particularly those involved with visitor accommodation.
However, the event is open to all Scottish Borders businesses.
Jamie Lyall
For BBC Scotland
Former Annan RFC player Alex Dunbar believes suspended stand-off Finn Russell
will be sorely missed by Scotland when they tackle Italy.
The winless pair play at Murrayfield on 28 February in the Six Nations, but Russell is banned because of a dangerous tackle on Wales' Dan Biggar.
Police number decline denied
The region's police commander has been told
there is a public perception that there are fewer police on Borders streets since the inception of a single Scottish force in 2013.
Councillor Sandy Aitchison made that assertion at last week's meeting of the Police, Fire and Safer Communities Board.
He was responding to an assurance from Chief Superintendent Gill Imery that the number of serving officers in her division, which now comprises Borders, Midlothian, West Lothian and East Lothian, had remained static at 914 since she took command a year ago.
"The number of officers in the Borders and in the division as a whole is the same and I have no intentions of changing that," said CS Imery.
Childcare capacity concern
Fewer than one in six councils in Scotland have enough childcare capacity to meet the needs of working parents,
according to new research.
The study by the Family and Childcare Trust said 15% of local authorities in Scotland had enough childcare for parents who worked full-time.
That was down from 23% when the survey was carried out in 2013.
Another paper hitting the newsagents today is the Galloway News which leads on concerns over the impact of invasive crayfish.
Police in the Borders are appealing for witnesses following two housebreakings in the Kelso area.
The incidents occurred overnight between Monday and Tuesday at commercial properties in Spylaw Road and the Pinnaclehill Industrial Estate.
Two vehicles were stolen from the property in Spylaw Road, including a Honda Blackbird motorcycle and a white Volkswagen Transporter.
Entry was also forced at a property in the Pinnaclehill Industrial Estate and a number of electrical items were stolen, including a laptop and several mobile phones.
The Southern Reporter is out today and it leads with a story of a community in danger of "ripping itself apart" over play park plans.
Councillors are to receive an update on progress at a flagship leisure centre
closed to allow major repairs to be carried out four months ago.
The DG One facility in Dumfries was shut in October last year, a little over six years after it opened.
BBC Scotland Weather
Latest
A drier and brighter day today, but with the risk of a few showers developing during the course of the day.
These frequent and blustery especially across northern Dumfriesshire.
A cooler day however, highs of around 7 or 8 degrees and fresh southwesterly winds.