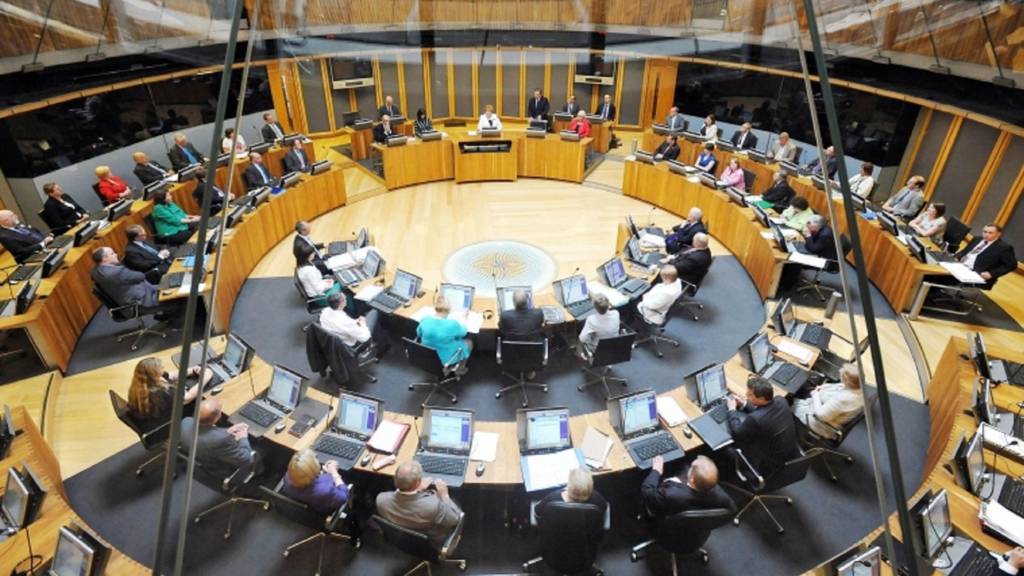 As it happened: Welsh First Minister's Questions
Summary
3 February 2015
Carwyn Jones took questions from 13:30 to 14:15 GMT
First minister tells Plaid 'no country' could train 1,000 doctors in five years
Ministers 'still considering' preferred map for local government
M4 relief road 'will cost less than the oft-quoted £1bn'
Live coverage of proceedings in the Welsh assembly continues online via
Democracy Live
including a statement from Public Services Minister Leighton Andrews on his white paper on local government reform.
That's all from First Minister's Questions for another week. Thanks for joining us for our live coverage of the proceedings - we're planning to do it again just before 13:30 GMT next Tuesday.
Back to education - Conservative education spokeswoman Angela Burns asks the First Minister to challenge "mediocrity", as David Cameron did in his speech yesterday. Carwyn Jones responds by raising Conservative comments from 2010-11 that implied cuts to education spending of 20% in Wales.
"Don't be so stupid!" Labour AM Ann Jones is unimpressed by a heckle suggesting she's reading out a question.
Ah - turns out the YFC meeting is with officials, not the minister, and is on Thursday.
Lib Dem leader questions plans for councillors
Why not limit terms of office for AMs, asks Kirsty Williams
The First Minister says an advisory panel made recommendations to the minister on organisations that should receive funding - implication being that someone else would lose out if the YFCs were to get their Welsh government funding restored.
Questions now on cuts to the funding of Young Farmers' Clubs. Carwyn Jones says there's a meeting planned between the YFC movement and the minister in the coming week.
Plaid leader focuses on NHS recruitment
Leanne Wood says party's plans for more doctors are fully costed
You're not the only ones watching this afternoon. There's a delegation in the public gallery from the Fijian Parliament; Presiding Officer Dame Rosemary Butler says she already regrets telling them Welsh assembly members are generally well-behaved.
The real way to empower voters is to change voting system in local government, says Kirsty Williams. FM says he backs existing "first past the post" system.
Andrew RT Davies urges clarity on council plans
Lib Dem leader Kirsty Williams now asking about limiting terms for councillors - shouldn't term limits be introduced for AMs?
"No country of the planet" could train up 1,000 doctors in five years, the First Minister tells Leanne Wood
Plaid Cymru leader Leanne Wood now asking about NHS recruitment - she says Plaid proposals for more doctors are clearly costed
Andrew RT Davies also urging more clarity on council reforms - FM switches discussion to education
FM urges caution in discussing Mr Ellis's remarks
Andrew RT Davies raises resignation of Bridgend councillor Luke Ellis from Labour. Mr Ellis called the party a "cult-like mafia"
Carwyn Jones faces AMs' questions
"We're still considering what the map should look like", says FM on cutting the number of councils
Trial closure of Junction 41 on the M4 will continue until March, says First Minister.
FM says the cost of the M4 relief road is below the oft-quoted £1bn figure
We're underway with a question on the M4 relief road - our colleague @paulneilmartin has been following differences of opinion within the Conservative group on this issue.
A word on how the procedure works. AMs can put their name into a ballot, and if successful they get to ask their question - the list of today's questions is
here
.
Once they're done, other AMs can ask supplementary questions on the same theme - it's up to the Presiding Officer to make sure the link isn't too tenuous.
In the middle we take three questions each from the leaders of Plaid Cymru, the Conservatives and the Liberal Democrats - and Carwyn Jones doesn't get any advance notice of what's coming.
This is the 1,022nd plenary session of the National Assembly - given that there are two a week and we only have FMQs on Tuesday, that means we've had 500-odd of these sessions since the Assembly was set up.
That's a lot of questions. Only three First Ministers have been in post to answer - Alun Michael (the job was called First Secretary back then), Rhodri Morgan and now Carwyn Jones.
But other Ministers have stood in from time to time, for instance when the First Minister is abroad. Jane Hutt tends to be the Welsh government's super-sub of choice.
Good afternoon - we'll be covering First Minister's Questions live from the Welsh assembly in Cardiff Bay.