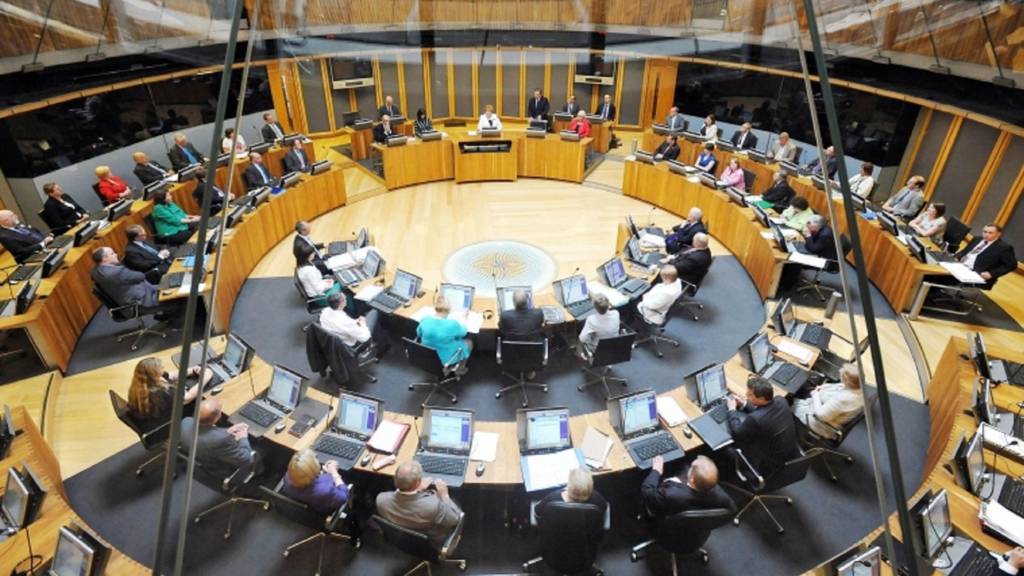 Live: Welsh First Minister's Questions
Watch the proceedings on Democracy Live online or am:pm on BBC Two Wales
Summary
Carwyn Jones takes questions from 13:30 to 14:15 GMT
Questions on more powers for the Assembly, the NHS and standing at football grounds
Mr Jones insists maternity services will be restored to Ysbyty Glan Clwyd within 12 months
First Minister defends Labour Party's running of Cardiff Council after Lib Dem criticism
Plaid Cymru say a Labour UK Government would cut £1bn from Welsh Government.
That's it for this week - thanks for following. See you next week!
Conservative AM Janet Finch-Saunders raises the case of Irfon Williams, who's moving to England in a bid to get improved cancer treatment.
First Minister Carwyn Jones says the drug in question is being withdrawn in England on March 12, and it's "absurd" to suggest Welsh patients are being denied life-saving drugs.
Labour AM Ann Jones tweets on bringing international football back to north Wales:
@WalesPolitics @fmwales yes belle vue home of @rhylfc always available
A not-for-profit model for Wales and Borders rail franchise - as the Welsh Government is considering after 2018 - is in the interests of people of Wales. Conservative AM Byron Davies doesn't agree.
Monmouth AM Nick Ramsay is now raising the case of a constituent who fears their medical details have been shared with charities without their consent. First Minister says he's aware of the allegations - Health Minister Mark Drakeford is looking in to the case.
BBC Wales Political Editor Nick Servini writes:
A workmanlike round of questions to Carwyn Jones which never got out of the blocks in terms of drama.
The First Minister largely gave the opposition leaders what they wanted with a commitment to restore consultant-led maternity care at Ysbyty Glan Clwyd and an expression of full confidence in the Labour administration running Cardiff council.
Plaid came out with a new figure when it speculated that a Labour government at Westminster would lead to a further £1bn cut in the assembly budget, which was rejected by the First Minister.
Questions now on "safe standing" at football ground - the First Minister says he spent many years watching football on terraces "getting wet in more ways than one".
A range of views from AMs, including from Swansea FC stalwart Mike Hedges - the Labour AM isn't in favour of a return to standing.
Several also refer to
the way it's done in Germany
.
Plaid Cymru leader Leanne Wood raises
this report today
on the number of people living with chronic pain. She cites examples of patients being forced to go private, and suggests a Labour win in the General Election will lead to more NHS cuts and more such examples of "hidden privatisation".
But Carwyn Jones rejects the suggestion that a Labour government would cut £1bn from the Welsh Government budget.
Liberal Democrat leader Kirsty Williams wants to talk about the
difficulties Labour-run Cardiff Council is having
in agreeing its budget for the next financial year.
She asks how anyone can have confidence in the council's ability to deliver economic regeneration, given Labour MPs and AMs have expressed concerns.
But Carwyn Jones says the 2012 local elections and subsequent by-elections show the public have confidence in the authority.
Here we go - Plaid AM Simon Thomas is pressing for the devolution of policing and justice to Wales; he cites
this story last week
as an example of decisions that could have been made in Cardiff rather than London.
The First Minister says Labour is committed to devolving some powers over policing. Sounds like all AMs are anticipating announcements soon on additional devolution.
You can follow the action on twitter too - we tweet from @walespolitics and the hashtag is #FMQs
Let us know if you've got any thoughts on what's being said - we'll include the best comments here.
A reminder on how the procedure works if you haven't followed FMQs (as it's known) before today.
AMs can put their name into a ballot, and if successful they get to ask their question - the list of questions is here.
Once they're done, other AMs can ask supplementary questions on the same theme - it's up to the Presiding Officer to make sure the link isn't too tenuous.
In the middle we take three questions each from the leaders of Plaid Cymru, the Conservatives and the Liberal Democrats - and Carwyn Jones doesn't get any advance notice of what's coming.
We're almost ready to go with First Minister's Questions this week. The first question comes from Plaid Cymru's Simon Thomas, who's asking about the cross-party talks on further devolution.
There's a March 1 deadline on the talks - but as
David Cornock reports
, it's not going as well as some might have hoped.