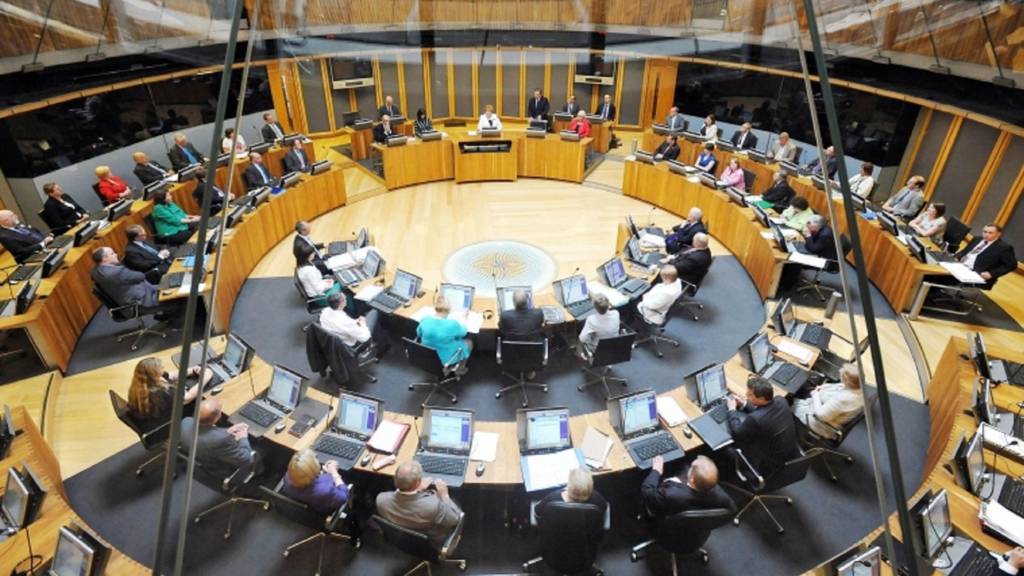 Welsh First Minister's Questions
Summary
Tuesday 17 March 2015
Carwyn Jones took questions from 13:30 to 14:15 GMT
Lib Dem leader Kirsty Williams asks why the ambulance service should pay for taxis for patients
Conservative Andrew RT Davies says more could be done to help high street traders
Plaid Cymru's Elin Jones wants stronger protection for the Welsh language in the Planning Bill
That's all from First Minister's Questions - we'll be back at 1.30pm next Tuesday.
Conservative AM Antoinette Sandbach asks about the use of locums in the NHS - she says there's an "arbitrary" target to reduce the number in north Wales, which is hitting service provision.
The First Minister says it isn't "robust" to rely too heavily on locum staff.
BBC Wales Political Editor Nick Servini writes:
It's not often you get a Labour politician telling a Conservative one about the importance of market principles but that's what we got when Carwyn Jones defended his government's record supporting high streets.
Andrew RT Davies said a slow planning system was among the reasons why shop vacancy rates were some of the highest in the UK.
The First Minister said shops needed customers and he was helping provide them by boosting the economy, and in a nod to the general election he said the Conservative-led cuts from Westminster were doing the opposite.
Plaid Cymru leader Leanne Wood confirms
via Twitter
that she's in Edinburgh for the BBC Three programme
Free Speech
- along with the SNP and Green Party leaders she will face questions from an audience of more than 100 young voters.
Torfaen AM Lynne Neagle asks about proposed charges for underground tours at Big Pit museum at Blaenavon - First Minister says there won't be charges for this.
Conservative AM Nick Ramsay asks about the potential
uses of tidal power
in Wales; the First Minister says the problem is the Welsh Government hasn't got the same powers as the Scottish Government to attract companies - but he sees opportunities for Port Talbot and Milford Haven in becoming renewable energy centres.
Elin Jones stands in for Plaid Cymru leader Leanne Wood
Elin Jones standing in for Plaid Cymru leader Leanne Wood at #FMQs - she asks about efforts to promote the Welsh language, and wants the Planning Bill strengthened so councils can do more to take the impact on the language of developments into account.
Carwyn Jones says the Bill has already been strengthened and he'll listen to "sensible" suggestions.
But the issue is "Where do you draw the line?", he says.
Andrew RT Davies says ministers are letting down the high street
Tory leader Andrew RT Davies suggests that not enough is being done to help Welsh high streets - the First Minister says they're doing what they can but the UK Government has "destroyed" people's disposable income, hence less custom.
Mr Davies says that argument is "ludicrous" and the economy is improving.
First Minister Carwyn Jones
tweets:
97% of GP practices offered appointments at any time between 5pm and 6.30pm at least 2 week days, up from 95% in 2013
Liberal Democrat leader Kirsty Williams is asking about
spending by the ambulance service on taxis
.
She wonders why the service is spending the money if clinicians have decided a patient doesn't need an ambulance.
The First Minister says England spent £30m last year in the same way; he suggests it's often cheaper to use a taxi.
In case you're wondering - Presiding Officer Dame Rosemary Butler is in the chair today.
No comments on
this
so far - and no, she isn't stroking a cat.
Welsh Lib Dem leader Kirsty Williams asked about rural GP surgeries
Questions now on the bedroom tax, as Labour call it - or the "spare room subsidy", which is the UK Government's preferred term.
Labour AM Joyce Watson cites the
Wales Audit Office's report
which says Wales has been hardest hit by the reforms.
The First Minister agrees that Wales has been badly affected, but Conservative AM Janet Finch-Saunders says savings have been made and the "something for nothing" culture has been challenged.
Carwyn Jones is answering questions from AMs
First question is about access to GP surgeries in Wales - Tory AMs are keen to raise Labour's 2011 manifesto commitment to increase the number of surgeries open in the evening and at weekends.
Carwyn Jones says the figures show more are open in the evenings and fewer have half-day closing.
You can watch the session by clicking on the Live Coverage link just above the blog.
We're about to start - so here's a reminder of how the procedure works for First Minister's Questions.
AMs can put their name into a ballot, and if successful they get to ask their question - the list of questions is
here
.
Once they're done, other AMs can ask supplementary questions on the same theme - it's up to the Presiding Officer to make sure the link isn't too tenuous.
In the middle there are three questions each from the leaders of Plaid Cymru, the Conservatives and the Liberal Democrats - and Carwyn Jones doesn't get any advance notice of what's coming.
Welcome to our live blog of First Minister's Questions from Cardiff Bay.