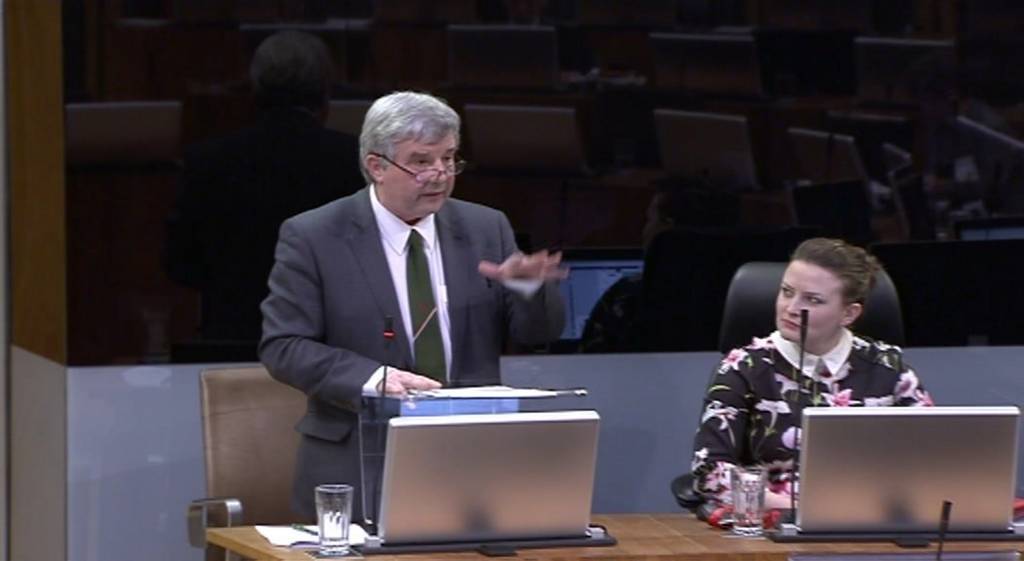 Historic place names bill falls at first hurdle
Summary
Plenary begins at 13.30 with Questions to the Cabinet Secretary for Finance and Local Government
Questions to the Assembly Commission
90 Second Statements
Motion seeking the Assembly's agreement to introduce a Member Bill on Protection of Historic Place Names
Debate on the Economy, Infrastructure and Skills Committee Report on the National Infrastructure Commission for Wales
Welsh Conservatives Debate: 'Welsh Labour-led Government is failing the people of Wales'
Short Debate: St David's UK City of Culture Bid
That brings today's proceedings in the Siambr to a close.
Senedd Live returns on Tuesday 21 March.
The topic chosen by  Paul Davies (Preseli Pembrokeshire)  is "Small City, Big Unique Opportunity – St David's UK City of Culture Bid".  
The chosen place  will succeed Hull , which is the City of Culture for 2017.
The Heritage Lottery Fund has pledged to give £3m to the winning city.
To be successful, the 2021 winner will have to prove its bid is centred around heritage, and that it will build on existing investment it gets from the lottery fund.
All final bids must be submitted by the end of April with a shortlist announced in July and the winning city named in December.
Bill on historic places names will not proceed
The assembly does not agree that Dai Lloyd AM may introduce the bill on historic places names.
It will not proceed in the assembly after he lost the vote - 25 for to 28 against. 
Unemployment rate lower than UK average
Leader of the House Jane Hutt lists many statistics with the aim of demonstrating the success of the Welsh Government, including the unemployment rate in Wales - 4.4%, or 66,000 people - being lower than the UK average of 4.7%.  
'Serious but not terminal'
UKIP's Neil Hamilton says "the best that can be said of the Labour government in Cardiff is that its problems are serious but not terminal, which is the opposite of Labour in Westminster".
'Compounded by the actions of the UK Conservative Government'
Plaid Cymru's Simon Thomas says "the Welsh Labour-led Government's failures are compounded by the actions of the UK Conservative Government". 
Conservative leader Andrew RT Davies says "Labour's 'Programme for Government' is thin on new ideas...it isn't big enough to wedge open a door!".
He lists a "litany of Labour failures" over 18 years of devolution.
Welsh Conservatives Debate
In their opposition debate, the Welsh Conservatives say that "the Welsh Labour-led Government is failing the people of Wales".  
'Better informed, longer-term strategy of infrastructure investment'
Economy Secretary Ken Skates says he is "looking towards a better informed, longer-term strategy of infrastructure investment".
His detailed responses to the report's recommendations are here . 
'Commission should be on a statutory basis'
Plaid Cymru's Adam Price emphasises the importance of establishing the National Infrastructure Commission for Wales on a statutory basis.   
Plaid Cymru's policy report  believes infrastructure investment in Wales is being "impeded" by the UK Government's austerity agenda, while the Welsh Government has been not been able to borrow large enough sums - with limits of £500m.  
Committee takes 'a different view in three key areas'
Russell George (Montgomeryshire)  presents the committee's report , which states: 
"Exploring the Welsh Government's proposals we have found much with which we agree. But we take a different view in three key areas: 
We believe there would be real benefits to establishing the NICfW on a statutory basis. While this need not delay its establishment, we are clear that if established on a non-statutory basis, there should be a presumption that legislation will follow at a suitable point in time.
We understand the desire not to overload a new body, but we think the remit should be expanded to also include the supply of land for strategically significant housing developments and related supporting infrastructure alongside the economic and environmental infrastructure. 
The Well-being of Future Generations Act is intended to transform the thinking of public bodies in Wales. We believe these responsibilities should be "baked in" to the organisation from the outset, to promote collaboration with other public bodies, engagement with the Welsh public and independence from Government."   
Debate on the Economy, Infrastructure and Skills Committee Report
The next item in the Siambr is a debate on the Economy, Infrastructure and Skills Committee Report on the National Infrastructure Commission for Wales.
The compact between Welsh Labour and Plaid Cymru in May 2016 included a commitment to establish a National Infrastructure Commission in Wales (NICfW). 
Conservatives and UKIP support motion
The Conservatives and UKIP have said they will support the motion by Dr Dai Lloyd, but the Welsh Government will not.  
In responding to the government's lack of support, Dai Lloyd raises his voice. "No, it is not on! We're talking history of a nation here. Pride in the history of that nation."  
'Formal consenting regime is very complex'
Economy Secretary Ken Skates says "a formal consenting regime is very complex, but I do understand the desire to protect historic place names".  
He says formal protection would be "premature" because by May "Wales will have a statutory list of historic place names", which he says will be a "world first". 
He added, "Although I cannot support this motion I believe the ground breaking measures that we are about to introduce are vital steps in appreciating and valuing this precious inheritance." 
First ballot of member's bills of the fifth assembly
Welsh Language Commissioner Meri Huws has previously called for changes to  historic place names to be banned by law in Wales .
It follows a series of rows over changes to names over the years, including a dispute where the Grade I-listed Plas Glynllifon near Caernarfon  was referred to as Wynnborn mansion in online marketing material .
It was the first ballot of member's bills of the fifth assembly - eight were held in the last assembly term.
Not all successful proposals enter the statute books, but laws passed giving rights to residents in  mobile homes  and  minimum levels of nurse staffing  started out through the process.
Powers to enforce new rules on historic place names?
Members are now asked to approve a motion seeking the Assembly's agreement to introduce a Member Bill on Protection of Historic Place Names.
Plaid Cymru AM Dai Lloyd won the first member's bill ballot of the assembly term, allowing him to present a proposal for a new law to the assembly.
The Protection of Welsh Historical Place Names Bill would give powers to a public authority to enforce new rules on historic place names.
Mr Lloyd says he was looking at making it a requirement to get planning permission if someone wants to change the name of a house or a farm.
Issues of topical interest
We now have the 90 Second Statements, where three AMs have the opportunity to raise issues of topical interest.       
Travelling to the Assembly in electric vehicles
There is just one question tabled to the Assembly Commission.    
Simon Thomas (Mid and West Wales):  What steps is the Commission taking to promote travelling to the Assembly in electric vehicles?   
On behalf of the commission, Caroline Jones says "arrangements are in place to install two charging points on the Assembly estate".   
'Damaging policy of austerity'
Asked by Julie Morgan about the Barnett consequentials arising from the Chancellor's Spring Budget, Mr Drakeford says they "do nothing to reverse the UK government's pursuit of the damaging policy of austerity".
Philip Hammond announced an extra £200m for Wales over four years.
But Mr Drakeford has said it was not clear how future UK spending cuts of £3.5bn would affect Welsh public services.
Mandatory regional working
 AMs discuss the White Paper setting out how councils will deliver some of their services together that was unveiled by Mark Drakeford.
The White Paper, which is out for consultation until the beginning of April, seeks views on proposals for mandatory regional working to deliver a range of services, address workforce issues, and implement electoral reform including allowing voting at 16.
Amongst the proposals are a mandatory economic development footprint that would also cover certain planning functions and transport. 
Swansea Community Farm faces closure
Dr Dai Lloyd expresses concern that Swansea's only community city farm is facing closure at the end of the month, unless it can raise £50,000.
Swansea Community Farm in Fforestfach offers free access to a variety of rare breeds including sheep and bees, a healthy eating kitchen and café, and sustainable orchards.
Organisers say their core Volunteer and Child and Youth programmes have some funding from external sources beyond March 2017.
But day-to-day running costs do not.
Mr Drakeford says the Welsh Government has not received a request from the farm for assistance, but he will discuss the issue with cabinet colleagues.
Plenary begins with Questions to the Cabinet Secretary for Finance and Local Government, Mark Drakeford.
The first of the tabled questions is: 
Dai Lloyd (South Wales West):  Will the Cabinet Secretary make a statement on Welsh Government funding for public service projects within the City and County of Swansea?